I struggle to fall asleep at Somerleyton Hall. My bedroom is too distracting. At midnight I'm still cartwheeling across the expansive carpet and doing handstands against the enormous bed; a bed which I need a leg-up to clamber on to. Once there, spread-eagled on the satin bedclothes, I can't help but scramble to my feet and star-jump joyously towards the ceiling. It's gone 1am before I finally exhaust myself and settle down to sleep. How do the upper-classes manage?
I'm spending the night in one of the 12 bedrooms recently renovated by Lord and Lady Somerleyton at their stately home on the Suffolk-Norfolk border. The 5,000-acre estate has been in the Crossley family since 1863, when Sir Frances Crossley, the 1st Baronet of Halifax, bought the property after financial success in the carpeting industry. Now Hugh Crossley (4th Baron Somerleyton), who lives here with his wife and young family, has decided to open up the house to overnight guests, giving people the opportunity to live out Downton fantasies.
The first thing I notice when I arrive is the staggering amount of taxidermy on display. I'm greeted in the entrance hall by two gigantic stuffed polar bears. Side by side, they leer over me, teeth bared, as I inch meekly through the door. It's an astonishing sight, and not a little bit intimidating. Before I've had time to get truly spooked though, the Lady of the house – Lara Crossley – rushes up to me, a blur of velvet and glossy brunette hair. We air-kiss elaborately before she shows me to my bedroom (known as the Tapestry Room); up a sweeping staircase, past family portraits, along a carpeted hallway.
The rooms
The rooms have been designed by Lara and Norfolk-based Arie and Ingrams Design. Mine is steeped in history. Tapestries hang a little oppressively on the walls and the furniture is all a deep mahogany. The room is permanently cast in semi-darkness, and having eventually fallen asleep, worn out by all the cartwheeling, I struggle to wake, the weak morning light being held back by the heavy wooden shutters which barricade each window. The en-suite bathroom is the size of a small common room with a throne-like loo, a free-standing bath, and a Narnia-esque wardrobe.
The set-up is not uncomfortable, per se, but it's not exactly homely either. It's a little bit like bedding down in a museum or a painting. This isn't a hotel, so don't expect pillow chocolates or room service. You're very much left to your own devices. That said, Hugh and Lara are extremely generous and willing hosts, who are happy to help (or make themselves scarce) as required.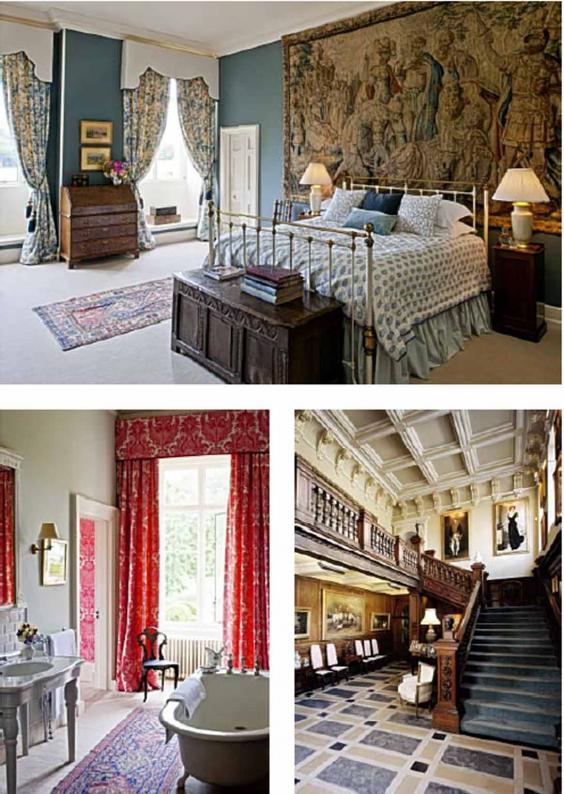 Throughout your stay you will be given free rein to explore the entire house, excluding the quarters that the family themselves live in. You could, for example, take over the dining room for a dinner party, before adjourning to the cosy nook that is the library for a post-dinner digestif. The set-up is ideal for a large group of friends who want to play at being posh, especially as the 12 rooms must be rented in their entirety. It's probably less suitable for a family or a couple. The house is cavernous and, if I'm completely honest, a little daunting.
That said, for all its grandness, I still get the sense throughout my stay that I'm living in someone else's family home. I'm nervous to touch anything for fear of breaking an irreplaceable heirloom and, although sorely tempted, I refrain from having a thorough snoop around in case I accidentally find myself in the Lord's bedroom.
Out and about 
Somerleyton is celebrated for its yew hedge maze, which was planted in 1846 and is considered one of the finest in Britain. The route is around 800 yards, but I'm ashamed to say that neither I, nor my sister, managed it. (We gave up once we realised our phone batteries had died and we'd have no way to call for help.)
If the weather is fair, or if you've brought wellies with you, it's well worth going for a tramp around the estate. There are also a number of outdoor pursuits on offer, including horse-riding and fishing. If you have a car, you could venture further; the seaside towns of Lowestoft and Southwold are 15 and 40 minutes away respectively.
The food and drink
Food and drink will be pre-arranged by your hosts. Breakfast and dinner are included in the cost of your stay, but you have to fend for yourself at lunchtime. The Fritton Arms (01493 484008;frittonarms.co.uk), which is on the estate and owned by the Crossleys, does a roaring trade in wholesome pub grub. Head there for Sunday lunch. Main courses start at £6.
The essentials
Somerleyton Hall, Lovingland, Suffolk NR32 5QQ (0871 222 4244; somerleyton.co.uk). From £15,000 for two nights, including rental of the 12 bedrooms, dinner and breakfast.
Source: https://www.independent.co.uk