Russia and Egypt have urged caution over suggestions that a Russian airliner that crashed in Sinai killing 224 passengers may have been bombed.
Russia said such theories were "speculation", while Egypt said there was "no evidence" yet to support them.
US and UK officials say intelligence suggests the plane may have been bombed. The UK has suspended flights to and from Sharm el-Sheikh.
Militants linked to Islamic State have claimed they brought the plane down.
The Metrojet Airbus 321, bound for St Petersburg, crashed in Egypt's Sinai desert just 23 minutes after take-off from Sharm el-Sheikh on Saturday.
Most of those on board the plane were Russian.
"We cannot be certain that the Russian airliner was brought down by a terrorist bomb, but it looks increasingly likely that that was the case," said UK Prime Minister David Cameron.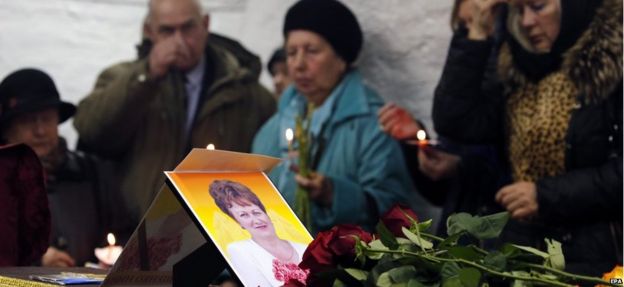 But Kremlin spokesman Dmitry Peskov said that such a conclusion was premature, while Egypt's Civil Aviation Minister Hossam Kamal said the investigation team had "as yet no evidence or data confirming this theory".
Egypt is leading the investigation, with the help of Russian and other international experts. Investigators will examine the wreckage for traces of explosives, but would not reach their first conclusions for a few months, said Alexander Neradko, head of Russia's aviation agency.
"We do not want to rush into conclusions," Egyptian President Abdul Fattah al-Sisi, who is on a visit to the UK, told the BBC. "We all share the same concerns. We want to know the reasons behind it.
"The investigation will be disclosed with all transparency, we have nothing to hide."
Mr Sisi, who is due to meet Mr Cameron, had previously dismissed the IS claim as propaganda.
---
Lyse Doucet, BBC News, Cairo
The timing of Britain's statement on the air crash could not have been worse, just as President Sisi was arriving in London for his first official visit.
A senior official in his delegation told me this morning they were not told in advance. He said this would be one of the most important topics in today's meeting between the two leaders and would have an impact on other issues. We won't be as receptive, is how he put it.
Egyptian officials say they had responded to every British request for extra security at Sharm el Sheik airport including additional troops in and around the airport.
This is a hugely embarrassing moment for the Egyptian authorities but, if it is proven that a bomb was on board the plane, they also face troubling questions about their ability to maintain security in the midst of significant threats.
---
UK Foreign Secretary Philip Hammond said there would be no British flights out of Sharm el-Sheikh on Thursday, but airlines expected to start flying home some of the thousands of Britons currently at the resort on Friday.
"We're spending today with the airlines, with the Egyptian authorities, putting in place short-term emergency measures that will allow us to screen everything going onto those planes, double-check those planes, so that we can be confident that they can fly back safely to the UK," he told the BBC.
Germany has urged travellers to avoid the Sinai peninsula, while the Netherlands is advising against travel to and from Sharm el-Sheikh.
The airline Metrojet, also known as Kogalymavia, earlier this week blamed "external influence" for the crash, but the head of Russia's aviation agency said such talk was premature.
On Thursday, the airline said it had suspended all flights of Airbus A321 jets in its fleet.
The Russian press has been playing down the idea that Islamist militants might be targeting Russia over its aerial bombing campaign in Syria.
A senior member of Russia's upper house of parliament, Konstantin Kosachev, was quoted as saying that Britain's move was "politically motivated by its opposition to Russia's actions in Syria".
Also on Thursday, the first funeral for a victim of the crash was held in Russia.
Nina Lushchenko, a 60-year-old school employee, was buried in Veliky Novgorod, south of St Petersburg.
At the scene: Sarah Rainsford, BBC News, St Petersburg
Anxious for information, Olga Ovechkina and other relatives now come to a hotel near the airport each day.
It has become the headquarters for an emergency response team. Raw-eyed relatives wander the lobby here or sit quietly and cry.
Dozens of psychologists are on hand to offer comfort, themselves clearly drained by the experience.
Source: https://www.bbc.com