Wandering across the Parque Colon, I momentarily lose track of the fact that I am in the Caribbean. It is not that the palm trees which frame the square at Santo Domingo's heart have uprooted themselves. It is more that I am suddenly aware that those classic symbols of the region – the beach, the lounger, the cocktail – are noticeable by their absence, their holiday aesthetic drowned by the busy noises of the city and the ghosts of colonial Spain.
As a destination, the Dominican Republic is mainly known – if it is known at all – as a haven of sun and sand; a place of escape from the European winter. And it lives up to this perception with relish in the resorts of Punta Cana, at its far south-east corner. But its capital, fixed midway along the south coast, a three-hour drive away, is a different beast – a kindred spirit of Havana, where the past waits in cobbled streets and historic landmarks.
It is older than Cuba's kingpin, of course – the first city in the Americas, founded in 1496 by Bartholomew Columbus, just four years after his elder brother, Christopher, had stumbled across the wider island (Hispaniola) during his initial voyage of "discovery" to the New World. Over 500 years on, Santo Domingo still breathes this era, its Zona Colonial – alive with churches and palaces – protected as a Unesco World Heritage Site.
As such, it is a beacon for tourists who are keen to add a dash of culture to their week of Caribbean relaxation. Not least in February, when Carnival season is in full flow – building up to Independence Day (27 February), which fills Santo Domingo with costumed colour.
Naturally, independence is a treasured idea in a city which faced centuries of attacks from British ships, Spanish overlords and neighbouring Haitians – and lost its name from 1936 to 1961 when the dictator Rafael Trujillo retitled it in his own honour ("Ciudad Trujillo"). But it wears these scars with beauty – a fascinating enclave for any who care to explore it.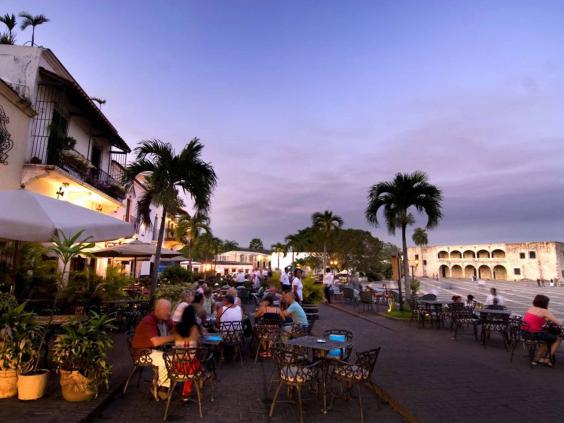 Sir Francis Drake made short work of what is now the Fortaleza Ozama museum (Calle Las Damas; 001 809 686 0222). The city fort was constructed between 1503 and 1507 – and though overrun by the English seadog and his men, it was sturdy enough to continue to be in military use until 1965.
Alas, the Alcázar de Colón (Plaza Espana; 001 809 682 4750) proved less resilient. The ornate structure, built by Diego Columbus (Christopher's son) as a family mansion between 1510 and 1512 was left in ruins by Drake. What exists today is a reconstruction, albeit a faithful one, done from 1955 to 1957, with rooms full of tapestries, period furniture, and the Ozama river ebbing behind.
The Museo de las Casas Reales (Calle Las Damas; 001 809 682 4202; same hours, price as the Alcazar) makes fine use of what was the Spanish governor's home – as a museum which recalls the Taino Amerindians who once lived here, as well as the voyages of Columbus.
Unpack
Santo Domingo's hard-wired heritage runs to accommodation in the form of the Hostal Nicolas de Ovando (001 809 685 9955;mgallery.com) – a fabulous five-star where 104 rooms yearn for 16th-century Spain in bare stone walls and cool ochre floor tiles. Doubles start at £124, room only.
Rather more contemporary, but well located, just two blocks from the cathedral, the Hotel Mercure Comercial (001 809 688 5500;mercure.com) offers double rooms from £65,  with breakfast.
Think local
Two emblems of Dominican pride crown the city's grid. The Panteón de la Patria (Calle Las Damas;  001 809 689 0089) is an 18th-century Jesuit church which now serves as a mausoleum for national icons, its marble tombs containing a crew of presidents and poets.
Rather odder, on the east bank of the Ozama, is the Faro a Colón (Parque Mirador del Este; 001 809 5921492) – a vast cement bastion, opened in 1992 in celebration of the 500th anniversary of the "discovery" of the Americas, which purports to hold Columbus's remains (though he is probably in Seville) while resembling less a lighthouse than a Soviet nuclear bunker.
Eat
The Hostal Nicolas de Ovando offers the gourmet jewel of La Residence – a French affair in an enclosed courtyard where the three-course "Menu de Chef" features the likes of roast duck, and is good value at US$26 (£18).
Nearby, Meson D'Bari (001 809 687 4091) clings to more local flavours , serving dishes such as grilled Dominican crab (DP350 /£5.30) in a restored colonial pile decorated with island artworks.
Drink
The Zona Colonial is dotted with options for a potent glass or two. Segazona (001 809 685 9569; twitter.com/segazona) proffers a giddy array of cocktails and regular 5pm to 8pm happy hours, with tables on the street. Elsewhere, Maquiavelo  (001 809 817 3254;facebook.com/maquiavelo1) parties late, staying open until 4am.
Spend
Bettye's Galeria (Calle Isabel La Catolica 163; 001 809 688 7649) is a merry jumble, selling Haitian arts and crafts, and Dominican jewellery. Hombres de las Americas  (001 809 686 2479;facebook.com/hombresdelasamericas), meanwhile, deals in sartorial elegance – selling Latin accoutrements such as Panama hats.
Getting there
There are no direct flights from the UK to Santo Domingo, but BA (0344 493 0787; ba.com) flies to Punta Cana twice a week from Gatwick. Indirect options to Santo Domingo include Iberia via Madrid (020 3684 3774; iberia.com); Air France via Paris (020 7660 0337; airfrance.co.uk); and American Airlines via Miami (020 7660 2300; aa.com). Most Punta Cana resorts offer excursions to Santo Domingo. Olympus Tours (001 809 831 6003;olympus-tours.com) runs day trips to the capital for US$105pp (£75).
More information