Boris Johnson's senior adviser on ethnic minorities is to stand down, amid a row over a government-commissioned report on race.
Samuel Kasumu is known to have been unhappy with the government's stance on racial issues.
He has not commented on the report, which said the UK "no longer" had a system rigged against minorities.
The PM said the report was "original and stimulating" but he did not agree with "absolutely everything" in it.
Equality campaigners have criticised it for downplaying the extent of racism in British society and institutions.
Former equality and human rights commissioner Lord Simon Woolley said there was a "crisis at No 10 when it comes to acknowledging and dealing with persistent race inequality".
Labour's shadow equalities secretary Marsha de Cordova called the report "divisive," adding it was "no wonder" the government was "losing the expertise from their team".
"To have your most senior advisor on ethnic minorities quit as you publish a so-called landmark report on race in the UK is telling of how far removed the Tories are from the everyday lived experiences of Black, Asian and ethnic minority people," she added.
A Downing Street spokesman insisted Mr Kasumu had been planning "for several months" to leave government in May.
"Any suggestion that this decision has been made this week or that this is linked to the [commission's] report is completely inaccurate," he added.



Samuel Kasumu may not be a name you're familiar with; even one minister awkwardly said they'd never heard of him this morning.
But his resignation is a difficult moment for the government on the sensitive, divisive topic of race.
Downing street has denied any suggestion his departure is linked to Wednesday's report.
Without Samuel Kasumu's version of events, it's hard to know why and when he chose to resign – having changed his mind about quitting earlier in the year.
But his departure leaves questions about the confidence some in government, let alone the public, have about the prime minister's approach to tackling racial inequality.
Last year Boris Johnson said he wanted to "change the narrative" on this subject – but this is unlikely to be what he had in mind.


Mr Johnson said he had "worked closely" with Mr Kasumu – who will leave his role next month – and he had "done some great stuff and I thank him very much".
The adviser had previously handed in a resignation letter in February, accusing the Conservatives of a "politics steeped in division".
He had asked to keep working on a project to combat disinformation on Covid vaccines, with "the view to leaving at the end of May".
But Mr Kasumu went on to retract this letter, following talks with vaccines minister Nadhim Zahawi.
Mr Kasumu has declined to comment, but sources told the BBC there has been an "awkward silence" hanging over Downing Street, with little discussion or movement since he first threatened to resign.
'Structural racism' row
The Commission on Race and Ethnic Disparities (CRED) was launched last summer in the wake of anti-racism Black Lives Matter protests last summer.
In its report published on Wednesday, it concluded the UK was not yet a "post-racial country," but family structure and social class had a bigger impact than race on people's life chances.
It argued that racial discrimination has often been misapplied to "account for every observed disparity" between ethnic groups.
And it said references to racism in the UK being "institutional" or "structural" had sometimes been used without sufficient evidence.
Dr Maggie Aderin-Pocock, a member of the commission, said the report was not denying institutional racism existed, but said they had not discovered evidence of it in the areas they had looked.
The commission made 24 recommendations, including urging more research into school performance and for organisations to ditch unconscious bias training.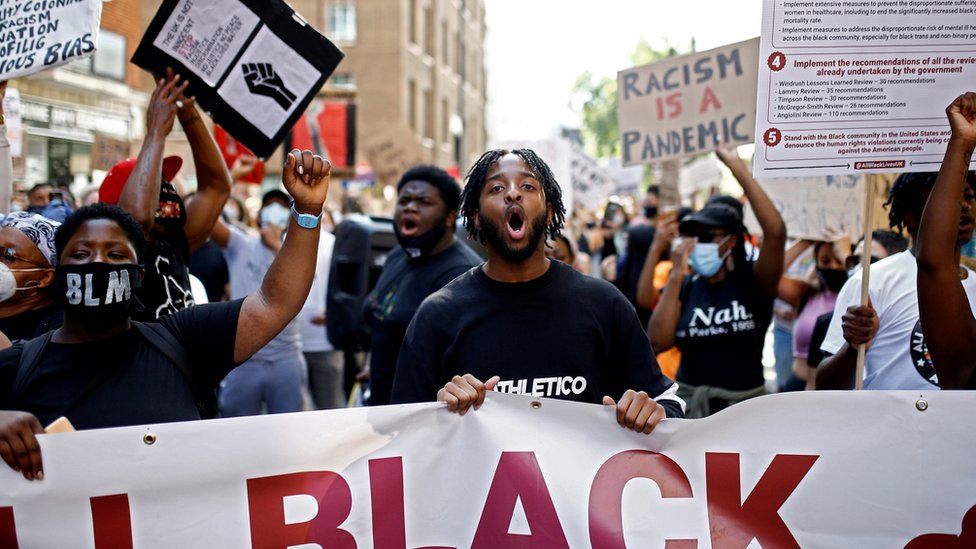 Speaking on Thursday, Mr Johnson said the commission had suggested several "interesting ideas" and the government would respond in "due course".
"I don't say the government is going to agree with absolutely everything in it, but it has some original and stimulating work in it that I think people need to read and to consider," Mr Johnson added.
"There are very serious issues that our society faces to do with racism that we need to address.
"We've got to do more to fix it, we need to understand the severity of the problem, and we're going to be looking at all the ideas that they have put forward".
Slavery comments criticism
The commission's chairman Tony Sewell, an education consultant and ex-charity boss, has meanwhile defended himself from criticism over comments he made in the report about how the British Empire should be taught in schools.
In his foreword to the report, he wrote: "There is a new story about the Caribbean experience which speaks to the slave period not only being about profit and suffering but how culturally African people transformed themselves into a re-modelled African/Britain".
Halima Begum, chief executive of race equality think tank the Runnymede Trust, said his comments were "out of kilter with where British society is" – and Labour's Ms de Cordova accused him of "putting a positive spin on slavery".
But in a statement on Thursday, Dr Sewell said it was "absurd to suggest that the commission is trying to downplay the evil of the slave trade".
"The report merely says that, in the face of the inhumanity of slavery, African people preserved their humanity and culture," he added.