A huge moorland fire is continuing to spread because the land is "as dry as a tinder box" and winds are fanning the flames.
The blaze covers 3.7miles (6km) of Saddleworth Moor and has been raging since Sunday night.
More than 50 homes have been evacuated in Carrbrook, near Stalybridge, Greater Manchester, and 150 people affected.
One resident described seeing "ash falling like rain" and another said it "looked like the apocalypse".
Dave Keelan, director of emergency response at Greater Manchester Fire and Rescue Service, said 70 of its firefighters were tackling the blaze.
He confirmed talks were ongoing to see if the Army could offer extra teams, four-wheel drive vehicles and air support.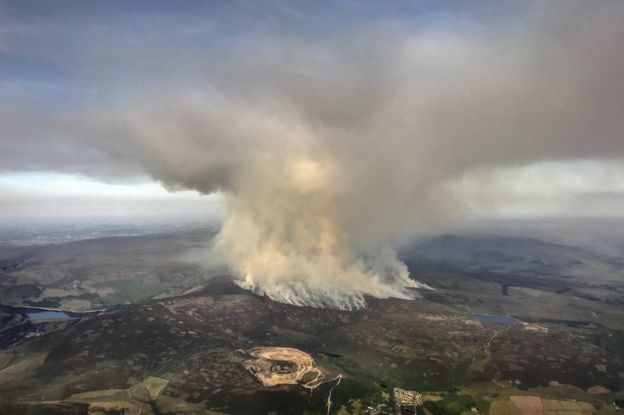 Brenda Warrington, leader of Tameside Council, said firefighters were hoping for a "really good downpour" and rain was "the only thing" that would quickly deal with the blaze.
"We do need mother nature to help us quite frankly," she said.
"It's as dry as a tinder box up there. A lot of winds are fanning the fire."
Mr Keelan said there were four different areas of fire embedded within peat, which is "extremely difficult" for crews to extinguish.
"They are working extremely hard, as they have been for the past couple of days, in really arduous conditions in heat and smoke," he said.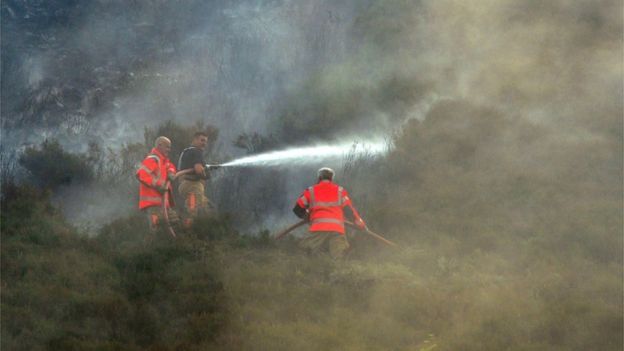 Matt Lomas, 76, who was evacuated with his wife, daughter and eight-month-old granddaughter Isla, said: "We could see flames 50ft high like a raging ball of fire all on the hill side.
"It was really scary, we were really worried the smoke would hurt Isla so we had to get out."
Pete Woodward, 43, said: "It looked like the apocalypse. There was a towering inferno of flames."
He said he "just grabbed a toothbrush and underpants" and got out with his partner and two young daughters.
"The flames were 500 metres long, it was a raging wildfire. You could hear the odd explosion but thankfully the house survived."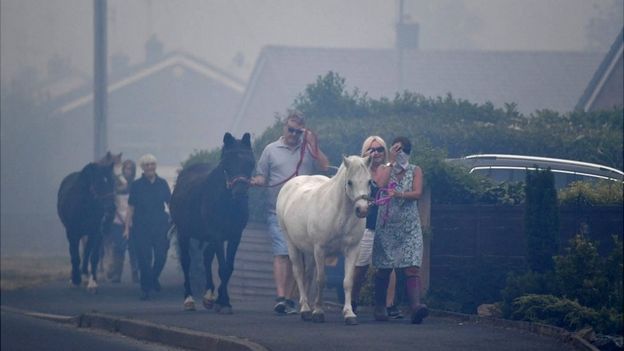 The fire began on Sunday night, reignited on Monday during the hot weather and then spread throughout Tuesday, fanned by evening winds.
Police said the homes in Carr Rise, Carr Lane and Calico Crescent were evacuated due to the proximity of the flames.
Angela Brown, 59, said she saw "ash falling like rain" from the raging fire.
"It was terrifying. It was getting closer and closer. Every so often there was a crackle and flames would shoot in the air."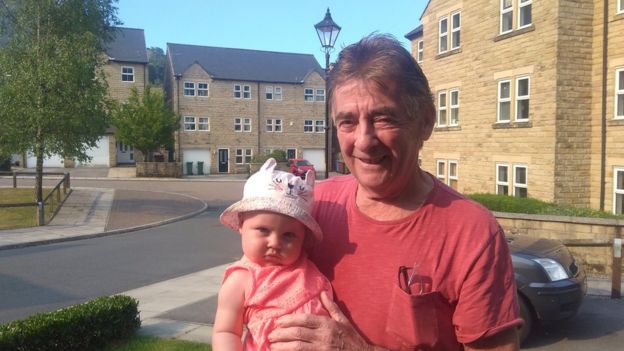 Greater Manchester Mayor Andy Burnham said a "request to the military for extra support" is being prepared "so there is a back-up plan" to support firefighters.
"I think everybody feels a great deal of gratitude towards them [firefighters] but it's hit the point where reinforcements are needed and that's what we're arranging," he told BBC Radio 5 live.
Jonathan Reynolds, MP for Stalybridge and Hyde, added: "We haven't had anything of this scale in living memory, never had to evacuate people or close schools."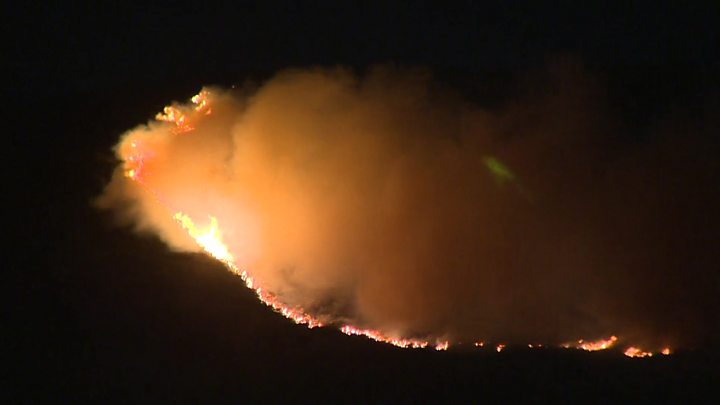 At the scene: Stewart Whittingham, BBC News Online
Thick smoke is swirling around the village of Carrbrook, making people cough and cover their mouths.
Ash covers a welcome mat at one house, and evacuated neighbours hug each other in the street.
Some have tears in their eyes while others shake their heads as the look at the charred hillside. One or two cuddle their precious pet cats and dogs.
Thick smoke can still be seen on the hilltops from the fires burning on the moors beyond.
Snuggled up to his mother, seven-year-old Oscar McFie sums up the mood: "It was scary, but we're safe."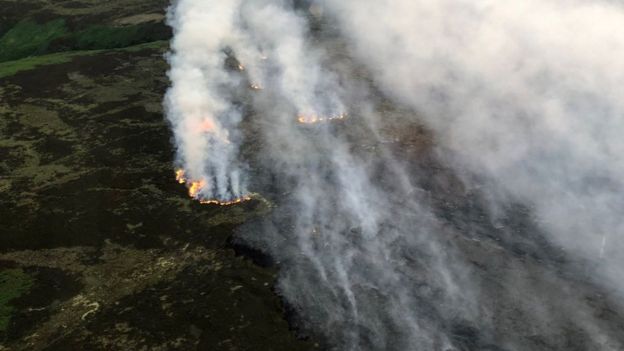 The fire service earlier confirmed the blaze was spreading and said crews had recommenced "offensive firefighting".
Assistant Chief Fire Officer Leon Parkes said crews planned to "put a heavy attack" on the fire, which has been declared a "major incident".
You may also be interested in:
Smoke and flames can still be seen for miles but Mr Parkes said crews had "quelled the risk" to homes at risk from the flames.
He said it had not been established what might have caused the fire.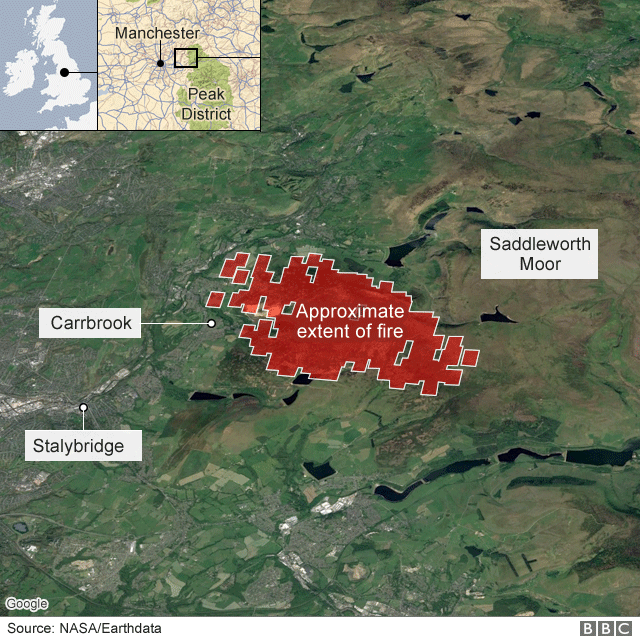 Greater Manchester Police's Saddleworth division said about 2,000 acres of moorland had been destroyed in the fire.
Some 65,000 gallons of water were dropped on the blaze by a helicopter on Tuesday to fight the fire which was "unprecedented in recent times", it added.
Firefighter Ricky Case, who has been out on the hills, said: "It's just the sheer vastness of it. It's one of the biggest ones I've been on in a long time."
Source: www.bbc.com