It could be "some time" before all UK tourists stranded in Sharm el-Sheikh are home but it is vital to ensure their safety, the prime minister has said, after the suspension of flights.
David Cameron said it was "increasingly likely" a "terrorist bomb" caused a Russian passenger jet to crash killing all 224 people on board on Saturday.
UK security experts are working with local authorities to get Britons home.
Monarch airlines says three "rescue flights" will operate on Friday.
The airline said the flights would be in addition to its two scheduled flights. BA, meanwhile, confirmed it would be operating two flights.
About 20,000 Britons are said to be in the resort, including 1,000 residents.
In other latest developments:
The Kremlin says theories about the cause of the crash of Metrojet Airbus 321 are "speculation" at this stage – Mr Cameron confirmed he would call Russian President Vladimir Putin to discuss the developments
The Dutch Ministry of Foreign Affairs is advising its citizens against travel to or from Sharm el-Sheikh airport, but says flight suspensions are down to individual airlines
Extra UK consular staff have been drafted in to Sharm el-Sheikh airport
A Ministry of Defence source says a small team of UK military personnel are in the resort to advise Foreign Office officials and Department of Transport officials on logistics and security
Egyptian officials said the cockpit voice recorder of the Metrojet plane was badly damaged in the crash but they managed to extract information from the flight data recorder
Speaking after chairing a meeting of the government's emergency committee Cobra, Mr Cameron said: "The decisions that I'm taking are about putting the safety of British people first.
"What we need to put in place is more security at that airport so it is safe to fly people home…
"There is still an investigation taking pace in Egypt. We need to see the results of that investigation. The reason we have acted before that is because of intelligence and information we had that gave us the concern that it was more likely than not a terrorist bomb."
Mr Cameron is holding talks at Downing Street with Egyptian President, Abdel Fattah al-Sisi, who arrived in the UK on Wednesday for a visit.
Foreign Secretary Philip Hammond said there were 19 flights scheduled for Britain on Thursday, but none would depart.
"The airlines are telling us that they expect by tomorrow they'll be in a position to start flying those British visitors back to the UK," he added.
"We're spending today with the airlines, with the Egyptian authorities, putting in place short-term emergency measures that will allow us to screen everything going on to those planes, double-check those planes, so that we can be confident that they can fly back safely to the UK."
Mr Hammond said measures included additional baggage screening and searching, but the UK would work with Egyptian authorities to look at a more sustainable plan.
UK aviation experts had been sent to Sharm el-Sheikh to assess the security situation after the plane, bound for St Petersburg, came down in the Sinai desert on Saturday.
After an emergency Cobra meeting on Wednesday evening Mr Hammond said there was a "significant possibility" the crash was caused by an explosive device on board the aircraft.
It came after a US official told the Associated Press news agency they had reached the "tentative conclusion", after intercepting communications, that an affiliate of the Islamic State group in the Sinai peninsula had planted an explosive device.
Egypt has criticised the UK decision, accusing the government of making "a premature and unwarranted statement" on the crash.
BBC security correspondent Frank Gardner says the comments suggest the UK intelligence that prompted its decision did not come from the scene of the crash or from the Egyptian authorities.
---
'No information'
Sarah Cotterill was about to board an Easyjet plane to the UK on Wednesday when news of the flight suspensions emerged.
She told the BBC: "After spending about three hours at the airport we've been bussed back to our hotel, and that's where we are at the moment.
"At the airport we had practically no information, and there was a few members of the Egyptian staff at the airport trying to tell us what they knew, but that was practically nothing.
"Just as we were leaving, some embassy staff turned up and they travelled with us to the hotel."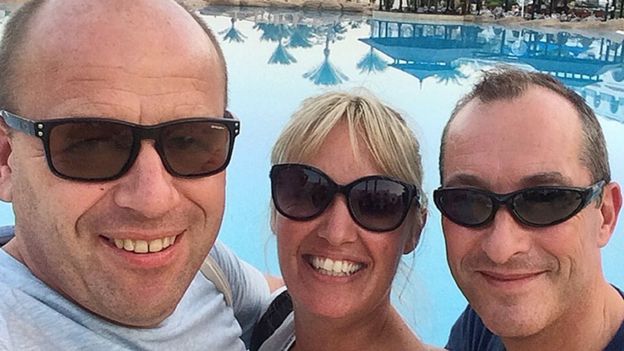 Another stranded Briton, Paul Modley, from London, is a frequent traveller to Sharm el-Sheikh. He said he understood the reason behind the government action but was "really worried for the Egyptian people because – particularly in the Red Sea resorts – they are so dependent on tourism".
Tony Lesser, a Briton who flew back from Sharm el-Sheikh last week, said he had seen local people walking through airport security checks unchallenged and suggested the system for scanning and searching luggage seemed very lax.
But James Monk from Essex, who was on one of the last flights back on Tuesday, said he had noticed security at the airport was very tight even before the crash.
---
A number of travel operators responded to the UK announcement:
Mr Hammond stressed the Foreign Office was not changing the travel advice with regard to the Sharm el-Sheikh resort itself, which it views as safe.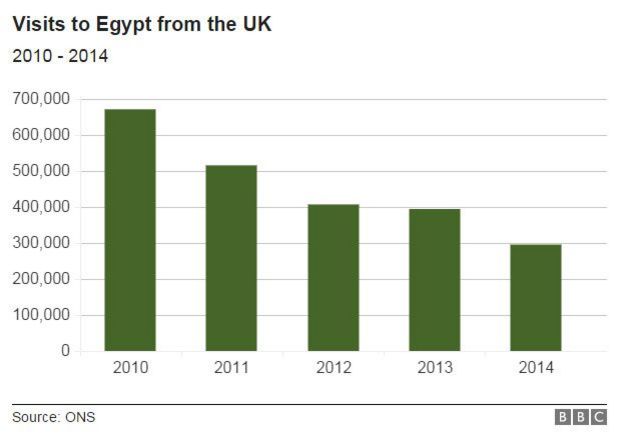 The Association of British Travel Agents said holidaymakers there, and people due to travel to the resort, are advised to contact their travel company.
"Most insurance policies will still provide cover for holidaymakers in a country at the time of Foreign Office advice change," she added.
"Those people with bookings beyond this are advised to wait until closer to the departure date to contact their travel company as the situation is reviewed."
Source: https://www.bbc.com