Egypt is restricting the number of rescue flights for Britons stranded in Sharm el-Sheikh.
Easjet said eight of its planes were not being allowed to land to pick up passengers, but two flights had left.
Flights from other airlines are scheduled to depart for the UK later.
Holidaymakers were left stuck after the British government cancelled flights to and from Sharm el-Sheikh on Wednesday amid fears a Russian passenger plane was brought down by a terrorist bomb.
The first Easyjet flight left shortly before 13:00 local time for Gatwick, with the second heading for Luton an hour later.
In total 21 UK-bound flights are expected to take some of the estimated 19,000 British nationals on holiday in Sharm el-Sheikh home.
Monarch said five of its planes are currently in the air on the way to pick up Britons as scheduled
BA said it did not expect its aircraft to be refused landing permission in Egypt and its flight to Gatwick would leave as planned
Thomson said it would be flying nine flights out of Sharm el-Sheikh
Thomas Cook say they will operate four flights.
The Department for Transport said it was urgently working with the Egyptian authorities to try to ensure planned flights leave.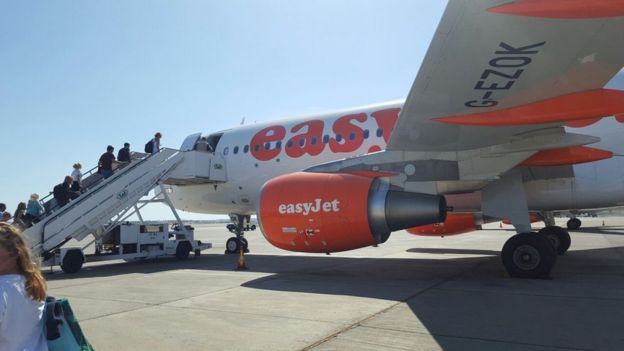 "Travellers should keep in contact with their tour operators and shouldn't leave for the airport until they have a confirmed flight."
Speaking to reporters at Sharm el-Sheikh airport, the UK 's ambassador to Egypt, John Casson, said: "Our aim is to get as many people home as soon as possible.
"We will advise people to stay in touch with their airline in the first instance to find out the best time to come to the airport. But we have a big British government team here on the ground now ready to provide help."
Outbound flights from the UK to Sharm el-Sheikh remain suspended and the Foreign Office continues to advise against all but essential travel by air to or from Sharm el-Sheikh airport.
But Transport Secretary Patrick McLoughlin had told the BBC it had been hoped that the "vast majority" of British tourists who "should have come back Wednesday, Thursday and Friday… will be back by tonight".
In a statement on its website, Easyjet said it would take 339 passengers back to the UK later but would cover the costs of additional accommodation and reasonable expenses for anyone affected by the disruption.
It added: "We are working with the UK government at the highest level on a solution. In the meantime we are also developing a contingency plan so we can bring our customers home as early as possible, once we get permission to fly.
"We understand this is extremely frustrating, but we are asking customers to stay in their hotels and if they are currently planned to be checked out in the next 48 hours, to try and extend their stay for an additional two days."
Hand baggage only
The Metrojet Airbus A321 aircraft was flying from Sharm el-Sheikh to St Petersburg last Saturday when it crashed in the Sinai desert, killing all 224 people on board.
UK investigators believe a bomb was put in the hold of the Metrojet Airbus A321 before take-off, the BBC has learned.
The government says it received a crucial new piece of intelligence on Wednesday, which the BBC understands was based on intercepted communications between militants in the Sinai.
British security officials who had assessed the airport and ordered additional security measures for passengers.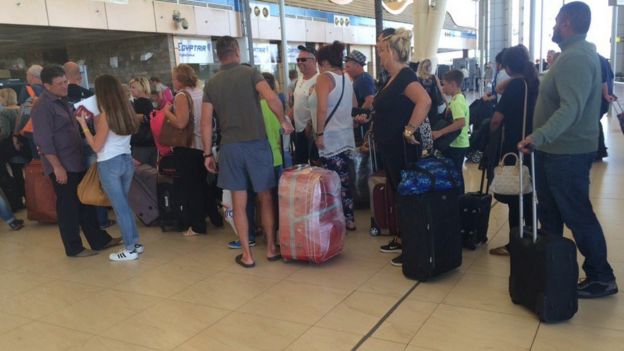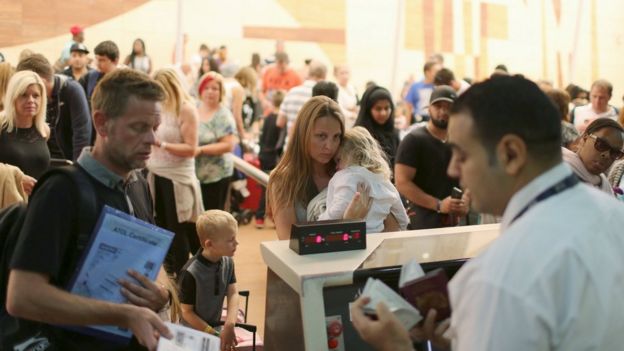 Only hand luggage will be allowed on flights, with hold baggage being transported later by the government.
Passengers have been advised to only bring essential items such as passports, car and house keys, money, medicines, and mobile phones.
Mr McLoughlin said UK security officials were at the airport monitoring the baggage screening process.
He said reports the luggage would be transported back to the UK by the RAF was incorrect but the government was making arrangements to ensure it would be returned to passengers in a week to 10 days.
---
Analysis by Jonathan Marcus, diplomatic correspondent
The speed with which the British government pointed to terrorism as the possible cause of the downing of the Russian Airbus over the Sinai Peninsula has not gone down well in either Cairo or Moscow.
For the Egyptians the stakes are obvious: Sharm el-Sheikh and the wider tourism industry are a crucial element of its economy.
This episode has punctured the long-held Egyptian narrative that Sharm el-Sheikh; its airport and resort hotels are insulated from the wider chaos in the Sinai.
For the Russians, an attack linked to so-called Islamic State is also problematic.
IS is the declared target of its air operations in Syria, but in reality Russian warplanes have largely been striking other rebel groups. IS may now find itself in Russia's sights.
But if IS did bring down the airliner this could exacerbate concerns amongst Russian public opinion that their country's engagement in Syria is provoking some unpleasant blow-back.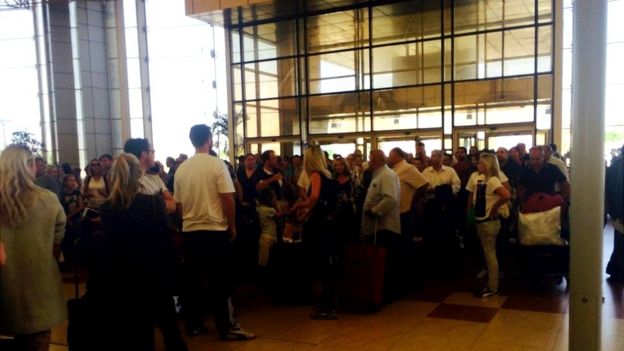 Source: https://www.bbc.com