Reading and Leeds Festival organisers say they are "very confident" the events will go ahead this summer, after plans to ease lockdown were announced.
Under the government's plan, limits on social contact in England could be gone by 21 June, if Covid is under control.
The twin-site festival is due to take place from 27 to 29 August.
"The good news is that we can be very confident that Reading and Leeds is going to take place," festival boss Melvin Benn told BBC Radio 1.
Asked how the event could go ahead when others like Glastonbury had been forced to cancel, he told Radio 1's Newsbeat: "In fairness, we haven't done it, the government have done it. The government are vaccinating everybody and that's how it's going to happen."
Earlier on Wednesday, Reading and Leeds' Twitter feed posted a message saying: "Following the government's recent announcement, we can't wait to get back to the fields this summer. Let's go!"
Stormzy, Liam Gallagher and Queens of the Stone Age have already been announced as headliners, with Mabel, AJ Tracey and Doja Cat also on the line-up.
"The acts are desperate to play, the kids are desperate to come," said Benn. "I can feel that."
Suffolk's Latitude festival, which is also run by Benn's company Festival Republic, is expected to make an announcement about its plans for 2021 in the near future, he added.
Last year, he told MPs his events could not go ahead while social distancing was in place.
However, he said live music could resume with mass testing of fans, "creating an environment where everybody in the space has tested negative in order to gain entry and are therefore unable to transmit the virus to other people". It is unclear whether any such measures will be put in place this summer.
Reading and Leeds is regarded by many fans as second only to Glastonbury in the annual UK music calendar. Originally a rock festival, it has seen legendary performances by Nirvana, Oasis, Guns N' Roses and Paramore.
More recently, it has embraced dance and hip-hop, with high-profile slots for The Prodigy, Kendrick Lamar and Post Malone. This year, the festival is due to host about 200,000 fans at Richfield Avenue in Reading and Bramham Park in Leeds, with two main stages at each site.
'Life has to go back to normal'
The festival's bullish announcement comes less than 48 hours after Prime Minister Boris Johnson announced his four-step plan for easing restrictions.
Under the proposals, outdoor hospitality, including drive-in cinemas, could re-open as part of step two in April. Pilots of indoor live events, with social distancing, could also commence at the same time.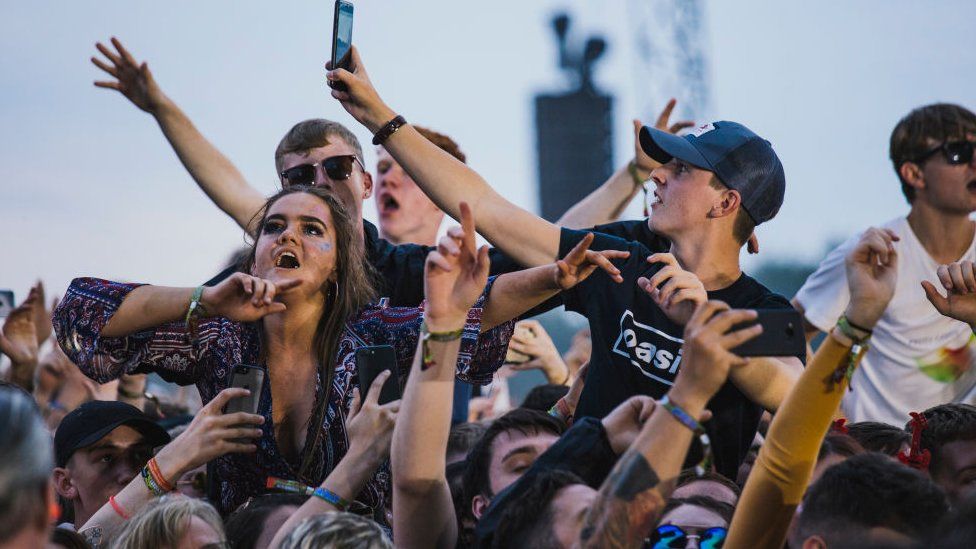 Step three, which would start no earlier that 17 May, could allow limited indoor mixing. Indoor concerts would have a limit of 1,000 people or 50% of a venue's maximum capacity. Outdoor concerts and sporting events would have an upper limit of 4,000 people – or 10,000 for seated events.
The roadmap gives no guarantee for those dates, with every step dependent on slowing the spread of Covid-19.
Benn said he thought it was unlikely the timetable would change.
"Why would it?" he asked, adding that "we have to, at some point, start planning for life to go back" to normal.
Dr Google, manager of rap act Bad Boy Chiller Crew, who are due to play Reading and Leeds, added: "Obviously anything can get cancelled but… I don't think the music industry could last another 12 months without any live events".
Tours postponed
The industry has largely welcomed the timeline for the lifting of lockdown restrictions in England. However, it warned that live music was "at the back of the queue to re-open" and may still need financial assistance.
On Monday, Greg Parmley, chief executive of the trade body Live, said his sector "could be months behind the rest of the economy".
"The chancellor must acknowledge our extended closure in the budget and provide the economic support needed to ensure the jobs and livelihoods of the hundreds of thousands of people that work in our industry exist as we come through this pandemic," he said.
The UK live music industry was effectively wiped out by the Covid-19 pandemic, with events cancelled throughout 2020 and many major tours postponed until this autumn at the earliest.
The situation prompted the House of Commons Digital, Culture, Media and Sport select committee to launch an inquiry into the future of festivals.
Last month, the committee wrote to Chancellor Rishi Sunak to ask him to extend government-backed insurance schemes to music and performing arts festivals.