Raúl resisted retirement for one more week, rebelling as he had always done. There seemed to be 29 minutes left of his 21-year professional career when he scored the winner against Fort Lauderdale Strikers in Brooklyn last Sunday and ensured there would be another 90 minutes at least. The goal, the 448th of his career, took the New York Cosmos into Sunday's NASL final, his final. There is no delaying the end any more, but the curtain could fall with him holding a trophy. It would be the 22 of his career.
The World Cup and the European Championships are not among them; Raúl left as this generation was arriving. Whether he had to was another matter: his departure from the national team in the run up to Euro 2008 became a question of state and a horribly divisive one, but Spain won three trophies in a row, a unique feat in world football. David Villa took his No7 shirt and his record too: with 44 goals Raúl González Blanco is now the country's second all-time top scorer.
Seven players played in all three of those finals for Spain, four players started all three. Yet Pep Guardiola still describes Raúl as "the most important player in Spanish football history", and many would agree. In Spain the fact that he has never won the Ballón d'Or is treated as a scandal, one that still gets some incandescent with rage. If Michael Owen, winner in 2001, ever wonders why some in Spain have an irrational hatred for him, that's why. Because he was a usurper. That was the year, they say. The year justice should have been done.
Maybe it is true that each individual year there was someone who made a stronger case – from Owen to Ronaldo to Figo to Zidane, one-tine team-mates all – but had there been a five-year award, or a 10-year one, Raúl may well have been favourite. Maybe it didn't matter anyway: "I'd like to be remembered as a team player," he said this week. From 1995-96 to 2003-04 he never dropped under 20 goals a season. Until recently, he was Madrid's all-time top scorer.
The man who overtook him, Cristiano Ronaldo, for whom the No1 is always Cristiano Ronaldo, sent Raúl message in which he insisted: "For me, you were always the No1."
Ronaldo was quicker to the target, but these are different times. And the number of games Raúl playe, the fact that he survived 16 years at the Santiago Bernabéu, is eloquent. It is not so easy, even for him. For others it would have been impossible. He became captain and he won it all: six league titles, three European Cups and two Intercontinental Cups. He scored in two of those European Cup finals.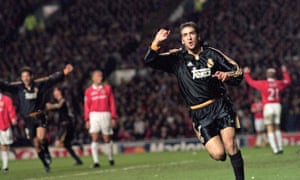 "Raúl is synonymous with Madrid: the face of the club for the last 25-years," Jorge Valdano says. "If you wrote a list of Raúl's qualities, it would be a list of the values of Real Madrid. He is the Di Stéfano of our time. He is the people, the incarnation of Madridismo." Even if he did start off playing for Atlético Madrid.
Atlético's then president, Jesús Gil, decided that there was no point in having a youth team, so Raúl headed to Ciudad Deportiva, up at the northern end of the Paseo de la Castellana. He was 17 when he met Valdano, who had arrived from Tenerife, and after whom his first son is named. Valdano gave him his debut – although the way he puts it, Raúl gave himself his debut. It was ever thus.
Raúl had started the season in the C team, very briefly played for the B team and, with Emilio Butragueño coming to the end and Alfonso Pérez injured, Valdano was thinking of playing him in the first team. If Valdano admitted that he had doubts, Raúl had none. "If you want to win, play me," he replied. "If not, put someone else in." There was something in the response that summed him up.
On the bus to the match, he was asleep, as if it just didn't matter. It was 29 October 1994, week nine of the season, and the truth is that he was a disaster. Ten seconds into his debut, he scuffed a one-on-one; then he went around the goalkeeper and put his shot over; next came a shot straight at the goalkeeper, clean through. On and on it went, miss after miss. Real lost 3-2. But this was not the end. The coaching staff expected to find a kid in tears, destroyed, but they could not have been more wrong.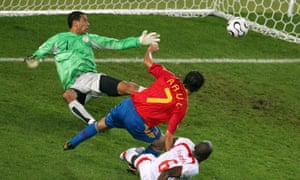 Raúl was skillful, his first touch impeccable and his finishing fast, the ball often struck earlier than anyone imagined. But his success was not really about natural talent. It was more about being astute, intelligent, focused; about recognising and minimising his flaws. He was bandy-legged, hunched, not especially fast. In Fernando Hierro's words, "he was not a 10 out of 10 in anything but he was an eight-and-a-half in everything."
He was supremely competitive, his conviction unshakeable. Más talante que talento, they say: more temperament than talent. Which is not to say that there was no talent, but this was no gifted child.
When he made his debut, Real's assistant coach was Ángel Cappa. "Raúl was a surprise to us, but not to himself. Raúl carries the ball badly, he dribbles badly, he can't head the ball, he strikes it badly," Cappa says, pausing to add: "… and then the game starts. When the game starts, he carries the ball well, he dribbles phenomenally well, he can head it, he scores a thousand different types of goal. He is suddenly perfect. Raúl is a born competitor. He's unique."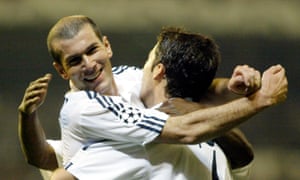 He demonstrated the personality, will, dedication, strength of character, and rebelliousness against his own limitations that others lacked. His preparation was intense, later even going so far as to sleep in an oxygen tent. He loves football – really, really loves it. He may shy from headlines but get him talking about the game and it is fascinating, the enthusiasm clear. He loves to compete as well, to do things properly. Seriously. That's where his enjoyment always came from, whatever level he was at.
Asked in April 2011 how players like him and Ryan Giggs kept going, he replied: "We love this profession, we enjoy it. For Ryan and me, it's our life." By then he was in Germany. It may have seemed like an unusual choice at the time but was it was not chance that he went to Schalke when he finally left Madrid, nor that when he got there he was a revelation. He reestablished himself as European football's top-scorer, together they reached the semi-final of the Champions League and when he left, they gave him a send off that suggested he'd been there 10 years, not two.
He could have taken the easy option rather than heading to Germany, but that was never really his way. "This is what I needed: to play regularly, to battle a little longer," he said. He re-found himself. To visit him in Gelsenkirchen in April 2011 was to witness a man liberated. He had always taken football seriously and he took the captaincy of Real Madrid very seriously. "I'd reached the point where I needed to escape," he said.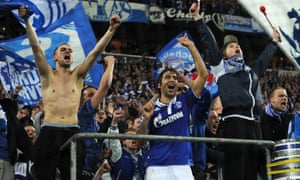 Suddenly, it was all about the football again. Only the football. "If I wanted to carry on enjoying football, I had to leave. I could have stayed there but it wouldn't have been what I wanted. I wouldn't be enjoying it," he said. But that didn't mean escaping himself. That commitment, the competitiveness, was what made him so successful.
Valdano defined him like this: "Quantity above quality, absolute commitment and endeavour above all else. Utter professionalism. Every. Single. Day. Of. His. Life."
"Conviction," is the word Cappa most returns to; conviction no matter what. He had seen it from the start.
Raúl's debut was a disaster but he was not destroyed. Cappa went to comfort him but just found himself feeling foolish for doing so. This 17-year-old didn't need comforting, he just needed another game, just as he did last Sunday aged 38. So they put him back in the following week, against Atlético. Raúl made one, won the penalty for another, and scored in a 4-2 win. And so it began.
On Sunday it ends and this time there is nothing Raúl can do about it.