Norwegian (0330 828 0854; norwegian.co.uk) has now started flying direct from London Gatwick to the island's capital, San Juan, making this US territory an easy option for British travellers too.
Seaside sojourns range from time-warped smugglers' ports to superb snorkelling, and the Caribbean coastline is bashed by smashing surf. Inland, densely forested mountains lure adventure seekers away from the crowds, while the cultural scene embraces spectacular museums alongside world-class cuisine.
Sensational surf
At this time of year, Puerto Rico's wild, wondrous and world-famous waves are peaking at their absolute best, frequently cresting at a 25ft high. The town of Rincón is the chic surf capital – it even gets name-dropped in the Beach Boys song "Surfin' Safari". There are upwards of a dozen sublime surf beaches hereabouts: Tres Palmas gets those 25ft breaks, while Steps is known for its snorkelling as well as its surfing. Surf 787 (001 787 448 0968; surf787.com) offers private two-hour lessons for $105 (£68).
Island flavours
San Juan is arguably the Caribbean's greatest dining destination and the food is up there with the history as an obligatory indulgence. What locals call cocina criolla (Creole cuisine) combines Spanish, Latin American, native Taino and African influences. San Juan Food Tours (001 787 964 2447;sanjuanfoodtours.com) offers three-hour Old San Juan tours that take in architecture and top-notch eateries (from $70/£46 per person). Wash it all down with a stopoff at the excellent Old Harbor Brewery (001 787 721 2100; oldharborbrewery.com), which brews Puerto Rico's finest beers.
Second city
The plush, modern resorts ringing the coast wouldn't suggest it, but in parts Puerto Rico still resembles the quintessential centuries-old pirates' hangout: cobbled alleyways, fortresses and colourful colonial character. Old San Juan is the obvious crown jewel, but Ponce, the island's fiercely proud second city, exhibits some bombastic 18th- and 19th-century architecture.
Check the sights around the pretty, central Plaza Las Delicias, such as Ponce's most-photographed edifice, the Moorish red-and-black-striped former fire station Parque de Bombas (001 787 840 1045). Afterwards, ascend to the best local viewpoint, the Cruceta del Vigia, where the opulent Museo Castillo Serralles (001 787 259 1770; museocastilloserralles.com; tickets $8.50/£5.50) makes for an intriguing tour – and, with a café and terraced gardens, the perfect place to absorb the city's atmosphere.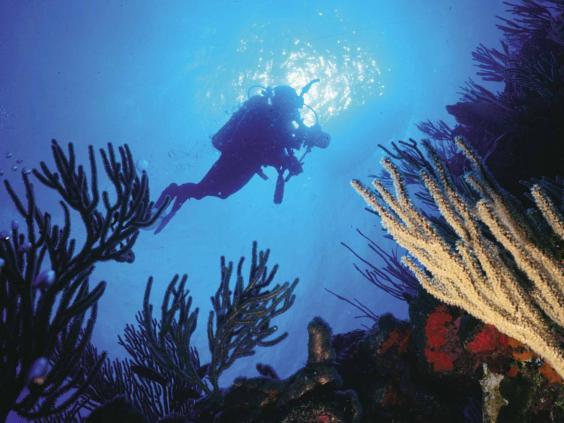 Active adventure
Few visitors brave the bad roads rearing up to the island's rugged, mountainous interior, but those who do catch it at its most unspoilt. Start on a high note with a heart-in-mouth visit to Toro Verde Nature Adventure Park (001 787 867 7020;toroverdepr.com), near Orocovis, where one of the world's longest zip lines whooshes you 1.5 miles above a stunning swathe of forest (from $125/£81 per person). In the same park is the island's best mountain biking.
Dive in
When Puerto Ricans aren't skimming over the top of the ocean on boards, they're under it on a dive. Based out of Rincón, Taino Divers (001 787 823 6429; tainodivers.com) has an outstanding reputation and takes clients out to the stunning reefs around Isla Desecheo, situated eight miles west of Rincón. Two-tank dives cost $120 (£78).
Source: https://www.independent.co.uk