1) Liverpool should not expect an instant akloppalypse
Has any Premier League managerial appointment ever generated such hyperbole? Part-hipster, part-everyman, Jürgen Klopp's arrival sent the media into overdrive this week. Man turns up for work! Man goes out for drink! Klopp may have arrived on Merseyside with a smile and a wink but everything he has said and done has been with one intention: to downplay. "Give me time," he urged. Yet fans have already started chanting that the German is going to win Liverpool another Champions League. "I don't walk on water," he pleaded, "I'm the normal one."
Yet his emphasis on patience shows how acutely aware he is that he might not live up to expectations, that Liverpool could easily lose at Tottenham on Saturday, could easily fail to win any of their next four league games – Southampton (home), Chelsea (away), Crystal Palace (home), Manchester City(away) – that they will probably fail to qualify for the Champions League this season. But this is what the Premier League does: it builds them up then cuts them down. Few have the substance to live up to the hype. Perhaps Klopp does, but the backlash is never far away.
Klopp finished sixth in his first season at Dortmund in 2008-09, failing to qualify for the Europa League. A year later he finished fifth. His methods, and his squad, took time to take hold. Liverpool have the same squad as two weeks ago – minus two key injuries to Danny Ings and Joe Gomez. There's not much narrative here folks, but Klopp will want to take it one game at a time, starting with Spurs away this Saturday. He could do worse than Brendan Rodgers last season. MB
2) Schneiderlin can negate Barkley's threat
Hindsight is a beautiful thing but Louis van Gaal's decision to play Michael Carrick and Bastian Schweinsteiger for the full 90 minutes in central midfieldagainst Arsenal was a foolish one. The pair were completely overrun by Arsenal's scuttling trequartistas in the opening exchanges at the Emirates – Carrick in particular, at the age of 34, needs a more dynamic ball-winning partner to allow him to play to his own strengths – making the sight of the unused substitute Morgan Schneiderlin even stranger. United's opponents on Saturday, Everton, do not have the same creativity as Arsenal, but in Ross Barkley they have one of the most potent attacking midfielders in the league. Increasingly it is the 21-year-old who sets Everton's tempo going forward – much as he did for England against Estonia and Lithuania – and Van Gaal should surely deploy Schneiderlin to nullify Barkley at Goodison. Indeed, with Carrick, Schweinsteiger and Herrera fighting for fitness, Van Gaal could even turn to the former Everton favourite Marouane Fellaini, who has started just one match this season. Roberto Martínez's side have beaten United in each of their last three games at Goodison (scoring six and conceding none): Schneiderlin's job – to sever Everton's supply line – will be key on Saturday. MB
3) Pulis has much to prove as Allardyce begins Sunderland reign
All eyes will be on Sam Allardyce at the beginning of what is widely expected to be an old school clash reminiscent of the Jurassic era at the Hawthorns. For all his long held fascination with sports science and innovation, Big Sam's rather agricultural style of football has been widely criticised for its lack of aesthetics, but in the short term at least, Sunderland fans are unlikely to give two "howays" what kind of football their team plays if it gets results and sends them a few places up the league table.
Similarly maligned for his route one tactics, which supporters seem prepared to tolerate as long as their team is not leaking too many goals, Tony Pulis owes home supporters a decent performance after his side's surprisingly dreadful second half display last time out at Selhurst Park, when West Brom set up for a draw and were fortunate to escape with a 2-0 defeat following a game in which their manager admitted too many of his players "didn't turn up".
The smart money suggests this looks likely to be an edgy, tense contender for the final spot on Match of the Day, but with murmurings of discontent about Pulis clearly audible among worried Baggies fans and England's rugby overlords reported to be canvassing potential successors to the job of national team manager, Pulis might be forgiven for throwing his baseball cap in the ring for a gig in an environment where home crowds don't sing Swing Low Sweet Chariot with any sense of mischievous irony. BG
4) Manchester City and Bournemouth show benefits of stability – for different reasons
Eddie Howe's contract extension at Bournemouth was announced on Thursday almost three years to the day after he was re-appointed for a second spell as manager at the club. In fact, the only current Premier League boss to stay in their job longer than Howe is Arsenal's Arsène Wenger and the only top-flight managers that come close to Howe's three-year reign are Stoke City's Mark Hughes, Chelsea's José Mourinho and Manchester City's Manuel Pellegrini, who were all appointed in May and June 2013. That's not bad company, Eddie.
For these five clubs at least sticking rather than twisting seems to have worked to varying degrees. Manchester City and Bournemouth may differ in terms of ambition and budget but with City top of the league and Bournemouth making a strong start to the season, both have benefited from backing their man. Decisions over youth policy and scouting seem to turn away from short-termism. Of course, this is not at any cost and Pellegrini will surely not be allowed to survive another trophyless campaign this time.
This loyalty is refreshing, even if it is for different reasons in clubs that are worlds apart. But this was not always so. The last time these clubs met was in 1999 in Division Two, nine-man City playing out a 0-0 bore draw, with Howe, then a 22-year-old defender for the Cherries, keeping Shaun Goater, Paul Dickov and Gareth Taylor in check. How things have changed. MB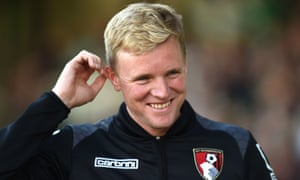 5) Chelsea can rebuild after fortuitous international break
The international break could hardly have gone better for José Mourinho. Diego Costa, dropped for Spain's squad, has rested. Chelsea's best player this season, Willian, continued his good form and scored twice for his country, as did Eden Hazard. Chelsea's worst player, Branislav Ivanovic, was injured – perhaps a blessing – while the rest of the squad reported back with a clean bill of health, unlike some of their Premier League rivals. All four of England's teams in the Champions League (and Liverpool) will now play five matches in 15 days for the rest of October and though this is a daunting prospect for most, it could act as a means for Chelsea to build some much-needed momentum. Meanwhile, with games coming thick and fast, any squad rotation should mean that Ramires, Ruben Loftus-Cheek and Kenedy get the chance to build on impressive yet fleeting appearances. To raise hopes further, Saturday's visitors to Stamford Bridge, Aston Villa, are rock bottom of the form table, having lost their last four matches. Tim Sherwood's job should not depend on Villa getting a result as the home of the champions, but if the Midlanders lose heavily, do not be surprised to see Chelsea on the up, and Sherwood out the door. MB
6) Can Palace match away form at home to league's best travellers
Why are Crystal Palace better on the road than they are at home? It is a curious anomaly. The atmosphere at their ground is second to none in terms of raucousness and playing in front of such vocally partisan fans ought to be and almost certainly is an absolute pleasure for their players, who are doing so well under Alan Pardew at the moment. By contrast, visiting players would not be human if they were not at least a little intimidated entering such a simmering and often hostile bear-pit.
Punditry's Danny Murphy recently posited a theory that the pitch at Selhurst Park is one of the smaller playing areas in the Premier League and therefore does not lend itself to the style of expansive wing play that is serving the current incarnation of Palace so well, but a glance at last season's Premier League handbook tells us that, like almost every other pitch in the division, it is between 100 and 105 metres long and 68 metres wide. Hmm … have Murphy's eyes been deceiving him or did the Premier League boffins get their figures wrong?
While Palace are far from rubbish at home, as their schooling of West Brom proved before the international break, we will be monitoring proceedings with interest when West Ham, the most impressive travellers in the Premier League, arrive in search of another high-profile scalp to take home as a souvenir. BG
7) Bellerín demonstrates the Arsenal way
Who is Arsenal's most creative player? Santi Cazorla? Mesut Özil? Alexis Sánchez? Nope, according to Opta, this season it's Héctor Bellerín, who has created more clearcut chances than anyone else in the Premier League. Six clear chances to be exact – defined by Opta as a situation where a player should reasonably be expected to score, such as a one-on-one or a close-range effort – which is some going for a defender who does not take set pieces. Arsène Wenger reserved special praise for the 20 year old and Francis Coquelin at Arsenal's AGM on Thursday, at which the club also revealed plans to spend £30m on their training ground to enhance their "scouting, medical, analytics", according to the chief executive, Ivan Gazidis. Despite objections from fans, it appears this is where Arsenal are spending their plentiful cash reserves, rather than in the inflated transfer market. It is a policy that is smart, sustainable and is already yielding results. Bellerín was scouted and poached from Barcelona under this system, honed at London Colney, and is now one of the league's most exciting full-backs. Having had a loan spell at Watford in 2012-13, Bellerín returns to Vicarage Road on Saturday a different player altogether, and arguably Arsenal's best attacking threat. MB
8) Vardy strives for record as Leicester face Southampton
Having put a patchy run of form behind them with three consecutive winsculminating in their demolition of Chelsea just before the international break, Southampton entertain the season's surprise package who will attempt to equal a club record seven consecutive top flight matches unbeaten. Considering the – now rarely mentioned – ridicule that greeted Claudio Ranieri's appointment, it is a run few would have predicted before the season began.
Jamie Vardy will hope to keep his team's unbeaten streak going by joining Michael Owen, James Beattie and Daniel Sturridge in becoming only the fourth English player to score in six consecutive Premier League matches this century, while Southampton's striker Graziano Pellè is also mining a decent seam of early season form after scoring for Italy against Norway during the international break. His international fortunes are in stark contract with those of the national team once served so well by his Southampton manager and some Saints fans may be twitchy now that Ronald Koeman is once again being linked with the Holland job. Goals and a good game seem likely for two sets of supporters who have reason to be delighted with their teams. BG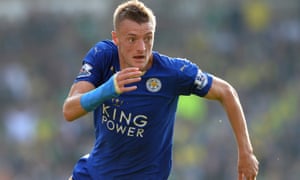 9) Is Lafferty's time up in Norwich?
"If it is time to leave I'll take the opportunity. There's no point in me sitting in the stands or playing for 15 minutes when there's a massive tournament coming. I think I'll give it until January then sit down with the manager."
Kyle Lafferty made no bones about his position at Norwich when he was asked during the international break. The striker's seven goals in Euro 2016 qualifying may have fired Northern Ireland to their first major tournament in 30 years but Lafferty still cannot get a look in at his club – he has made just two appearances from the bench this season, scoring once: an excellent solo strike against West Brom in the Capital One Cup. If Alex Neil fails to include the 6ft 4in forward in his squad to play Newcastle on Saturday, when Lafferty's confidence is at an all-time high, then surely his future lies away from Carrow Road. There would be no shortage of suitors if that is to be the case. MB
10) Butland shining at Stoke – but for how long?
How far can Jack Butland go? Against Italy in 2012, the then Birmingham teenager became the youngest ever England international goalkeeper at 19 years, 158 days but he has had to wait three years to make his second appearance, away in Lithuania this week. Joe Hart is England's No1 and deservedly so: despite Butland's eye-catching displays this campaign it is unlikely that the jersey will leave the saliva-covered palms of Manchester City's stopper. Roy Hodgson has been better than his predecessors in including players from so-called smaller clubs – recently capping outfield players from Leicester City, Swansea City and Southampton – but in Hart, England can claim to have one of the best goalkeepers in the world and his experience in tournaments and the Champions League will probably continue to give him the edge come next summer, regardless of Butland's form. Stoke fans won't worry too much about that, but if Butland maintains his form at club level, starting with Monday night's trip to Swansea, bigger clubs could come calling in the future. Still just 22, hardened by the Premier League and homegrown, Butland is an attractive player for any team. MB
Source: https://www.theguardian.com