When the rain lashes in off the Atlantic to a soundtrack of gulls cawing, Porto's betrayal of its Latin latitude feels at its strongest. There's a sense of misplaced northern Europe about Portugal's second-largest city, particularly in the winter months when the ocean roars in with crashing swells.
British Airways will bolster the city's growing presence on the European city break map when it launches flights from Gatwick to Porto next Thursday. It is a time of year when accommodation can be incredibly cheap, although the amount of use you get from your umbrella might explain why.
Bergen, Bremen and Rotterdam feel more like kindred spirits than Valencia, Nice or Florence. That's partly due to the dominance of uncompromising granite across the cityscape, and partly down to the unpretentious vibe. Walking around the city, few bars and restaurants seem to be milking a romanticised past; that many are in gorgeous old buildings seems to be more a happy accident. In fact, very little about Porto looks like the result of a coherent plan – and that is a major part of its charm. From the banks of the Douro river, colourful but mismatched houses stagger up steep hills, church spires fight through the jumble, while narrow lanes and endless steps squeeze into the gaps.
Calf muscles get a fine workout clambering up absurdly meandering routes that lead to serendipitous finds – little terraced gardens and lookouts that stare at the high-arched bridges or port wine barges moored across the river; buildings swathed in blue-and-white painted tiles; a hulking former jail, now a museum of photography, the Centro Portugues de Fotografia (cpf.pt) with portcullis-style doors still intact.
It's not the only place that surprises once inside. From the outside, World of Discoveries (Rua de Miragaia 106; 00 351 220 439 770;worldofdiscoveries.com) looks like another higgledy-piggledy waterside house. Inside there's a ludicrous boat ride through admittedly impressive waxwork-based scenes of places around the world that Portugal has conquered. A temporary exhibition – running until May – looks at the taking of Ceuta in 1415, the mission that arguably kicked off the Age of Discovery. The bulk of the fleet that took Ceuta was assembled in Porto, then taken downriver into the Atlantic. Six centuries later, Porto's major constant is that the ocean still comes clattering in.
UNPACK
The Porto River aparthotel (Rua dos Canastreiros 50; 00 351 223 401 210; portoriver.pt) opened in September on a prime riverside site, and offers something a little different. It pulls off a contemporary loft-living feel while keeping many original features. There are light wood floors, but with hunks of granite in the walls. Little design touches such as stacked boxes as bedside tables give flair, while the full kitchens, and televisions that swivel from sofa to bed compensate for pokey bathrooms. Studios cost from €125, including breakfast.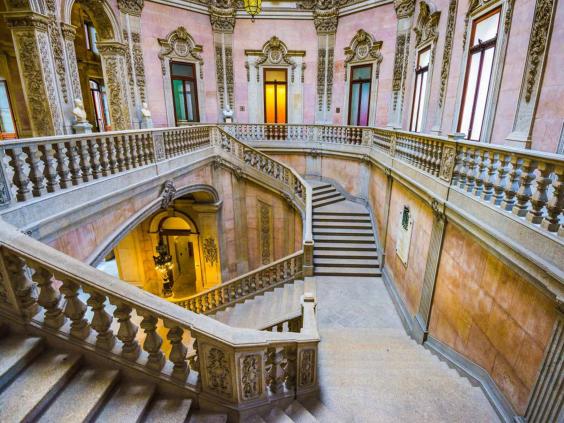 THINK LOCAL
Technically a separate city on the opposite bank of the Douro, Vila Nova de Gaia is where all the port warehouses cluster. The grapes are grown 120km east in the Douro Valley, but the wine is stored in barrels to mature here. Many of the riverside port houses run tours and tastings, which offer broadly similar peeks into the warehouses and overviews of what makes each port different. A surprising number of the brands are still British, but Calem (00 351 22 374 6660; calem.pt) is an all-local affair, with a perfect position by the river and some huge barrels and vats to get lost around.
EAT 
Tucked on top of the wall to the  east of the waterside Ribeiro area's main squares, Bacalhau (Muro dos Bacalhoeiros 153; 00 351 960 378 883; bacalhauporto.pt) is a prime example of the cosy but defiantly untwee joints that Porto excels in. It doubles as a wine shop, with 100 per cent Portuguese wines on the extensive list, and it feels unflashily contemporary.
As the name suggests, there's an emphasis on cod – there's one particularly indulgent variation with potato and pork belly fat for €14. But there's also a fabulously gloopy €12 pork cheek with rice dish for those sick of seafood. Make a beeline for one of the three tables outside – the views over the river are first class.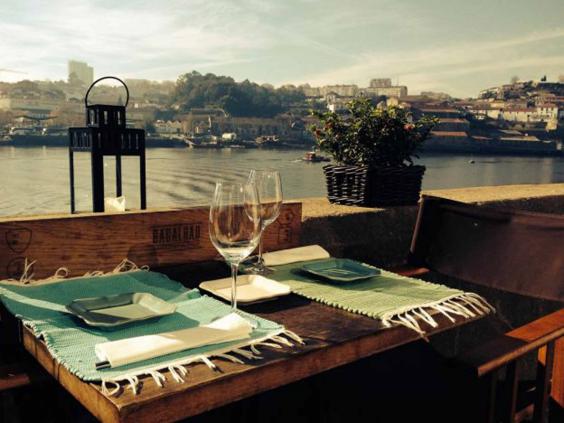 DRINK
In an dominantly wine-leaning city, Catraio (Rua de Cedofeita 256; 00 351 934 360 070) fights the noble but lonely fight for craft beer. It's a happy marriage of off-licence and bar, showcasing Portugal's growing band of microbrewers with more than 10 rotating taps and numerous bottles. Blackboards list a wonderful world of IPAs, stouts and scotch ales, with the Sovina and Burguesa breweries flying the local flag. Newer additions often aren't on the boards, so do ask. Newly opened local venture Opo 74's Red Mosquito American amber ale is one such off-list treasure.
SPEND
Any ideas about cork being strictly for plugging up wine bottles will be dispelled at Porto Signs (Rua Infante Dom Henrique 71; 00 351 223 745 436; portosigns.pt), which has a bewildering array of cork products. Some are fairly easily conceivable – coasters, place mats, cup-holders and bowls – but others come as a surprise. That means hats, baseball caps, handbags, wallets, even umbrellas. They look unexpectedly decent, and are far more flexible than would be presumed.
Among the cork deluge, there's also plenty of good souvenir fare – whether ceramic birds or locally made soaps, candles and toiletries.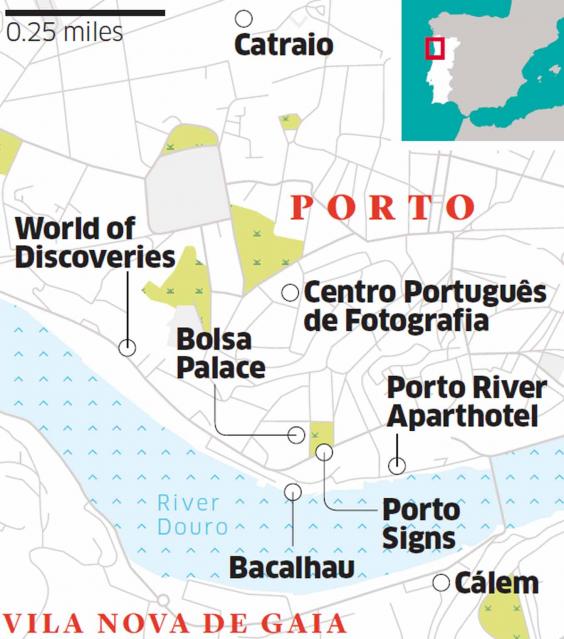 DON'T MISS
It's a telling part of Porto's character that its most lavish palace was not built for royalty, but by the local chamber of commerce. The Palacio da Bolsa (00 351 223 399 000;palaciodabolsa.com) is a grand hive of calculated excess. The assembly room is almost all painted plaster, but looks like it has been hand-carved from wood. And the blingfest of the Arabian Hall – gold leaf, Arabic script and geometric rhombus walls – will beat even the sternest sceptic into submission.
GETTING THERE
Gatwick is the main UK  departure point. BA (0344 493 0787; ba.com) competes with TAP (0345 601 0932; flytap.com) and easyJet (0330 365 5000; easyjet.com) – which also flies from Luton, Bristol and Manchester; Ryanair (0871 246 0000;ryanair.com) flies from Stansted.
MORE INFORMATION
Source: https://www.independent.co.uk