Two men who were being detained in an immigration van which was surrounded by protesters have been released.
The move followed a standoff between police officers and protesters in Kenmure Street on Glasgow's southside.
Early on Thursday people surrounded the Home Office vehicle believed to contain two immigrants who had been removed from a flat.
Hundreds gathered in the area, with one man crawling under the van to prevent it form moving.
Some of the protesters were heard shouting "let our neighbours go".
In a statement, Police Scotland said that Ch Supt Mark Sutherland had decided to have the men released.
It said: "In order to protect the safety, public health and well-being of all people involved in the detention and subsequent protest in Kenmure Street, Pollokshields, today, Ch Supt Mark Sutherland has, following a suitable risk assessment, taken the operational decision to release the men detained by UK Immigration Enforcement back into their community meantime.
"In order to facilitate this quickly and effectively, Police Scotland is asking members of the public to disperse from the street as soon as possible. Please take care when leaving the area and follow the directions of the officers on the street."
Earlier the force stressed that it did not assist in the removal of asylum seekers, and that officers were at the scene to police the protest and to ensure public safety.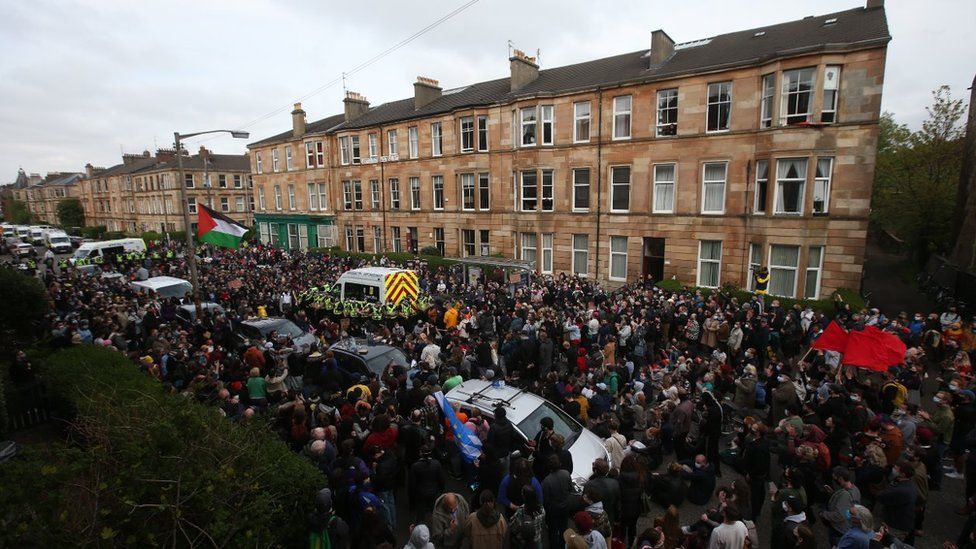 She said: "This action was unacceptable. To act in this way, in the heart of a Muslim community as they celebrated Eid, and in an area experiencing a Covid outbreak was a health and safety risk."
She said she would be "demanding assurances" from the UK government that they would not create such a dangerous situation again.
She added: "No assurances were given – and frankly no empathy shown – when I managed to speak to a junior minister earlier."
Humza Yousaf, the Scottish government's justice secretary, said: "the action they [the Home Office] have today is at best completely reckless, and at worst intended to provoke, on a day the UK government would have known the Scottish government and MSPs would be distracted by parliamentary process."
BBC Scotland has asked the Home Office to comment.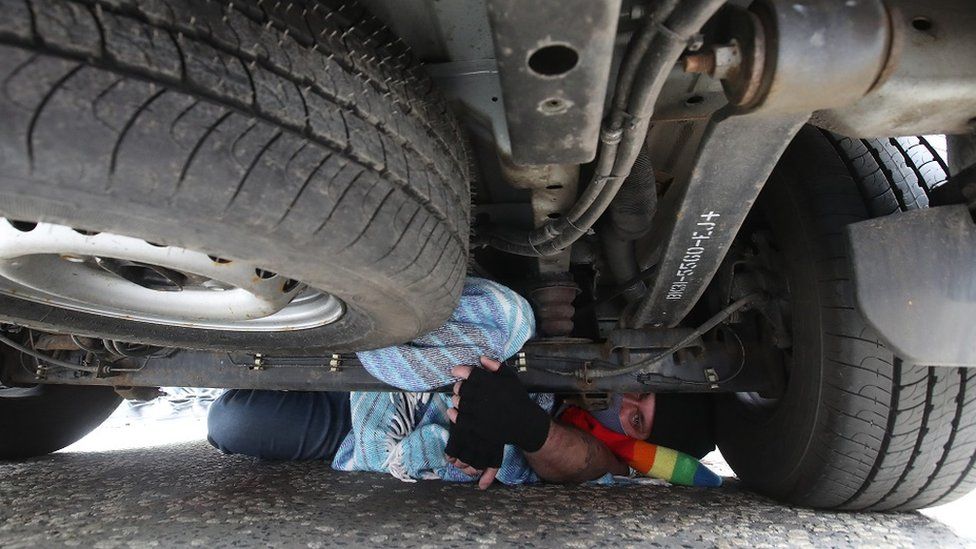 The Sikhs in Scotland group said in a statement that it was "deeply concerned", and urged the Home Office to "abandon forced removals and to adopt an immigration policy based on human rights, compassion and dignity".
Mohammad Asif, of the Afghan Human Rights Foundation, said hundreds of people were protesting.
The 54-year-old added: "We're here against the hostile environment created by the Tories and the British state."
www.bbc.co.uk