Great Northern Hotel, King's Cross, London N1 (020 3388 0818). Meal for two, including drinks and service: £120
There is a man eating alone at the table next to us in Plum and Spilt Milk, the restaurant of the newly restored Great Northern Hotel at London's King's Cross. He looks utterly content, with his plate of devilled kidneys on toast. I like to think that a lot of people eat here alone, for if a terminus restaurant has any purpose at all, it is to offer a place for the solo traveller to occupy themselves.
In my late-teens, I InterRailed around Europe most summers and became obsessed with the great train stations of what we then called the Continent: the vaulting cathedral of Milan, nurtured by Mussolini as some ludicrous tribute to fascism, and through which every European journey appeared to be routed regardless of destination; the city-within-a-city of Munich station, where you could get a shave, eat dinner and take in a dodgy movie without ever setting foot outside; the more hokey charms of Ventimiglia on the French-Italian border, where at midnight the café was always full of travellers changing trains and the espresso machines steamed constantly as if in tribute to the old puffers that once passed by.
In these places, being alone – and, more to the point, eating alone – was an act of valour rather than indulgence. A journey was to be endured and this was how best to do so. It felt like the last vestige of that bourgeois Europe which held sway between the wars, before Hitler brought down the darkness.
Outside in the city that these stations served, that world was gone; meanwhile, inside the railway terminus restaurant was distilled the raw Gauloises tang of the Parisian brasseries, and of wine used as a cooking medium. They were places for fine claret ordered just for one and of waiters in white starched aprons, lifting platters of choucroute over the head of other diners to reach you.
I am not pathologically nostalgic. I spend an unconscionable amount of time on trains. Though they may lack the romance of the grand old termini, I do think the recent makeovers of stations such as Glasgow, Manchester, St Pancras and, most recently, King's Cross have much to recommend them. Even so I admit to warm, positive feelings towards Plum and Spilt Milk, named after the livery of the trains that historically ran out of King's Cross. It is that grand old railway station restaurant, reborn.
Certainly it has one of the better locations in the capital. It occupies a big corner space on the upper floor of the refurbished hotel. There is a view of the new station piazza to one side and of the shameless sweep of St Pancras to the other. Inside, all is wood panelling and undulating cream-leather banquettes, both around the walls and in the centre so that there are lots of corner tables, where those not eating alone can lock knees. It is the word "convivial" in fine cow-skin upholstery.
It also has a beautifully written menu, overseen (but rarely cooked) byMark Sargeant. He made his name as one of Gordon Ramsay's key lieutenants but now, like all those who once worked closely with Mr Shouty, has gone his own way. Sargeant's menu is full of big-fisted ingredients of the sort you might reach via the trains leaving from the big building outside: there are marinated whelks from Folkestone or sturdy salads of beets with Cashel blue and walnuts. The shellfish section offers up grilled lobster and chips or dressed crab. There are lumps of grilled animal for two, potatoes four different ways, and sides of buttered spring greens. It is thoughtful and smart, a list of things you would actually want to eat.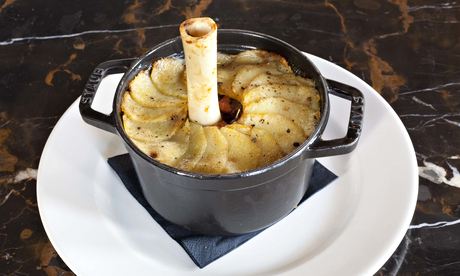 The lamb shank hotpot at the Plum and Spilt Milk. Photograph: Sophia Evans for the Observer
Which is where the hand wringing begins. If only the kitchen sending these dishes out knew how to execute all of them. It's not about lack of kitchen skills. With two of the three dishes that didn't deliver, it was clear pre-preparation was good. It was the finish that let them down. For example, potted shrimps can be a joy. But they have to be served just warm, so the butter in which the shrimps have been held is beginning to run. These turn up so fridge-cold the butter is hard as a rock. I can see creases in the top from the clingfilm used to line the ramekin they were set in. The tragedy is that I can taste an ideal balance of nutmeg and allspice in the chilly butter. I pile some shrimp-butter rubble on to a piece of toast and, jokingly, hold it over the guttering flame of the table's candle. After 30 seconds the butter softens. It is sweet and nutty and spicy. It is so much better.
It's the same with a lamb shank hotpot, from the section headed "classics". The work that's gone into putting it together is obvious: the discs of potato, arranged like interlocking tulip petals about the edge, the French-trimmed shank bone sticking out of the top, even the gutsy seasoning. The problem, as the pale white of those potatoes attest, is that it simply hasn't been cooked for long enough. The scalloped potatoes should be golden, the meat falling apart. But they aren't. This hotpot has the potential to be so good; instead it is merely a reminder of how terrific Nigel Howarth's is at Northcote Manor, a train ride away. I consider buying a ticket. At almost a tenner for the shrimps and double that for the hotpot, it's a disappointment.
There are better things. Their prawn cocktail is a joyful reminder of what it can be when the shellfish is fresh, the lettuce crisp, the Marie Rose sauce just so. A fine pork chop could do with longer on the grill and more robust seasoning, but we love the roast celeriac and the hispi cabbage with bacon.
Desserts are a high point. An iced peanut and salted caramel parfait is only bested by a dish, named for the restaurant, of sweet-sour plums with a sugar-encrusted rectangle of deep-fried milk custard. This is how I always want to eat milk.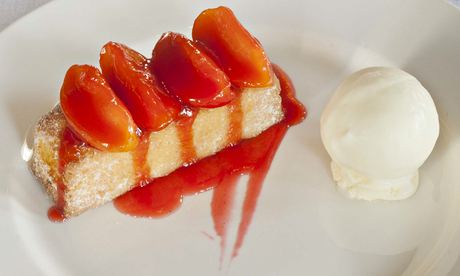 Plums and milk custard at the Plum and Spilt Milk. Photograph: Sophia Evans for the Observer
It's a shame. Struggling to get out from underneath my bitching, and the kitchen's sloppiness, is a very good meal. Plum and Spilt Milk has it within its grasp to be the great train station restaurant. It could be a godsend to every solo traveller, with enough cash and time to spare. Right now, however, they need to do the equivalent of some serious work on the tracks.
Jay's news bites
■ These days, of course, airports are the focus of eating in transit, as the arrival of Heston Blumenthal's new enterprise at Heathrow Terminal 2 attests. A recent lunch at the outpost of Comptoir Libanais at Gatwick North Terminal was hugely refreshing: the vibrant menu of freshly made Lebanese grills, dips, salads and wraps made me feel like I had, for once, been good to myself ahead of a long journey. Service is time aware and prices reasonable (lecomptoir.co.uk).
■ Reasons to despair, part 4352: according to a study from research firm Mintel, the British instant snackpot market – business speak for Pot Noodles and the like – has grown a third since 2011. We now spend around £450,000 a day on the things.
■ Just in case you were thinking of doing so: the London Fire Brigade has advised against using toasters for making cheese on toast by turning them on their side. It follows an incident in Croydon which set fire to a work top. "I never thought I'd have to give this advice as it's painfully obvious," said crew manager Nick Morley, "but if you want cheese on toast use a grill, not a toaster."