A collective "Ugh! Whaaat?" greeted the news on Wednesday that the New York Times had tried to improve on traditional guacamole by adding peas.
"Add green peas to your guacamole. Trust us," the newspaper said.
To which the answer was: no, and no. Even Barack Obama weighed in, tweeting his support of an extremely basic version of the Mexican favourite: "respect the nyt, but not buying peas in guac. onions, garlic, hot peppers. classic."
But we decided to give peas a chance.
Nelly Robinson is a British-born veteran of several Michelin-starred restaurants, but now runs Nel in Surry Hills, Sydney, and here peas are treated with the respect they deserve.
"I'm a northerner," said Robinson, who hails from Lancashire in the UK. "I like peas."
The combination of peas and avocado make this dish practically a health food, according to Robinson. "I come over [to Sydney] and this country is full of health freaks," he says while dicing a red onion. "You can't add in butter and cream and all the stuff you used to. This dish is incredibly healthy, really clean. You can have it with lamb or a spinach salad." He runs the ingredients through a blender. The paste is a brilliant, rich green.
At this point Robinson goes somewhat off-piste. The New York Times recipe, which I have put in front of him, calls for "broiled jalapeno" – but instead Robinson just chops them up raw and sticks them in the blender. "Fresher that way, and anyway the char pulls a lot of the flavour out of it."
I suppose I could have tried harder to make him stick to the recipe, but once a chef starts cooking … The main point, though, is that he made a guacamole-like dip involving peas. For the record, he also added a couple of teaspoons of vinegar, a large red tomato and a splash of tabasco "to give it a kick".
Everything is blended until the mixture is smooth. The New York Times recipe called for a chunkier variation, saying "the peas add intense sweetness and a chunky texture to the dip, making it more substantial on the chip."
But Robinson was adamant: "I don't do chunky guac."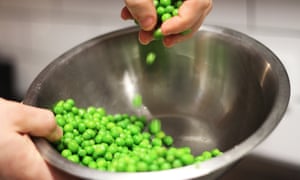 So what's the verdict? Can peas and avocado ever work together?
A surprisingly large number of my colleagues offered themselves up as guinea-pigs.
Gabrielle Jackson: It looked like guacamole, so I ate it with corn chips. That was a mistake. Mind you, it was the only mistake. This pea dish (let's face it, it's not guacamole) was delicious. The sweet peas, lifted by some coriander, onion and olive oil, made it so good I scooped it up with a spoon and went back for thirds. I'd serve it as a vegetable dish to complement grilled or roasted red meat any day of the week. Although maybe I'd lose the avocado.
Paul Farrell: Pea guacamole may indeed be sweeter, but it's just a little too overpowering. Other ingredients like coriander are sadly sidelined by the powerful influence of the pea.
Emily Wilson: I think anything with this much vinegar, onion and chilli would be delicious, and also I suspect that this chef is incapable of making anything horrid. But yes, this does definitely prove that peas and avocado can be a force for good.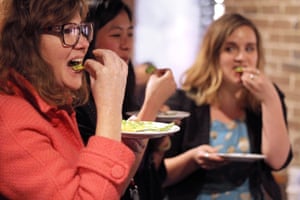 Michael Safi: It doesn't take much to shunt avocado off your palate's centre stage. A few peas and some olive oil relegated the buttery fruit to second fiddle, providing body and texture to a dish that's most definitely pea flavoured – and not something I'd smear on a burrito.
Samara McCann: It wasn't bad as far as a dip goes. It was very sweet and made me feel like I was getting my five servings of veggies in one hit. However, the peas overpowered the avocados and it didn't taste much like guacamole. I wouldn't put it on Mexican food because guacamole is meant to be a light palate cleanser and complement the flavours of the dish.
Monica Tan: I think it was delicious and even daring. No, it's not mushy peas – so don't eat it with pie. No, it's not guacamole – so don't eat it on a burrito. But it takes the best of both worlds and probably needs an entire new menu to match.
Bridie Jabour: It was fine. People seemed surprised that guac with peas was edible but of course it's going to be, it's a New York Times recipe. The peas changed the texture of the guacamole to make it more like mashed veggies and less creamy. It's the Kourtney Kardashian guacamole: enjoyable, but I'll always have the full-bodied, originally famous one when given the choice.
Source:https://www.theguardian.com