Why go now?
The French capital has a host of new, revived and hidden attractions, making the city ripe for another visit. After three years of closure, the Rodin Museum (1) reopened this winter in the 18th-century Hôtel Biron at 79 Rue de Varennes (00 33 1 44 18 61 10;musee-rodin.fr). The interior of the handsome mansion has been refreshed, with the aid of period photographs, to appear as it was when Auguste Rodin lived and worked here from 1908, with the story of the sculptor told through his works.
Demand is unusually low. So, for the next few months (excluding Valentine's weekend) you can find exceptional value and also avoid the usual crowds.
Touch down
Partly because it's winter, and partly due to the recent tragic events in Paris, Eurostar (08705 186 186; eurostar.com) has dropped its lead-in fare to the lowest ever, £58 return from London St Pancras, Ebbsfleet and Ashford to Gare du Nord (2). It is well-connected to the Métro and RER suburban rail network.
Flights from most UK airports arrive at Charles de Gaulle airport, 26km to the north. Line B of the RER takes 30-40 minutes to Gare du Nord (2), Châtelet (3) for the Rive Droite (north of the river) or St-Michel (4) for the Rive Gauche to the south (fare €10).
Some flights arrive at Orly, 15km to the south. Take the Orlyval train to Antony station (€9.30), and change to the Métro or RER.
Get your bearings
The core of the capital is where the Seine broadens around the two city-centre islands: the Ile de la Cité, home to the Cathedral of Notre-Dame (5), and the Ile-St-Denis. Other key monuments and intersections include the Opéra Garnier (6), the Place de la Concorde (7), the Arc de Triomphe (8) and the Eiffel Tower (9).
The main tourist office (10) is at 25 Rue des Pyramides (00 33 8 92 68 30 00; parisinfo.com); open 10am to 7pm daily.
While Paris is a great city for walking, its size means the Métro is a valuable asset. Single tickets for journeys within the Paris boundaries cost €1.80. Or buy a carnet of 10 for €14.10 (ratp.info). The Métro runs mainly beneath the streets, but has some above-ground stretches that give a fresh perspective on the city.
Check in
On a quiet side-street just north of the Louvre, the Hôtel Crayon (11) at 25 Rue du Bouloi (00 33 1 42 36 54 19; hotelcrayon.com) offers a bright, chic and comfortable stay at rates calibrated to keep it filled. Advance doubles start at less than €100, with breakfast an extra €7 per person.
For a view of Notre-Dame, the Hotel Esmeralda (12) at 4 Rue St-Julien le Pauvre (00 33 1 43 54 19 20; hotel-esmeralda.fr) is a modest gem in the same 17th-century building as the rambling bookshop, Shakespeare and Company. It is named for one of the characters in The Hunchback of Notre-Dame, and boasts "most of our receptionists are writers and poets". Doubles for €125, room only.
West of the city centre, but with good transport links just a short walk away across the river at Javel Métro and RER stations, the Hôtel Félicien (13) at 21 Rue Félicien David (00 33 1 55 74 00 00;hotelfelicienparis.com) is the creation of the leading Parisian designer, Olivier Lapidus. "A hotel between fashion and design," as he calls it, has a swimming pool and a stylish honesty bar. Advance doubles as low as €144, without breakfast.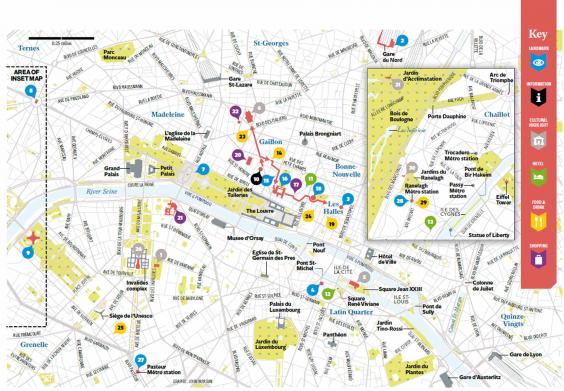 Day one
Take a hike
Start at the tourist office (10). Walk north to admire the spectacular façade of the Opéra Garnier (6), rich with sculptures of the muses and composers. Retrace your steps down Avenue de l'Opera. At the first Starbucks in Paris, bear left along Rue des Petit Champs, which divides the 1st and 2nd arrondissements. A more Parisian place for a coffee is Belle Epoque (14) at No 36. Turn right and immediately left along Rue Villedo, with Japanese shops and galleries, then right along Rue de Richelieu, passing the monument of Molière (15). Turn left at the Comedie Francais and cut through a gallery that leads across the Cour d'Honneur of the Palais Royal (16), through an artwork called Les Deux Plateaux by Daniel Buren, resembling giant sticks of rock poking up through the ground. You will reach the lovely 1823 Galerie Véro-Dadot (17), where the architecture and decoration are even more enticing than the art, book and music boutiques. Bear left, when you emerge, to the Bourse de Commerce (18), formerly the grain market. You are now on the western edge of Chatelet-Les Halles, the old market that's been artistically re-invigorated.
Lunch on the run
A few minutes' walk south-east is the villagey heart of St-Honoré, with plenty of options for a quick, tasty lunch – try a galette at the Crêperie St-Honoré (19) at 24 Rue du Pont Neuf, if you get that far.
Window shopping
Rue St-Honoré is flanked by upmarket fashion stores whose profit margins are as impressive as their premises. For more modest prices, the Place du Marché St-Honoré (20) is a stylish glass structure ringed by stalls.
Or you could try an only-in-Paris store. Shakespeare and Company (12), the Left Bank bookshop at 37 Rue de la Bûcherie (10am to 11pm, daily), is a long-established expatriate hub with a new café. Also on the Left Bank, Boutique de l'Assemblée Nationale (21) at 7 Rue Aristide Briand offers patriotic gifts such as Tricolore toothbrushes (€3.60). Tucked behind the Opera Garnier at 9 Rue Scribe, the new Fragonard Musée du Parfum (22) has a fascinating collection and a gift shop.
An apéritif
You can barely walk 100 metres along a central Parisian street without seeing a bar boasting of its Happy Hour – typically €5 a pinte. You'll pay more at the Café de la Paix (23) at 5 Place de l'Opéra, but this is the classic Paris brasserie, opened in 1862 by Empress Eugenie.
Dine with the locals
Le Poule au Pot (24) at 9 Rue Vauvilliers (00 33 1 42 36 32 96) takes its name from the boiled chicken dish that Henri IV commanded his subjects to eat each Sunday. Today, this convivial restaurant, which was founded in 1935, serves the dish (€26) every night apart from Monday, when it is closed.
For a quieter, neighbourhood location, try Le Bistro (25), on the corner of Rue Perignon and Rue Bellart, close to Segur Métro station. Try steak tartare, entrecôte or confit de canard – each €15 – in cheerful surroundings decorated with faded rugby posters.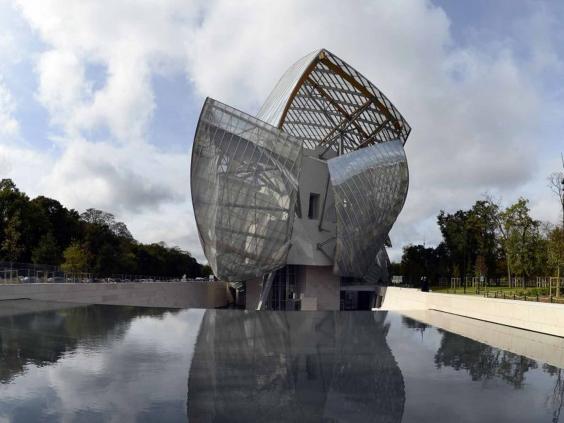 Day two
Sunday morning: go to church
The Eglise du Dome (26) was the model for Washington DC's Capitol Building. It is the most imposing element of the 17th-century Invalides complex (10am to 5pm, daily), built by Louis XIV for wounded soldiers. The €11 (€9 after 4pm) entry fee covers the church and its main draw, the tomb of Napoleon; and the Musée de l'Armee.
A walk in the park
Half the appeal of the Rodin Museum (1) resides in the sculpture-filled gardens. Highlights include The Gates of Hell and The Thinker. Open 9am to 5.45pm daily, except Monday (Wednesday to 8.45pm), entry €10 (gardens only: €4).
Take a ride
From Pasteur Métro (27) take line 6 towards Charles de Gaulle. It starts with great views of the Eiffel Tower (9) and culminates with a crossing of the Seine. At Passy station the line dips underground again; change at Trocadéro for line 9 three stops to Ranelagh (28).
Out to brunch
A minute's walk from Ranelagh Métro along Rue Mozart at No 50, the relaxed, indulgent Bô-Zinc Cafe (29) has an excellent brunch, from noon on Sunday, featuring salmon blinis and patisserie for a flat €16.
Cultural afternoon
The Marmottan Monet Museum (30) at 2 Rue Louis Boilly (00 33 1 44 96 50 33; marmottan.fr) was once a hunting lodge but now hosts the world's largest Monet collection, featuring Water Lilies and Impression, Soleil levant. Open 10am to 6pm daily, except Monday; Thursdays to 9pm; €11.
Take a view
A vaisseau de verre – "glass ship" – has arrived in the Bois de Boulogne in the shape of the Fondation Louis Vuitton (31). Architect Frank Gehry deployed 3,600 glass panels to form a dozen "sails" in this modern art space (00 33 1 40 69 96 00;fondationlouisvuitton.fr) which also has fresh views of Paris (11am to 8pm weekends, noon to 7pm weekdays, to 11pm on Fridays), €4.
Source: https://www.independent.co.uk