It was 40 minutes after the lunch interval that the third Test and the series was finally lost and a small but vociferous Pakistan support began their celebratory chants of Pakistan Zindabad.
Ben Stokes, in at No10 and happily swinging the bat with a bit of gusto to alleviate some concerns about the condition of his injured shoulder, shuffled down the pitch to the legspinner Yasir Shah, who, seeing him coming perhaps, nipped the ball away from the left-hander and, for the second time in a matter of minutes, the wicketkeeper Sarfraz Ahmed whipped off the bails.
Four deliveries prior to that, in the previous over bowled by the offspinner Shoaib Malik, it had been the England captain Alastair Cook who made the same soft-shoe shuffle and suffered the same fate, in so doing bringing to an end the mainstay of any England resistance and depriving himself of becoming only the eighth England opener, and the first since Mike Atherton at Christchurch in 1997, to carry his bat through a completed Test innings.
As it was in the beginning, with Cook, so it was in the end, the captain standing his ground at the crease while others came and departed, four of them in a decisive first half an hour to the final day. In the first Test in Abu Dhabi he had batted for 14 hours to make 263. It was 10 hours fewer this time for his 63, but without it, England's second innings would have been a humiliation.
England, requiring 284 to win, 238 of them on the final day, were all out for 156, with nine of the wickets – four to Yasir, three to Shoaib Malik in what will be his final act as a Pakistan Test cricketer, and two to Zulfiqar Babar – to the spinners with a single one to the left-armer Rahat Ali, who neck-and-cropped Adil Rashid through the gate after he and Cook had added 49 for the seventh wicket.
That performance by the spinners in itself put into perspective one of the glaring differences between the sides. Jimmy Anderson, a truly gigantic bowler in this series, was only being perfectly truthful when he said that players have to learn fast in international cricket or their careers will be short: he may have been generalising, but there is no doubt what he meant. England had been beaten by 127 runs which along with the 178-run loss in Dubai means Pakistan win by two matches to nil. England now drop to sixth in the ICC rankings, behind New Zealand.
Last time England came to UAE they did so with a world class all-round attack, some wonderful batsmen, and still were whitewashed, so maybe in those terms this has been an improvement. Certainly England came within a few minutes of daylight of stealing the first Test match and within a few overs of saving the second, which perhaps would have given a false impression of the differences between the two sides in these conditions.
Pakistan have dominated the England spinners, while the Pakistan spinners have dominated the England batsmen. The inability to make the most of a turning pitch in Sharjah is seriously worrying and it is not for the want of serious input from the ECB, which spends a great deal of money in sending young bowlers to camps where they will find conditions such as these here, and utilising the input from great bowlers such as Dan Vettori and Shane Warne. Rashid will have learned much from listening to Warne before the game but the real input is for the longer term: there are no quick fixes when it comes to spin bowling.
The final figures for the respective attacks are revealing. Pakistan's three spinners, Yasir, Shoaib and Zulfiqur, took 15, 11 and nine wickets respectively. They averaged 21.53, 20.72, and 45.44, but conceded runs at 2.6 an over, 2.92 and even with Zulfiqur, who bowled 65 more overs than Yasir and 112 more than Shoaib, 2.16. When not taking wickets, they were always able to give Misbah-ul-Haq control so that he could further attack with Wahab Riaz – whose devastating spell clinched the second Test – Imran Khan and Rahat.
The England seamers were truly exceptional, with Anderson and Stuart Broad reaching levels of consistency, accuracy and skill surely unmatched by any England pair in Asian conditions. Those who felt that Anderson might have been on the decline after the West Indies tour, and certainly those who believed him to be unthreatening away from England and the Duke ball, can think again. For all-round skills there is no more complete pace bowler in the world.
The problem though, certainly in UAE, has been that their role has been both to take wickets while at the same time stifle the opposition to compensate for the profligacy at the other end. Moeen Ali, Rashid and Samit Patel took, respectively nine wickets at 48.66, eight at 69.5, and three at 54.66, with economy rates of 4.08, 4.06 and 3.9.
If England's chances in this Test might have been enhanced by loading with seamers (and in this anyway they were not helped by the injury to Mark Wood and that during the first innings of Stokes) then there is definitely a view that unless such as Rashid play, how is he going to improve. It is a conundrum, trying to balance things between the needs of the moment and those for future development. There is also the point that, easy as it may be to criticise the performance of the spinners, they are the best ones available.
Then we come to the batting. Four Pakistanis, Mohammad Hafeez, Misbah, Asad Shafiq and Younis Khan topped 300 runs while Shoaib Malik made 292: all of them scored more heavily than any England batsman except Cook, who made 450 runs at an average of 90. Pakistan scored five hundreds and nine fifties against Cook's single three figure score, and six half centuries.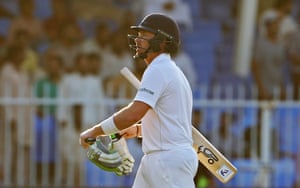 In essence the Pakistan batsmen were able to see out Anderson and Broad as best they could, knowing that the spinners could be played comfortably by defending the good ball well, working the gaps, and belting the daylights out of the frequent bad balls. England batsmen had less of a luxury on that score, although Cook showed what determination and a solid uncomplicated gameplan can achieve.
The order may be changing, though. Even his most ardent supporters must concede that after 118 Tests Ian Bell is coming to the end of a fine career. At the end of the summer, he let slip that he was " taking stock", and when a player starts to do that, the edge, even by the smallest margin, becomes blunted. Since his century in Antigua in April, he has averaged 20.38 in 23 innings, with four 50s only. In that time, there have been nine scores of 0 or 1. A personal view was that he should have batted at No5 in this Test anyway. Now there will be a strong debate about his participation in the South Africa series.
Even with Cook and Joe Root at the crease, England were never really in with a shout of winning this match on the last day but any optimism there was dispelled very rapidly when, in the space of five overs, Root was lbw to Yasir on the back foot, James Taylor had edged Zulfiqur to slip, Jonny Bairstow had gone lbw as he tried to sweep Yasir, and Patel was another lbw victim for Zulfiqur, first ball. 48 for two had become 59 for six and the game was done.
Source: https://www.theguardian.com