Having spent several hours in the car with a grumpy toddler, and being naturally allergic to camping and tents, I wasn't that excited about the prospect of a glamping weekend. However, upon arrival at the North Star Club in Yorkshire, 20 minutes' drive south-east of York, it became pleasingly apparent that this is a lot more glam than it is camping.
We'd wound our way up a driveway long enough to make Downton Abbey's inhabitants jealous, finding a 500-acre woodland with a series of cabins nestled within it. Rustic? Yes, but these are not just any old woodland cabins. They are filled with luxury: central heating, bed bigger than most bedrooms, wood-burning stove, bathroom with rainforest shower and a bath the size of a boat.
Inspired by the American Great Camps, built for wealthy industrialists in the late-19th and early-20th centuries, North Star Club is more like a swanky hotel surrounded by forest than a campsite – and with not another human or cabin in direct sight.
Our temporary home was named for local heroine Amy Johnson, the Hull-born aviator who 85 years ago became the first female pilot to fly alone from Britain to Australia. The decor reflects her 1930s heyday with vintage packing cases, furs and a giant portrait of her looming down from the bedroom wall.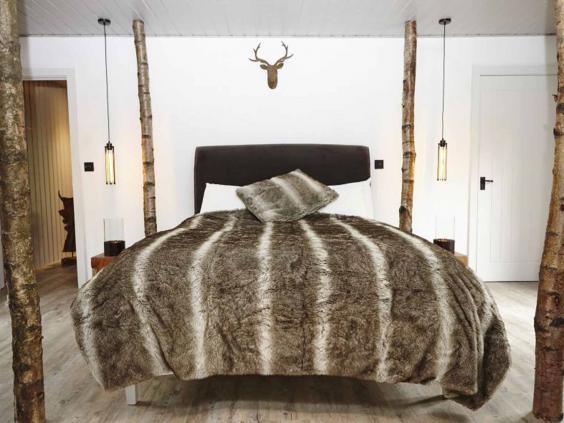 The effect might suggest that these cabins have existed since Amy flew over them in her Gipsy Moth, but they've actually only been around since earlier this year. The brainchild of married entrepreneurs Christian and Carolyn Van Outersterp, the North Star Club is a more winter-friendly extension of their Jollydays Glamping business, another Yorkshire-based woodland experience which has luxurious tents instead of huts.
The rooms
The cabin is spacious and made up of a master bedroom (the one with the epic bed), a smaller bedroom with bunkbeds, a large bathroom off the main bedroom, a comfortable sitting room with sofa and small table, and an extensive veranda with a gas stove, which doubles up as an al fresco kitchen and dining area.
The furnishings are sumptuous and super cosy, with abundant candles, a large store of wood for the stove and plenty of blankets. We had to remove a number of breakable glass candleholders out of reach of our toddler and conduct some serious lessons about what's hot and what's not with regards to the stove, but overall it was pretty child-friendly and they provided a travel cot for us.
Out and about
If your aim is simply to get out into the great outdoors you really don't have to do much more than arrive and occasionally fling open the double doors that face out from every single room (even the bathroom). Although you might want to make sure you're dressed beforehand as it would be all too easy to inadvertently moon some of the passing wildlife, of which there is much (deer, peacocks, birds I don't know the names of …)
It is worth noting that the woods around the cabin can be dangerous as there are a number of water drainage ditches and (so they warned us on arrival) poisonous adders in the undergrowth, so little ones should be kept under close guard and piles of brush and bracken left well alone.
If you wish to venture further afield there are the neighbouring cities of York and Hull a short drive away. Or if, like us, you fancy exploring Amy Johnson's heritage further you can visit Bridlington's Sewerby Hall (
01262 673769; sewerbyhall.co.uk) where there is currently an exhibition in her honour. Sewerby has extensive gardens including a small zoo, and leads up to a stretch of stunning north-east coastline. The 40-minute drive that this entails is well worth it.
Food and drink
This is a self-catering property but there is a near fatal flaw in the set-up: you can cook on the stove and there's a fridge, utensils and so on, but there's no kitchen sink. So once you've cooked you have to wash your pots and pans in the plush spa-style bathroom basin. However, the recompense of sitting among the trees eating a full English breakfast more than makes up for it.
If you'd rather just eat out, then there is a fantastic pub a 20-minute walk away: The Star at Sancton (
01430 827269; thestaratsancton.co.uk). We enjoyed their food so much we booked for the second night while we were still eating on the first.
If you want something a bit posher then try the Michelin-starred Pipe and Glass Inn (
01430 810246; pipeandglass.co.uk) in nearby South Dalton, which does proper English grub to a very high standard.
The essentials
North Star Club, Sancton, York, YO43 4RE (
01439 748457; northstarclub.co.uk). Rates start from £425 for a two-night weekend break; sleeps up to six; no dogs.
Source: https://www.independent.co.uk