Rugby World Cup finals are usually tight, tense affairs but not always the most vivid of spectacles. The latest edition promises to be different, partly because the sporting rivalry between New Zealand and Australia is so relentlessly fierce. Black versus gold, Kiwi versus Wallaby; those who reckon the 2015 showpiece is the poorer for England's absence have clearly not seen many Bledisloe Cup games.
As a special collectors' bonus, there will also be a few last fleeting glimpses of true greatness. Just as the yellowing chestnut trees alongside the A316 in Twickenham have been slowly losing their autumn leaves, so the burnished legends of the fall are about to wave farewell.
Few have worn the silver fern with more distinction than Dan Carter or Richie McCaw, the incomparable duo preparing to share a Test dressing room for the last time.
Much has already been written about McCaw's place in the All Black firmament but Carter, as he prepares to transfer his allegiance to Racing 92 in Paris, deserves equal acclaim. There was a telling moment during New Zealand's pre-game media session when the fly-half, who missed the 2011 final through injury, was asked whether this was the defining moment of his career. Carter composed a typically diplomatic response before his head coach Steve Hansen intervened on his star player's behalf.
"The career of a guy who has played over 100 Test matches, like Dan has, is not defined by one game," cautioned Hansen. "It is an important Test match for him and everyone involved but it certainly won't define his career. That has already been written in the history books."
It was hard to argue as Hansen warmed to his theme, reflecting fondly on his unstoppable machine's extraordinary record haul of 1,579 points in 111 Tests (98 of them won). "He has added to the All Black jersey in many ways over many Test matches. When you start out as an All Black that's one of the greatest things you can do." Even fine baton-wielders such as Grant Fox and Andrew Mehrtens were long ago overtaken by the modest, slightly-built phenomenon who tackled as surely as he kicked goals. "When those guys left they said they couldn't replace them but a little fella from Southbridge has done that," continued Hansen. "He's also been through adversity. It would have been easy for him to walk away and say: 'Enough's enough.' But he wanted to finish playing well and he's done that. He's in good form and, on top of that, he's just a normal good bloke."
Normal off the field, perhaps, although Carter's long-time penchant for collecting superhero costumes might not obviously back that up. His favourite comic-strip character, it turns out, is The Phantom, who has no superpowers but relies instead on his strength, intelligence and supposed immortality to defeat the bad guys. New Zealand's on-field phantom has even more skills at his disposal, as all his opponents have discovered at some stage.
During these past few days his career highlights reel has been all over the internet, not least his display in Wellington during the second Lions Test in 2005. It is hard to believe that was more than a decade ago; the blinding acceleration has slowed slightly but age has not wearied him in other respects. He still has virtually the complete package: the neat surgeon's precision, the assassin's calmness with the boot, the artist's sense of time and space. His confidence has also now been restored after a couple of horrible injury-strewn years. "It's the mark of the guy how he's come through that," reiterated Hansen. "When you start to play well it's like a snowball. It gets bigger and bigger and then, all of a sudden, it becomes an avalanche. When he's like that he's a special player."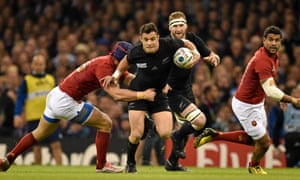 A black avalanche. It is as decent a metaphor as any for those days when New Zealand pour forward as they did against France in their Cardiff quarter-final, ploughing through everything in front of them. The Wallabies will pose a range of problems, particularly if David Pocock and Michael Hooper can do some opencast mining at the breakdown, but give Carter any time and space and, even at 33, he will still cut anyone to polite shreds.
Nor is he short of incentive, having struggled – "I was pretty devastated" – to experience the same delirious joy as his team-mates during the trophy parade in Auckland four years ago. Even Carter concedes this redemptive date with destiny has been in his head ever since. "The reason I signed a four-year deal in 2011 was to give myself another chance of a World Cup. It was in the back of my mind to be here. I just wanted to be a part of this side for this World Cup. That's what's been driving the last couple of years."
To focus entirely on a couple of individuals, though, is to underestimate the collective desire of the All Blacks ahead of the 80 minutes of rugby that could install them as the greatest team of all time. No side has ever successfully defended a World Cup and Ma'a Nonu, Conrad Smith and Keven Mealamu, along with the injured Tony Woodcock, have not come this far to fold tamely now.
There is also a very different pre-match feel compared with four years ago when the fear of possible failure almost throttled the hosts in the final against France. Having lost only three Tests since August 2011, New Zealand play these opponents often enough to know their weaknesses.
Pound the Wallaby front five, kick shrewdly and stretch their opponents' defence in the wide channels and even the occasional David Pocock turnover is unlikely to stop them hoisting the Webb Ellis Cup at a venue other than Auckland for the first time.
Hansen, who enjoys watching westerns in his spare time, certainly appears relaxed. The Magnificent Seven might have been an appropriate choice this week as New Zealanders brace themselves for McCaw's farewell gunfight but, either way, Hansen is anticipating a more open final than has mostly been the case.
"I think tradition is a great thing just as long as it doesn't get in the way of progress," suggested the head coach. "You've got two like-minded sides who want to play footy. I think we'll see some running rugby.
"We've got a bit of talent so, if we play well, the result might come our way. We won't be inhibited by the occasion … I believe we can get better."
If Carter, McCaw and friends do end their Test careers sprawled in the Twickenham dirt, it will be the Wallabies' most spectacular World Cup ambush bar none.
Source: https://www.theguardian.com