Travelling companions: My wife and our daughter
Trip: A weekend in Brockenhurst
It was early 2012 when my wife and I first visited Brockenhurst, a long weekend of long rambles that culminated in us getting engaged. We celebrated by hugging the B&B's resident chickens. So, three years on, the New Forest seemed the ideal place for us to reconnect.
Reconnect? Well, yes. We had a daughter in May 2014. And anyone who's had a child will surely recall that in the first year of parenthood, magical (nappy-filled) as it is, your focus is largely on the newbie, while you come close to neglecting your own relationship, alone time comprising the brief period between when our daughter went to bed and when we collapsed an hour later.
Going on holiday presented a similar predicament. Pre-child, a break would be just that: a hiatus from real life. Not any more: instead of hunting down that buzzy restaurant for lunch, the most we can hope for now is a high chair and tolerant fellow diners. As for the evenings, she's asleep, so we either go out one at a time or shop at the local supermarket and cook (and clean) for ourselves. At least we never have to worry about the entertainment. We are the entertainment.
And so to New Park Manor, midway between Lyndhurst and Brockenhurst. It may be a former royal hunting lodge, but there's little room for stately solemnity here; it's now a luxury and – crucially – family-focused hotel.
As soon as we step into our room, all those nagging parental anxieties about amenities melt away: cot, changing mat and nappy bin come as standard. What's more, there's a steam steriliser, bottle-warmer and microwave in the "baby kitchen"; delivery of morning and evening milk to the room; a bottle- and bib-washing service (now, that is luxury); and an evening meal timed perfectly, at 5.30pm, for our daughter's bedtime schedule. Even more impressively, during a wobble over pasta, a waiter materialises and starts juggling. Who needs Peppa Pig with distractions like that?
After she has gone to bed, we use the hotel's listening service – essentially a walkie-talkie connected to the phone in our room, to reassure us that all is well in the land of nod – while we relax downstairs by the fire, before savouring a candle-lit dinner, the sort of extravagance we haven't enjoyed for too long.
Nooks with books and games are liberally dotted around the hotel, turning it into a big playground. But for us, the break really begins each morning with the opening of the Den – a playpen bigger than our entire ground floor at home, filled with toys, other children and carers who'll take our daughter off our hands for two hours a day. She's happy; we're even happier, free to have our breakfast without worrying about jam being flicked at the neighbouring table; free to read; free to talk; free to do as we wish.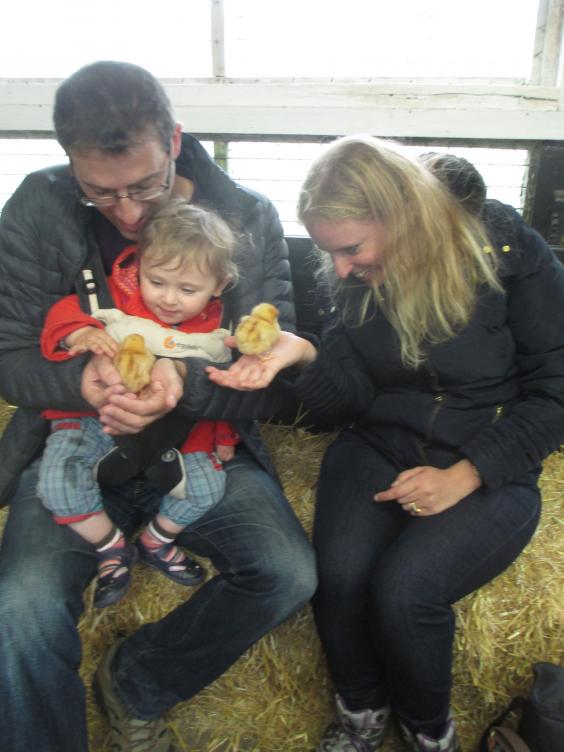 Which, on the first day, turns out to be sleeping – it's amazing what a nap can do for your sanity when you've been deprived for a year.
On our second day, it's down to the spa. We sidestep the thermal rooms and seaweed baths and head for the outdoor hot tub. Very 1970s, but plunging into the warmth, it might as well be a womb, so comforting is it; and the view across fields, set to a soundtrack of birdsong, simply adds to the serenity.
Naturally, having spent a couple of hours away from our daughter, we're somewhat bereft. Fortunately, there's plenty to get on with once we're reunited: a cinema room in which to watch cartoons; chickens and horses to meet; swings and a slide to… well, yes; and the rest of the New Forest to roam. And roam we do, as our daughter naps in her buggy, feeling very much together amid the brooks and trees.
Best of all, though: Longdown Activity Farm, just down the road. The baby rabbits draw a smile; the guinea-pig village, squeals of delight. And then there's the "chick room", where we are each handed, from a bucket, a tiny feathered friend. All three of us, spellbound, have never been more in tune.
Two-night midweek stays at New Park Manor, Lyndhurst Road, New Forest, Hampshire, from £299, including breakfast and dinner. For more: 0844 482 2152, luxuryfamilyhotels.co.uk
Source: https://www.independent.co.uk