Thousands of migrants are arriving in mainland Greece as the government prepares for talks on tackling the huge number of people reaching its shores.
Two ships carrying more than 4,200 people travelled to Piraeus port at night after leaving Lesbos island.
The whole EU is struggling to deal with an unprecedented influx of migrants.
Some 2,000 people, mostly from the Middle East, remain stranded outside a railway station in Hungary after police stopped them travelling through the EU.
The EU's border control agency, Frontex, says 23,000 migrants arrived in Greece last week alone– an increase of 50% on the previous week.
More than 160,000 people have arrived in Greece so far this year – already surpassing last year's total.
But in a reminder of the dangers they face, reports on Wednesday said at least 11 migrants, believed to be Syrians, were feared drowned after two boats sank as they left Turkey for the Greek island of Kos.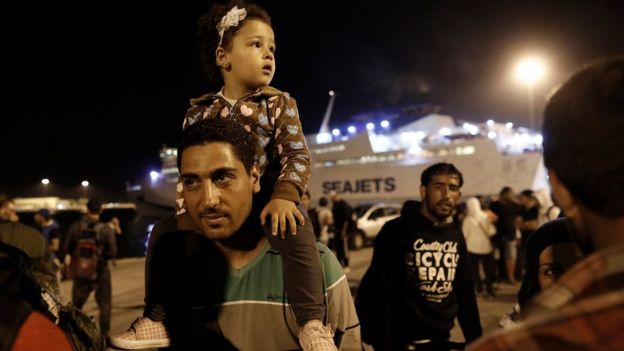 Greece's government says it lacks the resources to look after that many arrivals, but aid groups say authorities should be doing more.
On Tuesday, Greek President Prokopis Pavlopoulos called his French counterpart Francois Hollande and asked that the situation facing Greece be discussed at a senior European level.
Greece's caretaker cabinet is set to convene later on Wednesday.
Many of those arriving in the country do so on the island of Lesbos, where, according to the Kathimerini newspaper, 17,500 migrants were registered in the last week.
One ferry carrying 1,749 migrants travelling from Lesbos arrived in the port of Piraeus, near Athens, late on Tuesday.
One of the passengers, a Syrian teacher named Isham, told Reuters news agency: "You have to help us. We are human."
Another, with close to 2,500 on board, was due to arrive on Wednesday.
---
Analysis by BBC's chief correspondent Gavin Hewitt
The migrant crisis has overwhelmed Europe's leaders. There is no plan.
Existing rules for processing people where they arrive have been discarded. Temporary border controls have re-emerged on what are supposed to be passport-free borders. Fences are being strengthened.
There is tension and finger-pointing. One prime minister accused other leaders of "not telling the truth" about the migrants.
What is clear is that the heads of government will face some hugely sensitive decisions that will determine whether an open Europe can survive.
German Chancellor Angela Merkel says the migrant crisis "will challenge us far more than Greece and the stability of the euro".
Source: https://www.bbc.com