European Union ministers are to meet to try to resolve a dispute over how to relocate 120,000 asylum seekers who have recently arrived in Europe.
Some central European states have been resisting calls for EU members to accept mandatory quotas.
The migrants are part of more than a quarter of a million to have arrived in July and August alone. Germany says it expects up to a million this year.
Hungary has said European borders are under threat.
The arrival of hundreds of thousands of migrants has created deep divisions within the EU.
Home affairs ministers meeting in Brussels on Tuesday will be hoping to forge a consensus ahead of an emergency meeting of EU leaders on Wednesday.
---
Forcing a deal through?
If disagreements persist, ministers could force a deal through by a majority vote, rather than a unanimous decision, writes the BBC's Europe correspondent Chris Morris.
Enough countries are in favour of the proposal to form a majority – but huge efforts are still being made to find a compromise.
Such have been the divisions of the last few days that an unprecedented majority vote on an issue like this, involving national sovereignty, would be quite a gamble.
Still, there is pressure on the home affairs ministers to make a firm decision before EU leaders gather on Wednesday.
The leaders can only take decisions on a unanimous basis, and they are keen to focus on longer term issues like border security and extra help for countries in the Middle East that have borne the brunt of the Syrian refugee crisis.
Hungary, Poland, Slovakia and the Czech Republic all oppose obligatory quotas.
But Czech Foreign Minister Lubomir Zaoralek insisted on Monday that the four were still "absolutely dedicated" to finding a solution.
Most of those arriving in the European Union are from war-torn Syria, the European Commission says.
The relocation scheme would prioritise migrants recognised as "in need of international protection" – those from Syria, Eritrea and Iraq, according to EU data.
The 120,000 would be transferred from Hungary, Greece and Italy – the states where most migrants have been entering the European Union.
The UK, under an opt-out, would not be part of the relocation scheme but has already agreed to take 20,000 migrants directly from countries bordering Syria over the next five years. The Irish Republic and Denmark, with similar opt-outs, have agreed to take part in the EU scheme.
Hungary has granted its army extra powers to deal with migrants, allowing them to use rubber bullets, tear gas and guns which can deploy netting.
Migrants, said Hungarian Prime Minister Victor Orban, "are over-running us".
"They're not just banging on the door, they're breaking the doors down on top of us. Our borders are under threat. Hungary is under threat and so is the whole of Europe."
His tough stance has drawn sharp criticism from other European colleagues.

At the scene: Matthew Price, BBC News, Lesbos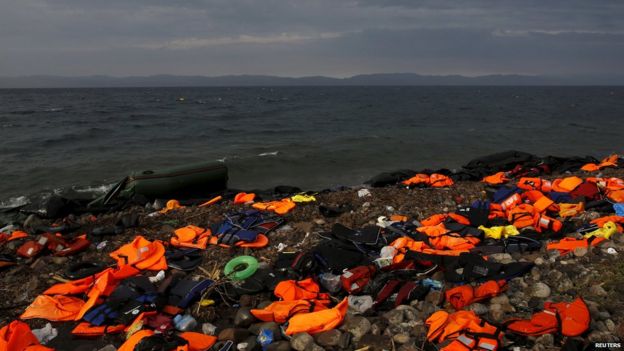 There is a man here on the edge of Europe. With his wife and little girls and faltering English.
"I am happy now," he told me. "My life is over, but this is for my children."
They arrived two hours ago. On a small boat. From Turkey. The little girl, six, with her pink roll-neck jumper keeping her warm.
Dad's hands still held in them the cold of a journey across the sea. The baby on his mother's shoulders coughed a chesty cough.
"We left Damascus at half past eight in the morning on Friday," said the father. It was almost exactly four days later.
Four days to change their lives. Four days from Middle East war zone to Greek holiday island.

At a temporary camp in Opatovac, Croatia – another key transit country for migrants – there were scuffles early on Monday evening.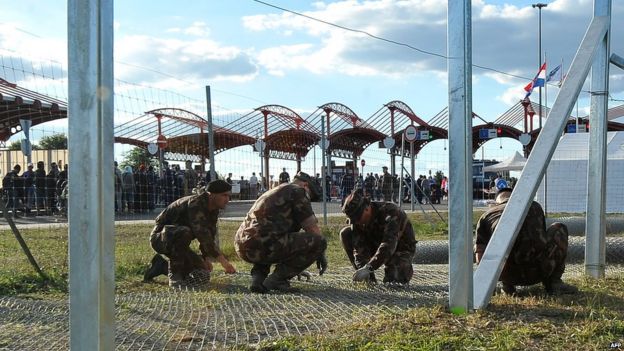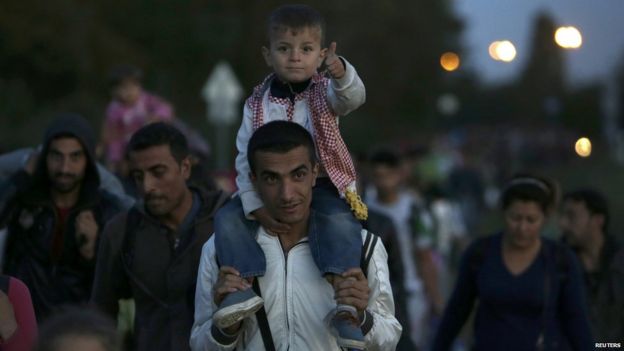 A BBC team there saw riot police entering the camp at one point and said at least one person was injured.
Most of those travelling in the Balkans are seeking a route north to Germany and Scandinavia.
---
Where do the migrants come from?
120,000 migrants "in clear need of international protection" relocated from Italy, Greece, Hungary to other EU member states
15,600 from Italy, 50,400 from Greece, 54,000 from Hungary, though unclear how many still in Hungary
Mostly Syrian, but many from Eritrea, Iraq, Afghanistan
Syrians, Eritreans, Iraqis prioritised as they have 75% EU "recognition rate" for those in need of refuge
Financial penalty of 0.002% of GDP for those member countries refusing to accept relocated migrants
Relocation to accepting countries depends on size of economy and population, average number of asylum applications
Transfer of individual applicants within two months
Source: European Commission
---
UN Secretary General Ban Ki-moon called for EU leaders to show compassion, saying he was concerned for the situation facing refugees and migrants arriving in Europe.
Greek Prime Minister Alexis Tsipras, newly sworn in after his re-election, said unless responsibility was shared "there is no point in talking about a united Europe".
His country has seen thousands of arrivals, many of them fleeing Syria's civil war, although fewer boats were reported Monday due to an incoming storm.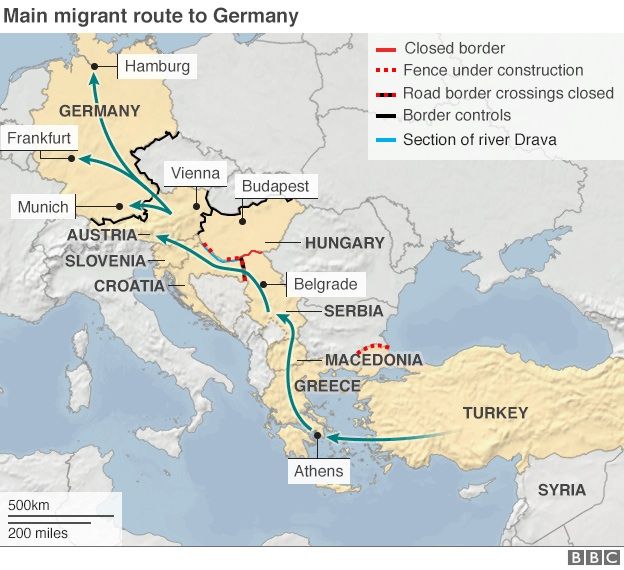 A note on terminology: The BBC uses the term migrant to refer to all people on the move who have yet to complete the legal process of claiming asylum. This group includes people fleeing war-torn countries such as Syria, who are likely to be granted refugee status, as well as people who are seeking jobs and better lives, who governments are likely to rule are economic migrants.
Source: https://www.bbc.com