At least 42 migrants have drowned overnight in two separate shipwrecks in the Aegean Sea, officials say.
The first boat struck rocks near the Greek island of Farmakonisi, while the second overturned near Kalolimnos. Many of those killed were children.
Meanwhile German Chancellor Angela Merkel said human traffickers must not be allowed to profit from exploiting people desperate to reach Europe.
More than a million migrants arrived in Europe illegally last year.
More than 700 died in the Aegean crossing from Turkey to Greece. At least another 100 have died in the Aegean this year.
'Dreadful'
After a joint cabinet meeting in Berlin, the German and Turkish leaders reaffirmed their commitment to tackling the crisis.
Mrs Merkel pledged to ensure Turkey would receive more than €3bn (£2.1bn; $3.3bn) promised by the EU in return for strengthening its border controls.
"Today, once again, we heard of dreadful numbers of dead, including children, in the Aegean," the chancellor told a joint news conference.
"We cannot let that happen, and let illegal traffickers and people smugglers be in charge between Turkey and Greece, continuing to put people in danger and profiteering."
Katya Adler: Germans struggle to cope with influx
Teaching migrants how to behave
Migrants feel chill of tighter borders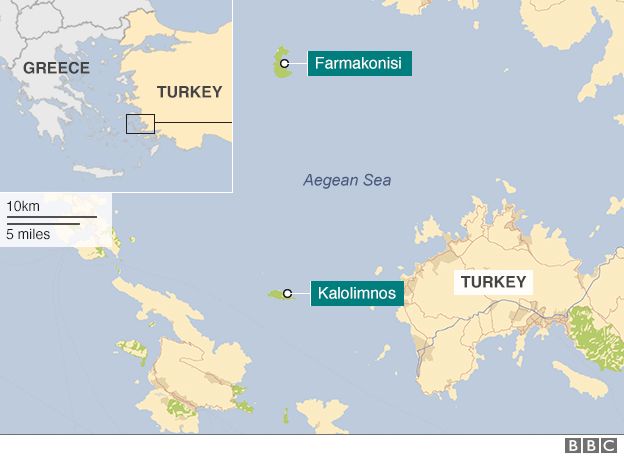 On Thursday, French Prime Minister Manuel Valls warned that Europe's migration crisis was putting the European Union at grave risk.
Mr Valls told the BBC that Europe could not take all the refugees fleeing wars in Iraq or Syria. If it did, he said, it could "destabilise our societies".
'Population shifts'
The Greek coastguard said it had rescued 26 people from the sinking of the wooden sailboat off Kalolimnos, but that it had recovered 34 bodies – 16 women, 11 children and seven men.
It was not known how many people were on the boat, but some estimates said up to 100, and a search is continuing for more survivors.
The boat off Farmakonisi was carrying 48 people. Forty made it to shore, but six children and two women drowned, according to Reuters.
The cold and the dangers do not appear to be deterring refugees from trying to reach Europe – more than 30,000 have made such crossings to Greece already this year.
Turkey is home to nearly three million refugees, most of them from Syria.
Many of them pay smugglers thousands of dollars to make the crossing to Greece. They then head north, trying to reach Germany and Scandinavia.
Source: https://www.bbc.com