Australia's coach Michael Cheika has dismissed suggestions that smaller countries have got a rawer deal from disciplinary hearings at the Rugby World Cup.
The Wallabies appeared fortunate when their flanker Michael Hooper was bannedfor just seven days following an aggressive clearout of the England full back Mike Brown – an offence that normally carries a minimum two-week ban. Eyebrows were also raised when Sean O'Brien only received a one-week suspension on Tuesday for punching France's Pascal Pape.
By contrast Samoa's Alesana Tuilagi was banned for five weeks – later reduced to two on appeal – when his knee made contact with Harumichi Tatekawa against Japan. Fiji's star winger Nemani Nadolo missed their match against Wales after receiving a two-week suspension for foul play, following a clearout at a ruck.
It has led some to suggest that Tier Two nations have been treated far more harshly by the independent citing commissions than the bigger Tier One nations but Australia's coach strongly disagrees there has been any bias.
Said Cheika: "I don't think that's the case. It's just the way it is. Like a lot of things in rugby it will be open to different interpretations and you have to roll with it and present the best case you can. You feel for the players.
"But it has been building the last couple of years. It hasn't just come in at the World Cup. We are getting more conditioned to things like that occurring. We have to try and improve, all teams do, to improve our technique.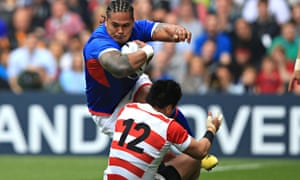 "I wouldn't have been like that four or five years ago," he added. "I'd have been more firey about it all. You have to accept the way it is. If you have the choice you accept it and play under that or don't be involved. You understand the rules and that is the way it is.
"They are very clear – referees and authorities – about the focus points for them from way out. Not just the tournament. They sent us the things they will be focusing on – neck rolls, tip-tackles. Everyone knows it. Tip-tackles often aren't intentional, that's just the way it is."
The Scotland forwards Ross Ford and Jonny Gray will miss the rest of the World Cup after being suspended for three weeks for dangerous tackles against Samoa and Cheika said he felt their pain.
"I haven't seen the incident but I feel for them," he said. "The same happened to Hooper last week. They're small things. His grandparents came over to watch him play and he was suspended. I know it's a little thing but it's important.
"I haven't watched many games yet but I know the two players from their history with Scotland. They are very influential but I think these types of tournaments are made for people stepping up.
"You have your international best players in a country and the guys who will replace those two are ready to roll. We understand there will be 23 players in the Scotland jersey trying to smash us. It doesn't matter about the names on the jerseys."
Source: https://www.theguardian.com