Malaysia has said that it would be "premature" to speculate on whether debris washed up on the Indian Ocean island of Reunion comes from the missing Malaysia Airlines Flight MH370.
A two-metre long piece of wreckage was found on Wednesday.
Malaysia's Deputy Transport Minister, Abdul Aziz Kaprawi, said it was "almost certain" that the wreckage was from a Boeing 777 aircraft.
MH370 is the only Boeing 777 to have disappeared over an ocean.
There were 239 people on board the plane when it went missing in March 2014.
On Thursday, a municipal employee found what appeared to be a very badly damaged suitcase was found on the Reunion coast, according to local media (in French).
The item was found at Saint-Andre, the same location as Wednesday's plane debris.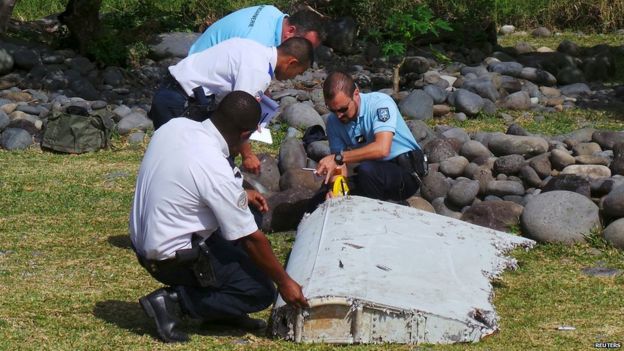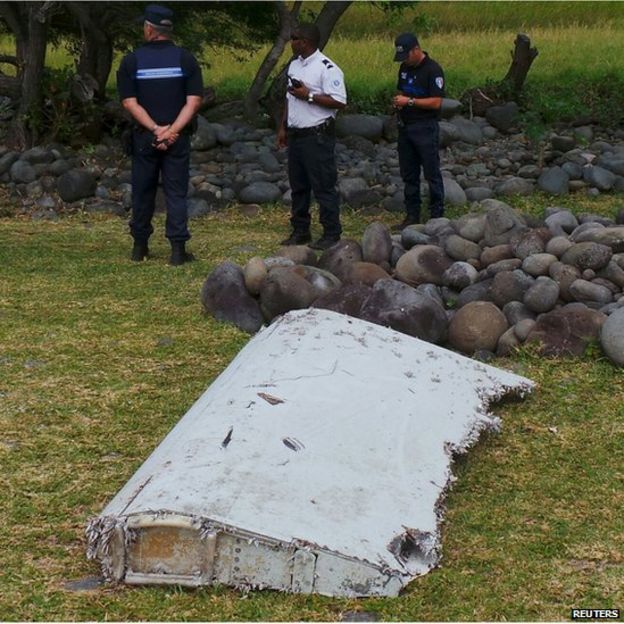 Aviation experts who have studied photos of the debris found on Reunion say it does resemble a flaperon – a moving part of the wing surface – from a Boeing 777.
Abdul Aziz Kaprawi said it would take about two days to verify if the piece of wreckage was from MH370.
The wife of the in-flight supervisor for the missing plane, Jacquita Gonzales, told the BBC that she was "torn" by the news.
"A part of me hopes that it is [MH370] so that I could have some closure and bury my husband properly but the other part of me says 'no, no, no' because there is still hope," she told the BBC by phone.
Reunion, a French overseas department, is about 600km (370 miles) east of Madagascar.
The search efforts for MH370, led by Australia, are focused on a broad expanse of the southern Indian Ocean – around 4,000km to the east of Reunion.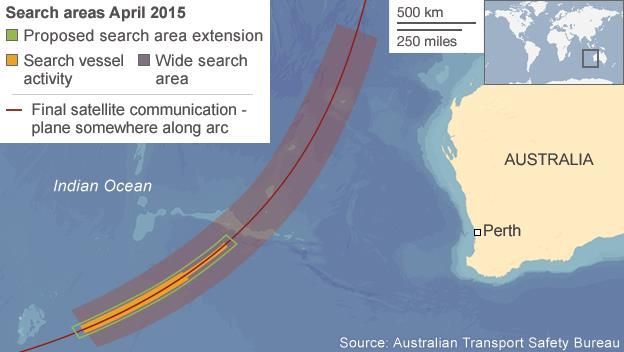 Australia's Transport and Infrastructure Minister Warren Truss has said there is a distinctive marking on the piece of debris found on Reunion Island.
He said the number on the part, BB670, could be a maintenance number, but is not a serial number.
Australian scientists were "looking at the photographs to see whether the barnacles on the wreckage reflect the amount of time that it would've been in the water", he said.
"Clearly if this is wreckage from MH370 it's an important breakthrough, particularly for families," Mr Truss added.
A journalist on Reunion, Yannick Pitou, told the BBC World Service that as soon as the debris was found on the beach, local workers called the police.
It "was brought to the local airport in Sainte-Marie to a secure location and a piece of it has been sent to France for further analysis", he said.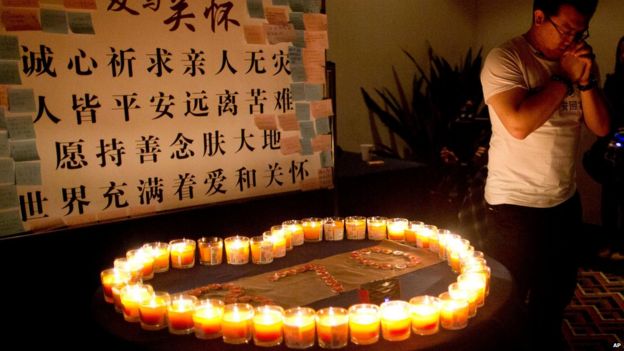 Malaysia is in contact with French air accident investigators and is sending a team of experts to Reunion.
A spokesperson for China's Foreign Ministry said: "We have noticed the reports and are wasting no time in obtaining and checking the information."
More than half of those on board the missing plane were Chinese citizens.
A group of relatives of many of the Chinese passengers said in a statement that they wanted "100%" certainty about where the part is from, and that the search for the missing plane should continue.

Analysis: BBC's transport correspondent Richard Westcott
Experts should be able to tell fairly quickly if this is a piece of MH370. Aircraft parts have individual serial numbers on them, and the airlines should have records of all those numbers.
So in theory, investigators could check them and give a positive or negative ID. If it is part of the aircraft, it's washed up thousands of miles from where search teams continue to look for debris at the bottom of the sea.
And realistically, although it would confirm the aircraft crashed and broke up, a piece of wing is unlikely to reveal much more about what actually happened on board the plane.
But these are all big "ifs" right now. It could still be yet another false alarm.

After MH370 disappeared from radar screens, experts analysed data from faint "pings" the aircraft sent to satellites to narrow down its last known location.
It was this information that identified the search area in the southern Indian Ocean, west of Perth.
Charitha Pattiaratchi, Professor of Coastal Oceanography at the University of Western Australia, told Reuters that models of ocean currents are consistent with debris moving from that search area to Reunion.
"Our model results that we did last year predicted that within 18-24 months after the crash, it was a possibility that it would have ended up within that region," he said.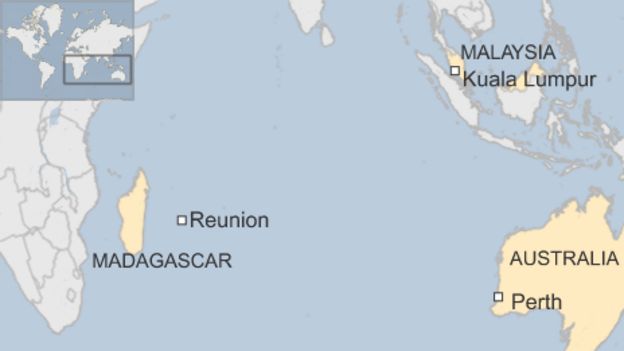 Key moments in the search for MH370
8 March 2014: Malaysia Airlines Flight MH370 departed from Kuala Lumpur International Airport on Saturday 8 March (16:41 GMT, 7 March), and was due to arrive in Beijing at 06:30 (22:30 GMT). Malaysia Airlines says the plane lost contact less than an hour after takeoff. No distress signal or message was sent.
20 March: Australian search teams say they are investigating two objects spotted on satellite images in the southern Indian Ocean and sent long-range surveillance planes to the area. The objects were later revealed not to be from MH370.
24 March: The Malaysian prime minister announces that following further analysis of satellite data it was beyond doubt that the plane had gone down in this part of the ocean.
28 March: The main search area was moved 1,100km (684 miles) to the north-east and closer to Australia, following further analysis of the speed of the plane and its maximum range.
5-8 April: Australian and Chinese vessels using underwater listening equipment detected ultrasonic signals, which officials believed could be from the plane's "black box" flight recorders. The pings appeared to be the most promising lead so far, and were used to define the area of a sea-floor search.
29 May: Australian officials announced that the search had found nothing and the area where the signals were heard could be ruled out as the final resting place of the plane.
26 June: Officials announced a new 60,000 sq km search area some 1,800 km west of Perth. This phase of the operation started in August with detailed mapping of the sea bed.
16 April 2015: Officials from Australia, Malaysia and China say the search area would be doubled if nothing is found in the current search zone.
Source: https://www.bbc.com