In a brightly lit office in Bradford's Carlisle business centre, on a road lined with charity shops, grocery stores and a green-domed masjid, Bana Gora and her team at the Muslim Women's Council (MWC) are organising final preparations before a much-awaited consultation about the UK's first women-managed mosque.
At the event on Sunday, which they expect local residents, imams and national media to attend, the community group will discuss their proposals for a mosque that will be open to all – men, women, children and worshippers of all sects, including Sunni and Shia. Prayers will be led by a male imam, yet the governance of the mosque will be run by women, in the first of its kind in Britain.
Gora co-founder and chief executive of the MWC, said: "When I was growing up across the Bradford district, there was never a practice of sisters going to the mosque. We prayed at the house. But why couldn't we go to the mosque on a Friday with our brother and father?" Gora said. "We were told because it's not the done thing. Women don't go to the mosque. Well, actually, at the time of the prophet, women did, and they had the same access as men."
Consultations for the new mosque began in June and are now at their second stage. The women's group are seeking planning permission and looking at possible plots of land. Gora said she has been in talks with international architects, and that the building itself will not have minarets or domes. The community group, who also run weekly curry circles to distribute food to the homeless, said they will have a blueprint and funding strategy by September. They hope for the mosque to be ready within three years.
There are around 100 mosques in Bradford, where a quarter of the population identify as Muslim. However, according to a local audit of mosques carried out by Gora's team, female worshippers often felt isolated from the space and cut off from the services offered by mosques.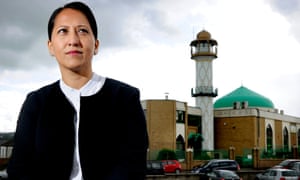 Among plans for the new MWC mosque is a centre for excellence with facilities specifically tailored to Muslim women, services for divorce, bereavement, legal advice, and parenting.
Not everyone is happy about the plans. Naz Shah, MP for Bradford West, disagrees with plans for the women-managed mosque in her constituency. She told the Guardian: "I think the reason it's happening is that mosques haven't been inclusive. But there are good practices and bad practices. While I'm all for equality, this doesn't fix the problem.
"You need to empower the structures that are already there instead of just leaving them. That's not fixing the issue. They say it's going to be a safe space for women," Shah said, "but I'm struggling to see what we're going to achieve."
In response, Gora said the Bradford West MP had not once visited or spoken to anyone at the MWC.
"If our local democratically elected members of parliament and local councillors are against this model of a female governance structure, then there are serious concerns as to how engaged they are with the local constituents who have elected them."
"It's the local constituents, the women, that are coming to us and asking for this space. We suggest that they perhaps engage more with the constituents and listen to what they are asking for before making statements," Gora said.
"The alienation that women feel has profound consequences for younger generations who are taught that Islam treats both men and women as spiritual equals." Gora said. "The practice within mosques contradicts the principles."
At a coffee morning nearby, local residents gave their thoughts on the MWC initiative. Nazia Khan, 35, a community volunteer said: "I don't usually go to the mosque unless there's a funeral. I know the local mosque would help if I had problems, but I don't know if the people would be trustworthy – it depends who it's run by." She added, however, a purpose-built space for women would be a good thing, as "some women don't get out much. It might be a good way to meet other people."
Uzma Kazi, a 29-year-old community artist, said a women-managed mosque was: "a really good idea … I remember me and one of my sisters talking years ago, saying wouldn't it be great if there was something in the community just for women, and in a safe space.
"I think there's lots of myths about women going to mosques, and what they can and can't do there, so education is really important. I really hope it can be a safe space for 'me time', sharing wisdom and a space to explore challenging things in the community, as well as celebrating the good times as well," Kazi said.
Muslim women have historically played an important role in supporting mosques in the UK; in 1889 the first purpose-built mosque in Britain, at Woking, Surrey, was commissioned by Sultan Shahjahan Begum, the female ruler of Bhopal. In postwar Britain, many women sold off their gold bangles to help raise funds for building the early mosques for the community, and still play an active role in charity drives for mosques.
Dr Khadijah Elshayyal, researcher on Muslims in Britain at the university of Edinburgh, said there is a history of women-managed mosques in the Muslim tradition, particularly in China. "Even in the UK, I know of a couple of mosques where women pretty much run the show, but in an unofficial position.
"But for various reasons they don't actually take official positions as mosque leaders. So, partly because of their unofficial status, their role is often taken for granted and people don't appreciate how much they actually do for mosques," Elshayyal said.
Dr Shuruq Naguib, lecturer at University of Lancaster and co-chair of the British association of Islamic Studies, told the Guardian that "often in city mosques in Muslim-majority countries, women are part of the congregation – not in a separate room, or separate floor – and pray in the main prayer hall of the mosque."
But the segregation of prayer space is a familiar feature of many mosques in Britain.
Masjids, particularly in Bradford, were founded traditionally of the Hanafi school of thought within Sunni Islam, by Muslims of South Asian heritage. Within this interpretation, the Deobandi viewpoint – which had been reformist but also influenced by conservative interpretations of Islam, became less flexible toward women's inclusion in the mosque when Islamic institutions were relocated to Britain, Naguib said.
Things are changing, however, and a generation of young, open-minded scholars were coming through who "understand the challenges of modernity, including living as a minority group in a secular society and the kind of politics surrounding identity in such a context."
Imam Qari Asim, who has written guidelines on mosques and youth engagement, said the consultation process was "fantastic", and: "We need to make our mosque a dynamic, vibrant and inclusive institution, and that can only happen if the board running it is inclusive."
He said that plans to set up a women-led executive board of a mosque was a reaction to "what's been happening on the ground".
"If you deny women and young people access to the mosque, or access to the decision-making process then eventually the reaction is going to be they're going to start something of their own and perhaps that's what's happened here," Imam Qari said. "It will only carry on unless room is made for more than 50% of the population."
Source: https://www.theguardian.com