A logical assumption would be that Martin Kaymer is now in the midst of his most-eagerly anticipated week of the year. Defending a US Open title won in flawless style is not the domain of many golfers. Many celebrated players of this era, such as Phil Mickelson, are yet to win one.
The theory, however, would be incorrect. When Kaymer looked ahead to this season, it was an occasion in Scotland in July that instantly captured his thoughts. He pinpointed the Old Course and Claret Jug.
"It is a bit boring to say you only focus on the majors and all that sort of stuff but my main focus is the Open," Kaymer says when asked of his ambitions for 2015. "That is huge."
He continues: " I have won on that course. In 2010 I finished seventh in the Open there. It is my favourite course in the world. The whole atmosphere around St Andrews is just so pure, so natural. That is the place where I feel the most comfortable.
"I'm not going to play the week before, I will just chill out – go to Wimbledon maybe, watch a couple of days of tennis – then head up the weekend before to Kingsbarns and Carnoustie, just get used to it. I really want to start off that week fairly calm and enjoy it. For me, it is the most important week this year.
"I have thought about the Open since January or February because I think I have a chance. I just need to make sure that my excitement is not in my way. It is important you try to lower that excitement and let things fall into place."
For someone who is so dedicated to his work and meticulous in planning, this serves as a warning to the Open Championship field. To Kaymer, thinking about something means putting in the necessary work to ensure he has the shots to fit a venue.
The curious Kaymer major dynamic relates to the first one of the year. In eight appearances at the Masters he has missed five cuts and has a best finish of tied 31st. For a former world No1, a player so talented, this makes little sense. "Too much respect," answers Kaymer instantly when asked for an explanation. "I have too much respect for the holes. It was the same again this year.
"At the end of the day, it is just green grass, a white ball and a hole. Honestly, if you break it down to the facts, that is it."
For now, Kaymer insists he will relish the sentiment a US Open defence will bring. Last June, back-to-back rounds of 65 at Pinehurst No2 on Thursday and Friday meant the only person who could defeat Kaymer was the German himself. He led by six.
The US Golf Association tried their best to halt the procession. Doubtless riled by Kaymer's ability to score low and with such ease, they insisted on a host of Saturday pin placements to the left side of greens. "My natural shot is left to right," Kaymer says. "I was walking up the 18th fairway, the pin was in the middle of the green. I said to [Kaymer's caddie] Craig [Connelly]: 'At last, a pin I can play to.'" Kaymer was to make birdie, signing for a 72 and a five-stroke lead over Rickie Fowler and Erik Compton. By the close of play on Sunday, the margin of success was eight.
But was he at any stage inwardly nervous, or scared of letting such an advantage slip away? "It was none of those things," Kaymer says. "It was a great mindset that I had and it is a difficult one to get. It is difficult to keep going, just to focus on yourself.
"I said to Craig on the range on that final day: 'This is probably going to be the most difficult round that we are ever going to play.' Because leading by that many shots is hard. People always think that should be easy but there are inner expectations that you have to lower.
"Mentally it is very difficult. I am playing in America, with an American player [Fowler] who is fairly famous. That is going to be tough.
"I was focused so much on myself, on getting the job done mentally. I didn't need to worry about the way I was playing the game, there was a reason I was leading by five shots. I was playing well enough.
"Early on, Rickie wasn't really pushing me but I have experienced it myself, I have watched it many times on television. There is no lead that is really big enough for you to relax.
"You saw it with me this year in Abu Dhabi when I was ahead by 10 shots [with 12 holes to play; he finished third]. It is never enough. You have to keep going. And where is the problem in keeping it going? If he was only one or two behind you, that's what you would say to yourself. So why not when the lead is six or seven? Challenge yourself. That is what I did very well."
The fresh nuances of Chambers Bay make it difficult to predict whether Kaymer will prevail again. There is also the rarity of successful major defences. "These days there are 60, 70 guys who can be up there. Defending or not, it is very tough to compete for major championships," he insists.
What is without question is that the 30-year-old is better placed than in 2011, when he headed to the Atlanta Athletic Club as the holder of the US PGA Championship. By his own admission, he was basically lacking in maturity.
"I didn't play good golf at all," he says. "I was too inexperienced to really notice and understand what I had done. I didn't see it, really, I was surprised. It wasn't something I could reach out and touch therefore I wasn't really in the moment. I was just playing.
"Then in 2011 when I went back, I just didn't play good golf at all. 2011 and 2012 were tough times for me, anyway.
"Now, I am very proud. This is something you can be very proud of: to win a major is nice but to win two and the way I did it last year, you should be very proud of your achievement. That's the way I will approach Chambers Bay. I will try to use all the positives that I experienced last year, take that into the first and second rounds and then see where I am."
It was pertinent that Kaymer spent the weekend completing preparations at Whistling Straits, where he won the 2010 US PGA. The policy of staying away from Chambers Bay was as typical for Kaymer as it was deliberate – designed, in essence, to avoid boredom.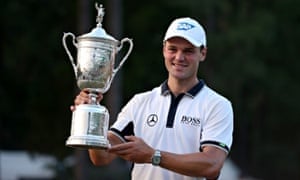 He will spend the opening two days in Washington state in the company of Rory McIlroy, whom every other golfer currently looks up to. To his credit, Kaymer is perfectly happy to admit as much.
"It is very inspiring," says Kaymer of McIlroy's rise. "It is always inspiring when you see someone playing so well. Rory has already said he saw me winning the US Open and that inspired him to play well.
"That's the great thing about this situation we are in now, we can inspire each other. It is nothing to do with jealousy, it is a positive thing where you see how great somebody can play and it makes you wonder: 'Maybe I can get there, too.' All of a sudden you can have a couple of weeks where you think, 'Wow, if I play like this I am unbeatable.' Not a lot of players can say that about themselves.
"Obviously eras change. If you look right now at the Ryder Cup teams, there are a few young guys in there, mid to late 20s, who can play for the next 15 years against each other. That is why you are an athlete, that is why you play sport – it is about the competition. You try to compare yourself to others at the same time as staying within yourself. You don't focus too much on them but you need some kind of a battle all the time; that's fun."
At Pinehurst, the remainder of the field pursued an utterly fruitless chase. Majors are not typically dominated to such an extent by one player, which hands Kaymer just cause to glance back 12 months as well as forward one this week.
Source:https://www.theguardian.com