In 1999, the film Fight Club hit the cinemas. In it, there is a scene set in the grimy, dark kitchen of a ruin of a house, with an amalgam of blood sweat and tears wafting through the stuffy air. Brad Pitt, in his Tyler Durden swagger, stares at Edward Norton writhing in pain, and tells him, "It is only after we've lost everything, that we're free to do anything."
Memphis Depay turned five that year, and was living in a tiny town on the outskirts of Gouda in the Netherlands. Like so many other kids, he spent most of his time playing football on the street with his friends. One day, he ran inside and plonked himself on the sofa next to his granddad, in time for the football on TV. The 1998-99 Eredivisie trophy was being won by the club a mere 20-odd kilometres away; Feyenoord. Young Depay turned to his grandfather and said: "One day you will be able to watch me play football on TV, too!"
Similar sentences are said in many a sitting room around the world each day but the difference with Depay is that, echoing that Tyler Durden dialogue, he would have to lose an awful lot before he was able to liberate himself from his demons and become the successful footballer that joined Manchester United this summer.
Depay was born in 1994, to a Ghanaian father, Dennis, and a Dutch mother, Cora. It was not long, however, before the relationship between the two parents began to fall apart and when Memphis was four, his father walked out on the family. Seeing his father abandon him and his mother left a deep wound in Depay's psyche. He was just about to start school and his background at home was destabilised.
Cora soon met a new partner but the new man made their lives traumatic and though Depay tried to use football as a means to get away, he did not always succeed.
Former teachers talk of him as a student who was extremely difficult to handle, with boundless energy but no control. His primary school teacher, Jeanet de Jong reminisced last year about Depay breakdancing and cartwheeling in class. Insecurities occupied Depay's mind as he wondered why "fathers" in his life seemed to be transient and deleterious.
Things were due to change for the better though: soon, Cora and Memphis were abandoned by the abusive boyfriend and moved in with her parents, Kees and Jans. This finally brought some stability. In the absence of another father figure, Depay's grandfather Kees took up the role. The child's insecurities remained, and there was a lot for him to overcome, even at his tender age, but at least now he had a guiding figure and stability.
Kees – a big football fan – introduced Depay to organised football by encouraging him join the local side VV Moordrecht when he was seven. The club chairman, Ton Redegeld, who worked personally with Depay at youth level, told Marco Gerling of the newspaper Algemeen Dagblad that the quick little boy "always stood out" in training and in matches. "He was fast, agile and strong and I thought: 'It's not going to be long before he is out of here'," he added. "In matches where we scored seven goals he would get five of them and set up the other two. And I'm not exaggerating."
In 2003 Sparta Rotterdam came calling and Depay's mum and grandfather agreed that the distance between Rotterdam and Moordrecht was short enough and that the club would be a comfortable step-up.
On the pitch Depay impressed with his innate confidence and sublime touch. Off the pitch was a different matter. Kevin Valkenburg, Depay's youth coach there, said: "He had behavioural problems. Usually I'll get through with that kind of boy but he was difficult to help, as if there was a wall around him."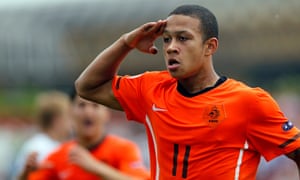 When Depay turned 12, a number of clubs scouted him. His grandfather was initially apprehensive about accepting offers that involved the youngster moving away from home. He also thought that, despite being an Ajax supporter, it was not right for Depay to move to the Amsterdam club or Feyenoord, as their academies were demanding.
In the end it was agreed that Depay would join PSV Eindhoven, known for their player-centric approach to youth coaching. However, it still meant Depay had to move in with a foster family in Eindhoven.
Valkenburg said that in Rotterdam Depay "had remained in his old environment" with the backdrop of the problems he had encountered and that a move away was "good for him", adding: "In that sense, PSV was his salvation."
His foster father, Olaf Heijblom, in an interview with Prive magazine, recalled how Depay struggled initially: "I remember a few weeks after he had moved in with us," he said. "We were sitting in the backyard and suddenly I heard Memphis crying from his bedroom on the first floor. I immediately went up and sat down with him. He was sobbing but slowly he started telling his story. My heart then went straight to him, and together with my wife, we showed him that a household and family life can be fun and enjoyable." As someone who had lost out on a stable family in his formative years, living with the nurturing Heijbloms opened young Depay's mind.
PSV appointed a mentor, Joost Lenders, to work with Depay too. Erik ten Hag, an assistant coach at PSV, said: "He was so confident about himself. He was sometimes difficult, but I've never had problems with Memphis. He also had a very good relationship with [the manager] Fred Rutten, who he trusted. He spent a lot of time with Memphis and knew how to handle him. Because of Memphis's background, it was necessary."
With the right kind of support, Depay's behaviour improved and his footballing motivation intensified. Now a promising teenager who impressed in continental youth tournaments, Depay grew serious about his future and progressed through PSV's youth teams.
Then in 2009 his grandfather, Kees, died. The news hit Depay hard. The man to who he had promised he would one day play for Feyenoord would never see him make his professional debut for PSV, or be picked for Holland. Last summer, after Depay scored his first goal for his country, against Australia in the World Cup, he kissed his wrist, where he has a tattoo to honour Kees, and pointed to the skies, acknowledging on TV the pledge he once made in front of it.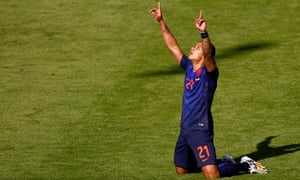 In an interview last year with Hart van Holland, his mother, when asked about her son's aspirations, said: "He wants to play for Manchester United and then a club in Spain."
The first part of Depay's dream has nearly been fulfilled. After a hugely successful season with PSV in which he scored 22 goals in 30 league games as the club won their 22nd title, he joined Manchester United for €27.5m (£25m), possibly rising to €32 million.
He is an example to young footballers, his life trajectory showing that childhood experiences need not define someone, let alone dictate their destiny. He spends his money lavishly, owning a luxury apartment in Rotterdam and a camouflage-coloured car among other things, but his heart remains in the right place.
Recently he went back to Moordrecht and surprised his mother by giving her a brand new Mercedes. The present may have been materialistic but the words were emotional. On Facebook, where he had uploaded a video of that moment, he quoted lyrics from Kanye West's Hey Mama and added "And I love you for that mommy!! I hope I made you proud." The Austrian psychiatrist Viktor Frankl once said: "When we are no longer able to change a situation, we are challenged to change ourselves", and this is what Depay has done. Across his chest is a sprawling tattoo with the words "Dream Chaser", with two wings, symbolising both the fledgling bird he was, and his opportunity to now truly spread his wings and take flight on the international scene.
Back in Moordrecht he is already a legend – there are few boys in Moordrecht without a poster of Memphis plastered to their bedroom walls; he is "their" Memphis.
Depay's story is one of a boy who, despite the odds against him, has achieved what he set out to achieve. He lost a lot in those early years but also found himself and a freedom to express himself. Depay is someone who constantly wants to improve and, still only 21, seems worthy of what he proclaims to be: a dream-chaser, now desperate to make his bow at Theatre of Dreams.
Source: https://www.theguardian.com