Islamic State (IS) fighters have clashed with guards as they tried to enter Libya's oil port of Sidra.
Two members of the Petrol Facilities Guard militia, which is defending Sidra, were reportedly killed.
The militants are said to have been pushed back, but IS says it now controls Bin Jawad, 30km (19 miles) west of Sidra on the road from its stronghold in Sirte.
In December, France said IS was aiming to control Libya's oil wells.
IS, which has been operating in Libya for about a year, failed to take Sidra in an attack last October.
Suicide attack
In Monday's attack, IS fighters first launched a suicide bomb attack at a checkpoint at the entrance to the town, the AFP news agency reports, and that was when the guards were killed.
AFP quotes a colonel from the Libyan army saying that the port entrance was then attacked by a convoy of 12 vehicles.
Libyan news website Libya's Channel is tweeting that seven people have been killed in all: The two guards, four IS members and one civilian.
Libya has descended into chaos since the fall of Muammar Gaddafi in 2011.
In December, Libya's rival politicians signed a UN-brokered deal to form a unity government, but that has not yet been implemented.
Libya's rival power bases (as of August 2015)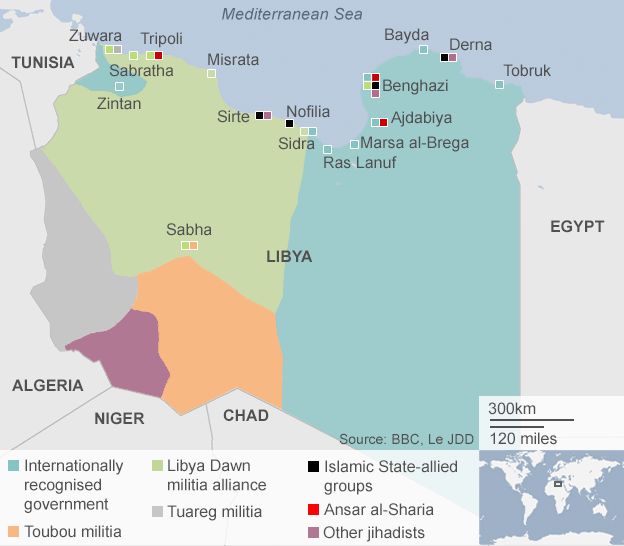 Source: https://www.bbc.com