'Until recently, I was the transgender person that people were most aware of," says Laverne Cox, who describes herself as "an actress first and activist second". She's best known for playing hairdresser Sophia Burset in the Netflix prison drama Orange is the New Black, but a year before Caitlyn Jenner's Vanity Fair unveiling, Cox appeared on the cover of Time magazine under the headline, The Transgender Tipping Point: America's next civil rights frontier. We meet in Paris, a few days after the Jenner cover has become a global news story.
"I knew everybody would be asking me about it," she says, explaining the thoughtful and nuanced blog she posted in response to Jenner's transition. "I am so moved by all the love and support Caitlyn is receiving," she wrote. "It feels like a new day, indeed, when a trans person can present her authentic self to the world for the first time and be celebrated for it so universally."
But in the same blog, Cox questions the celebrations of Caitlyn's attractiveness, and urges a continuing focus on diversity and multiple voices within the trans community. "I thought there was a conversation that was not being had," she explains. "It was about me wanting to acknowledge all those trans folks out there who don't have access to health care, who don't embody cisnormative beauty standards, even that cisnormative beauty standards are deeply problematic.
Cox is unafraid to speak her mind and has spent much of the last year appearing on platforms at US colleges. It's hard to think of another TV star with such a dual life.
Orange is the New Black began in 2013, and, along with House of Cards, was a pioneer of television that was not actually on television, and brought Netflix its biggest audience for an original show. Cox had appeared as a contestant on the reality show I Want to Work For Diddy (she did not end up working for the rap mogul, leaving in its sixth week) but OITNB was her breakout role. Her character Sophia is a transgender woman imprisoned for credit card fraud committed to fund her gender reassignment surgery. "I love her heart and soul," Cox says. "She's kinda sassy, too. I love the no-nonsense sass and the quiet wisdom she has." She waves her hand. "I hate that word, sassy." She pauses. "For years I would get direction from people asking, 'Can you make her sassier?' Which is code for, can you make it a little more 'black', a little more attitude? It rubs me the wrong way. There's something that feels a little patriarchal about it too, right?" The "sassy best friend" trope has been a TV cliche for years; OITNB, an ensemble drama telling stories of women in prison, firmly rejects those stereotypes.
Cox agrees that it has one of the most diverse casts on television, "outside of Shondaland," the studio run by the formidable Shonda Rhimes and which makes Scandal, Grey's Anatomy and How to Get Away with Murder. "Now we have Empire and other shows coming down the pipe that have more black and brown faces on them. I don't know if we're a trailblazer or not, but I would hate to think that this is a trend. It's not enough to have people of different sexual orientations, races, genders, ages, sizes on television. The story must be compelling."
She leans over carefully (she's wearing a skintight orange dress, "nothing to do with the show", that leaves little room for manoeuvre) and shows me her Instagram account on her phone, where a picture of her and other cast members on the cover of Essence magazine currently has over 19,000 likes. "I'm a black transgender chick from Mobile, Alabama, I grew up poor and working class, and I'm on the cover of magazines," she notes, with some amazement.
Cox was raised with her twin brother – who plays her OITNB character in her pre-transition scenes – by a single mother. She endured relentless homophobic bullying as a child, and has described other children at school calling her names such as "sissy" and "faggot", as well as being chased home from school. A teacher once informed her mother: "Your son is going to end up in New Orleans in a dress if we don't get him in therapy right away." At 11, she attempted suicide, and credits a move to study dance at the Alabama School of Fine Arts with saving her life. In her late teens, she moved to New York to pursue acting. She describes herself as "gender-nonconforming" when she first arrived in the city, where she began her transition.
I ask her where she went out when she first arrived, but she's coy about naming the clubs, because "if I tell you the venues, it will date me too much". She says she loved to just "go out and dance. It was before boys – well there's never been a time before boys! – but, like, I wasn't going out looking for boys. I was going out to dress up and have fun. And it felt so pure."
The New York nightlife also provided Cox with a living. "A lot of black transgender women aren't so lucky, but I was able to perform and put together a look that was able to fly." In fact, during the first season of OITNB, Cox was still working at a restaurant called Lucky Cheng's on the Lower East Side, where she had applied to work as a waitress, but ended up performing as a drag queen. She recognises how lucky she was to have the opportunity, and praises the queens and trans women she worked with who became her family, but says the job itself was "degrading, and it never stopped feeling degrading. We mostly catered to bachelorette parties, groups of girls who would come in from the outer boroughs to celebrate with 'the freaks'. I don't like to be negative, but that was the gig."
Cox left Lucky Cheng's after the first season of OITNB wrapped, and has been in work almost constantly since, appearing on The Mindy Project, shooting a film, Grandma, with Lily Tomlin, fronting a pilot called Doubt for CBS and making a documentary on trans life for MTV, among plentiful other acting gigs. I ask her if she's noticed a difference in the kinds of roles she is offered now; if, say, she is no longer being typecast as a prostitute. She gently corrects a poor choice of words. "I've played sex workers seven different times on television and in films. People who do sex work are human beings and deserve to have their stories told in humanising ways. But I've done it so much that I want to do something different." I ask if I've made a faux pas with "prostitute". "Maybe because I've talked to a lot of folks who do advocacy for sex workers, but for me it's about acknowledging that it is work, so it's less stigmatising, absolutely."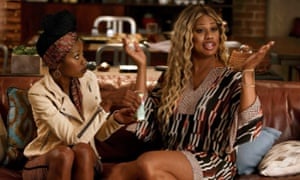 Cox has spent many months on a speaking tour of college campuses in the US and Canada with a lecture called Ain't I A Woman. "Before I knew I was a trans woman I wanted to be on stage and act and dance, but my acting has given me the platform to speak out," she says. "Before Orange, I was writing pieces about gender for the Huffington Post, and speaking in Albany for the passage of the Gender Expression Non-Discrimination Act, but I just got a bigger platform."
Presumably it's easier to simply not be the person everyone asks for an opinion on every issue connected to life as a trans person. "It's intense, it's hard," she admits, but says she has always felt as if she should be of service, and has a sense of this being "God's will for me, to be very grandiose about it." Plus, she says, "I was frustrated with the way trans stories were being talked about in the media and press."
When Cox appeared on that cover of Time magazine, it was a vital, historical moment. She says now that with people like her and Caitlyn Jenner in the public eye, trans people are experiencing "unprecedented affirming visibility". But visibility only goes so far. "We need more people of colour in positions of power at LGBT organisations, more trans people, different perspectives. And we need more queer and LGBT perspectives in black organisations, so we are not getting myopic," she insists. She lists stark, horrifying statistics. "In the first eight weeks of 2015, seven trans women were murdered, and they were all trans women of colour. They're not being murdered just because they're trans, but because they're at the intersection of identities, of race, class, homelessness. These issues have to be addressed if we want to end violence against trans folk."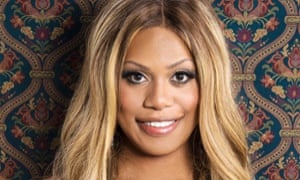 We discuss the Guardian's project The Counted, tracking the number Americans killed by police this year, which has revealed that black Americans killed by police are twice as likely to be unarmed as white Americans. "I don't know if this is incendiary or not, but the United States was created on the backs of slave labour," she says. "And so you have to reckon with the fact that the system is inherently a white supremacist system. That's controversial to a lot of folks. There's so much confirmation bias in how we're raised and it can be deeply painful to realise that everything we thought about the world around us is a lie."
She wonders if this is why people struggle to understand transgender issues, and brings up a survey that suggests 92% of Americans believe they have never met a trans person. "People get so frustrated with this trans thing because they're like, there's just men and women, vaginas and penises, you're either one or the other." But, she says, it's a western construct. "If you look at spirit traditions in the United States, or hijra traditions in India, religious cultures all over the world have fourth and fifth genders. And then Europeans and westerners came along and said, 'What is this?' Colonialism was not just about colonising whiteness, but about colonising the gender binary model."
There's a moment of silence, and then we both start to to laugh: this is not exactly a typical celebrity interview. This willingness to not just be visible as a trans woman, but be radical about it too – to not just say publicly that Caitlyn Jenner looks good, but to assess what that reaction means for the trans community and women as a whole – is invigorating. When the Vanity Fair cover was released, Cox started a Twitter hashtag, #transisbeautiful, in order to "multiply trans narratives" – that is, to acknowledge that both her and Caitlyn's situations are privileged, and theirs are not the only stories to tell. But she says there is an element of selfishness at play, too. "I started the hashtag to celebrate all the things that are beautiful about my transness," she says. It's hard to imagine Cox, so strident with her views, lacking in confidence, but she says becoming a public figure has amplified physical scrutiny of her.
"I have been picking myself apart my whole life," she says. "I have never talked about the medical details of my transition, and a lot of people assume I've had all this surgery. Years ago, I wanted really highly invasive surgical procedures to feminise my face. All these years later, I have the money to do it, but I don't want it. I don't want it! I'm happy that this is the face that God gave me, and it's imperfect." She says, with horror, that she was recently told by a commenter on Instagram that she should get her nose done. She didn't reply. "No, girl! My fans were like, that's the nose African Americans have, and what's wrong with that? My fans had my back. In those moments I have to look in the mirror and say, this is my black nose, and it's gorgeous."
Source:https://www.theguardian.com