Labour is to review the Bank of England's mandate as part of proposals for a wide-ranging shake-up of the UK's economy if the party wins power.
Shadow chancellor John McDonnell said it had continually missed its inflation targets and needed a more "rounded" focus in determining monetary policy.
Its policymaking, he told the BBC, should take into account other factors such as economic growth and investment.
Mr McDonnell will address the Labour Party's annual conference later.
* Follow live video and rolling text commentary with Labour conference live
In his first speech as shadow chancellor, he is expected to push for a "Robin Hood tax" on stock market trading.
Chancellor George Osborne has fought moves to introduce such a tax, warning it would harm the financial sector but Mr McDonnell believes it could rein in the excesses of the City and help pay for improvements to the NHS and other public services.
'New economics'
He will also set out arguments for "new economics" in his address and say £25bn of an estimated £120bn in unpaid corporate tax can be recovered.
At the moment, the Bank of England's mandate is to deliver price stability, focusing on delivering inflation of 2%. The Governor must write to the government every time the target is missed by 1% on either side. However, inflation is currently close to 0% and has not been within the target band since October 2014.
---
Analysis by political correspondent Iain Watson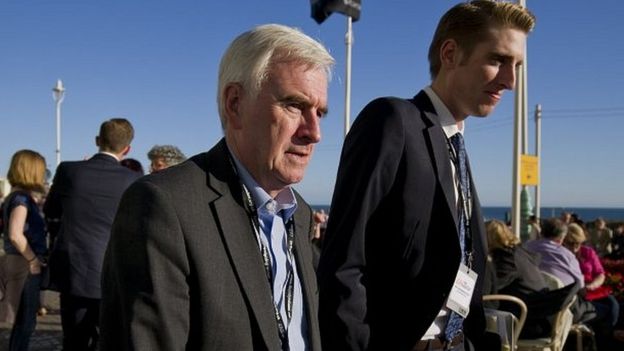 The new shadow chancellor is certainly managing expectations, warning Labour delegates that his speech this morning could be "stultifyingly boring".
As a backbencher, John McDonnell rebelled more than any other MP against his own party but now he says it's time to stop ranting and start discussing. So don't expect many firm commitments – more a direction of travel
He'll use language usually associated with David Cameron rather than Labour's left – for example he'll announce he'd share the proceeds of growth but while the rhetoric may be reassuring, the policy options will be radical.
Cutting the deficit without also cutting spending would require, he says, clamping down on tax dodgers. But it would also involve raising taxes and he is open to discussing whether to impose a levy on financial transactions – what supporters call a robin hood tax.
The Conservatives argue that this would lead to the loss of jobs and investment.
But the dividing lines are also with Labour's recent past. There is to be radical review of institutions such as the Bank of England which was given its independence by Gordon Brown. In future it may be given a key role in creating funds to invest in infrastructure and have a much broader remit than meeting an inflation target.
John McDonnell says a new politics requires a new economics – if not entirely new, his ideas certainly haven't been on the agenda of a major party for years.
---
Mr McDonnell said he would launch a consultation on a fresh mandate for the Bank of England while insisting it would retain its independence – granted by Labour in 1997 – and its ability to set interest rates without political interference.
"They will retain their independence in the same way they had under Gordon Brown and George Osborne," he said.
But he added: "I don't want to be critical of Mr Carney but they are not meeting their mandate.
"It has been 18 years since we reviewed it (the mandate). There will be a parliamentary debate and we want to include in that other aspects of consideration – so for instance prosperity in the economy and long-term investment in the infrastructure."
In his speech later, he will say a future Labour government will live within its means, investing to grow the economy and sharing proceeds "more equally". He denied reports he was planning big tax increases, telling BBC Breakfast his speech could be "pretty boring".
Taxation review
On Sunday, Mr McDonnell told a fringe meeting at the Labour conference in Brighton that he had reached an agreement with shadow business secretary Angela Eagle over the Financial Transaction Tax – the so-called Robin Hood tax.
He will launch an "open" debate within Labour with a view to making the introduction of such a measure party policy, he said.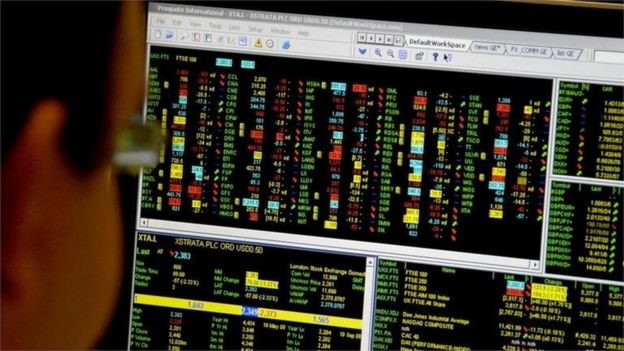 Mr McDonnell has long campaigned for such a tax and revealed that he had a furious row with his predecessor as shadow chancellor, Ed Balls, when he tried to secure a Commons debate on the issue.
Asked about the issue, he said: "Robin Hood tax at the moment is Labour Party policy on the basis of if we can introduce it globally, and that's been Labour Party policy for some time now.
"However, what we are saying is today we are going to launch a review of our taxation system, we are going to bring the greatest economic minds in the world to bear on that issue, we are going to consult with the British people and then we will arrive at a decision on the way forward."
Tax review
Mr McDonnell said he would also use his speech to "demand" access to the financial models used by the Office for Budget Responsibility and the Bank of England to help Labour formulate an alternative economic policy and calculate the rate at which a Robin Hood tax could be set.
"I think that should be open to all parties in Parliament" to test their own ideas "in advance of getting into government," he added.
He will also announce a review of Her Majesty's Revenue and Customs to find out how it could beef up its efforts to collect the billions of pounds avoided by UK companies and individuals every year.
Mr McDonnell said he wanted to examine every aspect of HMRC, "its operations, effectiveness and also look at its range of policies and the instruments that it has available to it to ensure that we maximise our tax take and at the same time it's done on a fair and just basis".
During his Labour leadership campaign, Jeremy Corbyn claimed £120bn could be recovered from tax avoidance and evasion – enough to eliminate the UK's budget deficit without cutting welfare or public spending.
But critics, including the then shadow chancellor Chris Leslie, said it was not a plausible policy and would not work.
Source: https://www.bbc.com