"I think it's disgusting. MPs' wives should behave with dignity." Well, someone had to say it – and thank heavens it was Christine Hamilton.
Christine has broken her silence on Karen Danczuk, estranged missus of Rochdale MP Simon, and the result may be judged cogent even by Christine's exacting standards. Karen's habit of posting pneumatic selfies every 28 seconds has distressed Mrs Neil Hamilton, who hails from an era of decorum we may now have lost for ever.
For verily, what was not to love about the Hamiltons: him with his little bow tie, looking cheekily up at her while she admonished him. It was as if some evil vaudevillian – a vaudevillain? – had taken a ventriloquist act called Nanny and Master Mostyn and given it flesh. Then got it elected to parliament.
Anyway, I need hardly remind you that those days are now gone, particularly after Neil removed himself from the Ukip MPs' selection process last December, following some unpleasantness about his expenses. That coming so close to Christmas, the Hammies were prevented from treading the boards last year, but anyone who saw their turn in Cinderella in Kettering will know that they would make an excellent booking for any pantomime short of a horse. And with rider demands amounting to merely a bottle of Cab Sav and being billed above any puppets, they represent decent value compared with some of the more diva-ish graduates of the cash-for-questions inquiry. A bid to bring Mohamed Al Fayed to Snow White in Bournemouth fell apart over the latter's negotiating behaviour.
At present, however, it is Karen's performing engagements that are troubling Christine, though only the churlish would detect a hint of jealousy. "I've actually met her and thought she was awful, parading her breasts round everywhere," Christine tells the Daily Mail. "The next thing you know she will be on CelebrityBig Brother."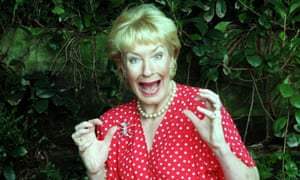 If that set an alarm bell ringing in your head, there follows a crash course in the moral and intellectual chasms between certain reality formats.
"OK," concedes Christine, "I did I'm a Celebrity Get Me Out of Here, but that was different. It had a purpose."
God, yes. Those kangaroo bumholes don't eat themselves. "I've been offered a fortune to do Big Brother and turned it down five times," continues Christine, with the dignity only someone who has recreated the potter's wheel scene from Ghost can muster.
As it goes, it seems Karen is indeed piquing the interests of the Celeb BB bookers – and her enthusiastic retweeting of stories to this effect suggest she would certainly be open to offers. "Karen would be an expensive guest," a "telly source" claims to the Sun, "but she will be worth it because she is box office".
Has third-generation reality TV found its Meryl? Only time will show. For now, there will be those who suspect that Christine is beginning to feel a touch of the Norma Desmonds.
"People say the Danczuks are fun and the new Hamiltons," she laments to the Mail, with the air of someone one island format short of a glorious comeback, "but I don't think so. I met her at a radio studio where we were discussing MPs' wives and it was all 'me, me, me'."
Mmm. Like a heck of a lot of life, this whole business reminds me of a scene from Showgirls, when the Gina Gershon stripper queen has been dethroned by a stairway fall caused by a young upstart played by Elizabeth Berkley. But far from being bitter about it all, Gina is philosophical, telling Elizabeth: "There's always someone younger and hungrier coming down the stairs after you."
Lost in Showbiz implores Christine to consider that valuable lesson from this world-cinema classic. Though not, for the love of God, to recreate any scenes from it.
Source: https://www.theguardian.com