José Mourinho said he and the Chelsea striker Diego Costa made up with "kisses and cuddles" after a half-time row during the 4-0 Champions League win over Maccabi Tel Aviv.
The pair appeared to be engaged in an angry exchange of views as they headed towards the players' tunnel at the interval. Mourinho took issue with Costa's lack of movement in the first half but the Spain international went on to finish the match after the manager displayed a more sympathetic side in the dressing room.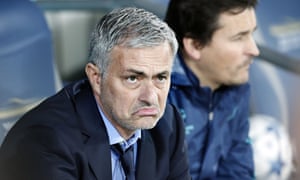 Costa was involved in the major flashpoint of the first half after he was chopped down by Maccabi's Tal Ben Haim, which led to the former Chelsea defender receiving his marching orders.
"With Diego I wanted him to do a certain movement that he didn't and I was disappointed and reacted and he reacted too, but at half-time in the dressing room there were a few kisses and cuddles," Mourinho said after the game.
Chelsea's win moved them level on 10 points with Mourinho's former side Porto at the top of Group G.
The two meet in their final group game on 9 December, when a point for Mourinho's side will be enough for them to progress to the last 16.
Source:https://www.theguardian.com