'One thing I'm sure about," says Jim Ratcliffe, billionaire founder of chemicals giant Ineos. "You can't have an energy policy that means you can only have a bath when the wind blows."
The Manchester-born industrialist points to figures, based on National Grid statistics, breaking down the composition of the UK's energy supply. It shows nearly half of Britain's electricity on the day in question being generated from gas, with around 20% from coal and 20% from nuclear. Despite subsidies and major investment in wind farms, only around 1.4% of the day's electricity is generated from that source.
There are days when wind does better, says Ratcliffe, but that's when it's blowy – which may or may not be when you want that bath.
Ratcliffe, whose fortune is estimated at £2.5bn by the Sunday Times Rich List,owns a majority stake in Ineos, one of Britain's biggest users of energy and among the world's largest chemicals groups, with revenues of $54bn. Now he wants to play a big role in the UK's fracking industry – if it can overcome its teething problems and become a serious source of gas. He hopes that fracking in the UK can make up for diminishing North Sea resources and be a major source of energy.
In the recent round of licence awards in the UK, Ineos won three. There's the promise of more awards in a second leg of the process, which is expected before Christmas. Ratcliffe, whose firm has hired three shale specialists from the US, says he is happy with what he got in the last round and confesses that he does not understand the fear of fracking.
"I think a lot of opposition is based on hearsay and rumour," he says. "In the US they have drilled one million wells and not had an environmental incident for six years."
When I mention the earth tremor in Blackpool that occurred during drilling by Cuadrilla, another UK fracking group, he shrugs and says: "Fracking is no different from conventional drilling. It can be done safely – and there is evidence for this in the US."
His thesis is pretty simple. He thinks fracking is a no-brainer for the UK because it will reduce our energy supply concerns, put downward pressure on the cost of energy and help revitalise areas, especially in the north, that he feels could do with more investment.
Ineos has just invested in eight giant Chinese-made ships – the length of two football fields, costing £75m each – to bring ethane gas, stored at -90C, from the US. It will be used as chemical feedstock for its plants in Europe, including Runcorn, in Cheshire, and Grangemouth, in Scotland – where the SNP has imposed a moratorium on fracking – because it's half the price of North Sea gas even after transportation costs.
This week, energy and climate change secretary Amber Rudd will visit one of Ineos's shale gas suppliers in Pennsylvania to get a close-up view of how the industry operates in the US – a sign, perhaps, that the government is taking the possibility of fracking succeeding in the UK seriously.
Rudd gets full marks for making the trip from the Ineos boss, who has not always had easy relationships with Westminster politicians.
He moved the company's headquarters to Switzerland after falling out with Gordon Brown and the last Labour administration, which didn't allow his company to defer a £350m VAT payment. He is also an outspoken critic of the EU, insisting that Britain would be better off outside Europe.
"There's no substitute for seeing firsthand a well being drilled," says Ratcliffe, who was back in his birthplace to speak at the Manchester Business School.
A romantic about the north's industrial heritage, Ratcliffe was born in Failsworth, a Manchester suburb, and the story is that he learnt to count by clocking the chimneys he could see from his bedroom window. His family moved to East Yorkshire, where he went to Beverley Grammar school and became fascinated with science. He is now a big believer in the grammar school system and points out that Ineos is effectively run by three former grammar school boys. Later he went to Birmingham University to study chemical engineering.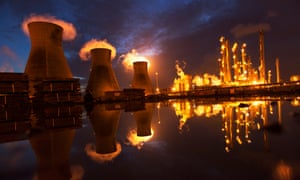 He's now living a life that seems a million miles away from his modest beginnings. He has homes in Switzerland, the New Forest and west London, where he has recently rehoused the group's UK head office. Then there's the billionaire's must-have – a 255ft superyacht complete with wine cellar and undersea viewing area. The helipad converts into a pitch for ball games. Two sons from his first marriage work for Ineos; his daughter lives with his second wife in Switzerland.
One of his favourite themes is the need to take manufacturing more seriously in the UK. He's not happy that Britain has fallen far behind Germany in the past two decades: "Twenty years ago the UK had 25% of its output in manufacturing, the same as Germany. Now it's collapsed to 11% in the UK, compared with the same level there."
The important factors in a thriving manufacturing sector, he says, are energy costs, skills and good union relations. Ineos had its own union crisis in 2014, when Ratcliffe threatened to shut the Grangemouth oil refinery unless there was a rethink on pay and conditions. It was a bitter dispute, which he won.
On energy costs and skills, he says, the UK is well behind its competitors. "I'm afraid we have fallen behind in producing skilled workers for our sector. There's a clear observation from where we are that the skill level is not as high as in Germany, for example." He says the UK's energy costs are completely out of line with its rivals, which is where fracking might come in.
"I travel about in the north, and if you compare it with the old industrialised areas, it's not looking as well-invested as it might be. It would be nice if areas could be revitalised – like places in the US such as Pittsburgh, for example, which have been transformed through shale. There you have shiny cars in a shiny city because of the development of shale in an old industrial heartland. I have a view that shale has the potential to do that here in the north of England."
Source: https://www.theguardian.com