New Labour leader Jeremy Corbyn is to make his debut at Prime Minister's Questions later, taking on David Cameron for the first time.
Mr Corbyn has promised "less theatre and more facts" and has crowdsourced question ideas from social media.
He will put six questions to the prime minister during the half-hour session, which starts at 12:00 BST.
The event is his first big parliamentary test and will be closely scrutinised by MPs and the media.
Mr Corbyn is the first leader of the opposition in modern times to come straight from the backbenches, having never held a ministerial or shadow ministerial post.
But speculation he will ask his questions to Mr Cameron from the backbenches, rather than from the opposition leader's traditional place at the despatch box, is thought to be wide of the mark.
---
Analysis by BBC Political Editor Laura Kuenssberg
Prime Minister's Questions is Jeremy Corbyn's real shop window for the voting public, not town hall meetings around the country.
And for leaders it is a moment when, traditionally, they have to show they are in command of their party.
Jeremy Corbyn is in command of Labour members – the MPs who'll sit behind him at PMQs are another matter. But today is an important test not just for Mr Corbyn personally, but for his new approach – how successful can his new rules be, when everyone else is playing by the old?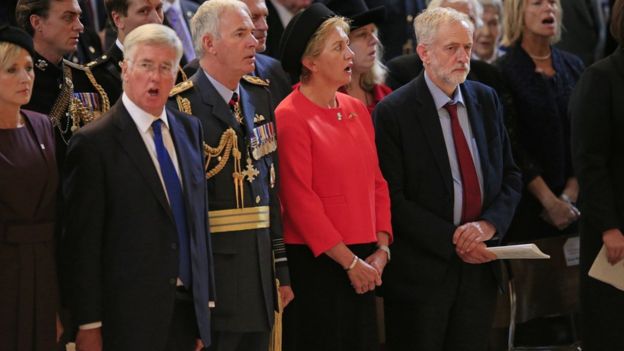 Mr Corbyn has promised a new style of leadership with more input from Labour members and debate about policy, with the party's positions on key issues such as Europe and welfare still being worked out.
On Tuesday, Mr Corbyn told trade unionists at the TUC conference he wanted to scrap the government's welfare cap, which limits the total amount a household can claim in benefits.
Anthem row
Hours later, shadow work and pensions secretary Owen Smith said the party was "very clear" it was opposing only government plans to reduce the cap from £26,000 to £23,000.
Attempting to clarify the party's position, shadow minister for women and equalities Kate Green said: "We accept the principle of the cap, but it is not currently before Parliament to have a vote to remove it altogether.
"Obviously if that becomes a possibility in Parliament, the party collectively will decide where we stand."
Mr Corbyn has also faced criticism over his decision not to sing the national anthem at a service to mark the 75th anniversary of the Battle of Britain.
A spokesman for Mr Corbyn said he had "stood in respectful silence" and did recognise the "heroism of the Royal Air Force in the Battle of Britain".
But Ms Green said it would have been "respectful, right and appropriate" to join in and many people will have been "hurt" by his stance.
'No repartee'
Mr Smith told BBC Two's Newsnight programme he would have advised the Labour leader to sing the national anthem "irrespective" of his belief the monarchy should be abolished.
Mr Corbyn will be the fifth Labour leader to face Mr Cameron across the despatch box over the past decade since he became Conservative leader.
The Islington North MP has said PMQs is too confrontational and that he will refrain from both "repartee" and trading barbs, instead vowing to focus on serious issues such as poverty, inequality and the challenges facing young people.
He has received more than 30,000 emailed suggestions for questions.
Mr Corbyn has said that Angela Eagle, the shadow business secretary, will deputise for him at PMQs when he does not attend – for instance when Mr Cameron is travelling abroad.
He has also floated the idea of allowing other colleagues to take the floor on occasion, saying he had approached the Commons Speaker John Bercow to discuss the issue.
Source: https://www.bbc.com