We'll probably never get a Friends reunion, mainly because the cast are all mind-bogglingly rich, and they're all doing pretty well for themselves anyway.
Of course, nobody will ever match the divine ascendance of Lisa Kudrow (everyone loves The Comeback, but if you haven't binged on Web Therapy yet, then what is wrong with you?). David Schwimmer has been having a dignified time of it on Broadway and as a director. Matthew Perry has fun lurching from cancelled show to cancelled show, picking righteous fights with Peter Hitchens as he goes; Courteney Cox enjoys median success with Cougar Town; and Jennifer Aniston has forged a stellar career as a professional Jennifer Aniston.
But for a long time, the guy that got left behind looked like being Matt LeBlanc, having suffered the final indignity of the spin-off series Joey being cancelled after two seasons (you can't blame a guy for chasing Frasier money, but still).
So when he signed up for Episodes in 2011, playing a monstrous, fictionalised send-up of himself in a show created by Friends people, it looked both understandable and a little last-chance-saloon. And, despite a strong ensemble of Tamsin Greig, Stephen Mangan and the wonderful Daisy Haggard, Episodes was unremarkable when it started. It wasn't bad as such, it wasn't even that it wasn't funny, it was that it didn't even seem to be trying to be funny. Married couple comedy writing duo go to LA to adapt their hit UK sitcom and it all goes disastrously wrong. Cue a fish-out-of-water comedy-of-errors, subtle-as-a-spade digs about how corrupt Hollywood can be, and LeBlanc getting in on the joke that actors can be narcissistic creeps. Steven Moffat said at the time that the whole thing was eerily similar to his experience of remaking Coupling for the US. But people making television about how ghastly it can be to make television is, on paper, the televisual equivalent of a rock star writing songs about what a drag it is to be on tour – hideous and indulgent.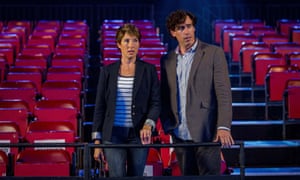 However charming, it just didn't look like a show with lasting legs, and when the show-within-a-show – bastardised into a locker-room sitcom called Pucks! – eventually tanked, it looked as if the game was going to be up. But along the way, something unique has happened: Episodes has hit its stride and turned into something quite special. Somehow, a group of characters we actually care about has grown out of that very specific premise. The publicity blurb rather bravely calls the show a "brilliant, laugh-out-loud comedy that melds the best of British-American wit," and that the fourth series is "the funniest one yet".
But in fact, both statements are true. Episodes no longer jars between feeling like a UK or US show, but is a thing of its own. And it's somehow looser, broader, dafter and certainly ruder. Sean and Beverley actually become more likable now they're succumbing to the Hollywood machine, with a new pilot that's the toast of the town, and Beverley surrendering to her weakness for gift bags she doesn't approve of. LeBlanc's amorality is now beyond simple adultery; faced with a financial predicament, he contemplates releasing a sex tape and accepts an invitation from a mass-murdering despot for half a million dollars. Meanwhile, the brilliant-but-damaged network high-up Carol has yet again found herself sleeping with her boss, this time an overbearing lesbian. Apparently now blissfully happy with Helen, she is counselled by Beverley, "maybe you just needed to wait for the right boss to come along?"
And things are coming to a head. Matt has fallen out with Sean and Beverley because they don't want him in The Opposite Of Us; Helen is plotting public revenge on Merc, while growing more and more paranoid that Carol and Beverley are having it away behind her back. None of this can end well. But Episodes has already been picked up for another year, which will take it to the halfway mark of the lifetime of Friends. With the final episode going out next Monday, now would be a good time to catch up. Unless you haven't done Web Therapy yet, in which case, drop everything.
Source:https://www.theguardian.com