Ninety-five-hour work weeks, five hours' sleep a night and an ultimatum.
When we first reported the story, dozens of you got in touch to talk working hours and how work-life balance has shifted during the pandemic.
Here, four people explain what a week in their jobs looks like.


'My last job felt cult-like'
Gemma Chambers recently left a job where she was expected to work seven days a week
The 22-year-old joined a Sheffield firm last October in what she thought would be a digital marketing job.
On arrival, she and the other newly-employed graduates were asked to cold call and go door-to-door on behalf of charities the firm was working for.
The few weeks she was in the job, the hours were typically 12 hours a day, Monday to Saturday.
"It didn't even end there. When we would finish at 23:00, we would get texted constantly on our way home asking us to reflect on what happened that day," Gemma says.
On Sunday, Gemma's team would also have "homework" and a FaceTime meeting with their line manager to discuss goals for the upcoming week.
"Every waking moment was about the job – if you wanted any time out of the day to have a chat with people, to see your friends or family… that was described as a 'loser's attitude'."
She's since quit and started a new job as a civil servant, where she is working 37 hours a week, Monday to Friday. She describes the change as "so welcome".
"My last job felt cult-like and this one feels like a legitimate role with standards and regulations. I enjoy being busy and putting a lot into my work, but it's nice to be able to speak to family and friends."


'I've got loads of work and not much else to do'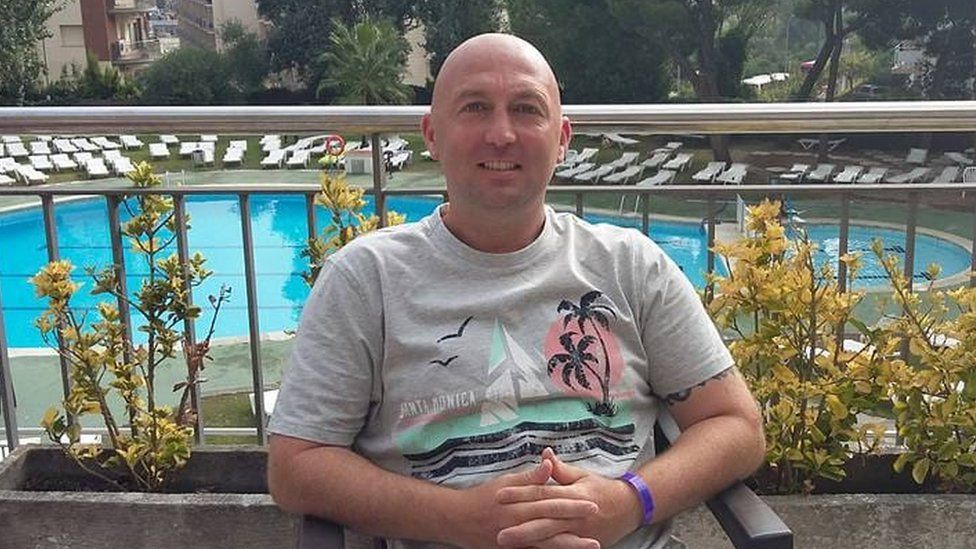 Gavin Baldwin is working two jobs while trying to save for a house deposit
Gavin, 42, started working in IT for a technology company based in Cardiff in January last year.
He works four 12-hour night shifts in a row, followed by four days off, where he tries to fit in plumbing jobs, having qualified in 2012.
"But it doesn't always end up like that," he admits. "I'll often do a 12-hour night shift, sleep for three hours and then go do a job."
Demand for plumbing work has kept him busy as people make home improvements during lockdown.
"What else can I do? I've gotten into a routine where I've got loads of work and there's not much else to do in my spare time."
Gavin is working extra hours so he can save towards a deposit for a first house for him and his wife.
"I'd love to just be able to do my nights job, but to get ahead these days you can't just rely on the one," he says, adding that his only luxury item is his Jeep, which he uses for work.
But he says he does feel some sympathy for the Goldman Sachs analysts.
"A 95-hour week is excessive but at the same time, banks want people who are money-hungry because that's what the job is based around. Their career is their life and they sacrifice a lot to do what they do."
www.bbc.co.uk