What, you didn't know that bison could fly? Apologies to any American readers too busy rolling their eyes to read on – but your beloved spicy chicken wings, named for the north-eastern city rather than the big beast of the endless plains, are all but unknown here in Britain. In fact, though you consume 1.23bn of them every Super Bowl weekend, we're not enthusiastic consumers of the cut in general, and I found them surprisingly hard to track down.
Perhaps British meat-eaters should be embracing them as part of a commitment to eat nose to tail – they're great value in the UK (as opposed to in the US) and, though there's not much on them, what meat there is is seriously tasty.
Plus, as American barflies will concur, they make excellent beer food – in fact, though much hotly spiced debate surrounds the circumstances of their invention in the 1960s, all sources agree they were an immediate success with drinkers, and their fame soon spread nationwide. There's even an international chain dedicated to them. So, are they worth adopting?
The preparation
If you buy your chicken wings whole, you'll need to separate them into the rather winsome sounding drumettes and flats. Drying them before cooking, preferably for a few hours in the fridge, as Catherine Phipps suggests in her book Chicken, or, if you don't have the time, at least drying them with paper towels just before cooking, will help the skin to crisp up (and a chicken wing, given the scanty meat involved, stands or falls on its skin). I don't think the wings require seasoning with salt and garlic powder, as Phipps recommends, though; although this gives them a good flavour when eaten au naturel, it clashes with the spicy, intensely savoury sauce they are tossed in later, which may be why she admits to a weakness for the odd handful "as is".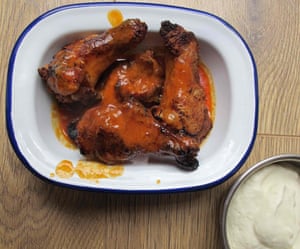 The coating
Early recipes don't include any coating – the chicken is just fried as is. The Joy of Cooking, however, coats the wings with seasoned flour, while Cook's Illustrated goes for cornflour for "an even crispier exterior". They're delicious, but turn flabby and disappointing far more quickly than the plain variety, especially when doused in hot buttery sauce.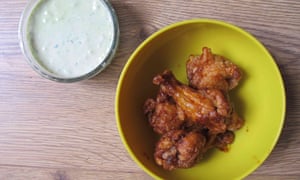 The cooking
True bar buffalo wings are deep-fried, but many home recipes shy away from this – as Phipps perspicaciously observes: "The coating makes the wings literally drip in butter anyway, I prefer to bake them." Alton Brown, the scientifically minded American television chef, avoids deep-frying on the basis that "most American cooks lack access to commercial fryers" – though, presumably, they do have saucepans and stoves, which is all you need to deep-fry something. He steams them first, "to render out a lot of the fat", then cools them to "tighten the skin" before baking. I'm impressed at how crisp both baked versions are, but the meat inside is undeniably dryer than the deep-fried wings from Saveur, The Joy of Cooking and Cook's Illustrated. If you're really against frying, however, Phipps's recipe is considerably less faff than Brown's, and works just as well – bake at 220C for 20-25 minutes on each side.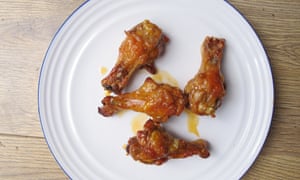 The sauce
The original recipe is as simple as you'd expect for something allegedly knocked up on the spur of the moment in a bar: hot sauce and butter (or margarine if you're to believe Saveur, though I can't bring myself to give it a try because I really don't want to eat deep-fried chicken smothered in tasteless fat). Brown adds garlic, which I really like, and Phipps, The Joy of Cooking and Cook's Illustrated all stick some vinegar in there, too, which accentuates the natural edge of the sauce and balances the richness of the butter nicely.
Most recipes call for a specific brand of hot sauce: Frank's, which is a sour, piquant condiment made from cayenne peppers in Missouri, but, though it is available in this country, I think you can use whichever one you happen to like. Indeed, Cook's Illustrated found that most of its tasters found Frank's rather mild, so they mix it with something "a little more dynamic" but, as long as it's hot and sour, it will work. That said, I do like the pinch of dark brown sugar the magazine adds to "round out the flavours" – but, as these depend on which sauce you use, I'd recommend tasting and adjusting to suit your palate. And, though it's sacrilege, I'd also suggest drizzling the dressing over the wings, rather than tossing them in it – they stay crisper that way.
The blue-cheese sauce
And what's the natural accompaniment for spicy deep-fried chicken wings? Why, a rich, salty blue-cheese dip, of course – and it should be intensely savoury, which is why The Joy of Cooking's roquefort works better than Phipps's stilton or Cook's Illustrated's mild, creamy blue. Mayonnaise supplies body, and sour cream or creme fraiche the requisite tanginess; buttermilk is too runny here, pleasingly American as it sounds. A dash of vinegar accentuates the tang, along with just a splash of sweet and intensely savoury Worcestershire sauce.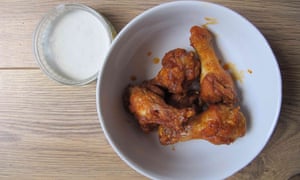 I'm not keen on raw onion or dried garlic powder (the other flavours are harsh enough), and parsley, though pretty, is distractingly fresh and peppery, unlike the more harmonious chive.
Serve with carrot and celery sticks and pretend it's healthy.
(serves 4 with sides)
For the wings
16 wing pieces (or 8 whole wings)
Neutral oil, to fry
40g butter
2 garlic cloves, crushed
120ml sour hot sauce, eg Frank's
2 tsp cider vinegar
1 tsp dark brown sugar
2 carrots, peeled and cut into batons
2 celery sticks, destringed and cut into lengths
For the blue-cheese sauce
100g crumbled roquefort
6 tbsp sour cream or creme fraiche
2 tbsp mayonnaise
2 tsp cider vinegar
1/4 tsp Worcestershire sauce
Small bunch of chives, finely chopped (optional)
If you have time, remove the wings from their packet and put them on a rack above a bowl or tray in the fridge for between 1 and 12 hours. Either way, bring them to room temperature before use and pat them dry.
Mash the cheese and the sour cream or creme fraiche in a small bowl with a fork, then stir in the mayonnaise, vinegar, Worcestershire sauce and chives. Season to taste.
Heat a large pan a third full of oil to 170C and put the oven on low. While the oil comes to temperature, melt the butter in a different pan and add the garlic. Fry for a minute, then add the hot sauce and whisk to combine. Take off the heat and taste; add the vinegar and sugar, unless your particular hot sauce doesn't need them.
Put a tray lined with kitchen paper in the oven. Fry the wings in batches in the oil until golden and crisp (about 10-12 minutes) and transfer them to the oven to keep warm until you've done them all. Serve drizzled with the hot sauce, accompanied with a bowl of the blue-cheese dip and the vegetables.
Buffalo wings: an American classic or modern cooking at its least subtle? Should they be left at the sports bar, or does anyone cook them at home? And, please, will someone explain whether you're actually supposed to dip the chicken in the blue cheese sauce, or whether it performs a cooling function after each wing.