Oculus Rift's virtual reality headset has moved another step closer to serving up heart-in-mouth moments in gamers' living rooms with news of a link-up with Microsoft that will see every headset ship with an Xbox One.
Having paid $2bn for VR startup Oculus in 2014, Facebook is making its plans to be one of the key providers of the technology, alongside companies including Sony, Google and games firm Valve. Its Oculus Rift VR headset can only be bought by developers at the moment, but will go on sale commercially in the first quarter of 2016.
Oculus held an event in San Francisco this week to provide more details on how VR will be controlled, and what kind of games people will be playing – while stoking anticipation for a technology that at various points in the past two decades has failed to live up to its hype.
"VR allows us to experience anything, anywhere … This is going to change everything. It is a fundamental shift: a paradigm change. And it all begins now," said Oculus' chief executive Brendan Iribe at the event.
The Oculus Rift is a head-worn device with a built-in screen, with a separate sensor that sits next to its user's PC to detect their movements. VR enthusiasts can crane their necks upwards to take in the building-sized monster that they've got to slay, or peer into the deep abyss that they're about to jump into, but after Oculus announced that every Rift will ship with an Xbox One gamepad made by Microsoft, they now have the controls to do more than simply look.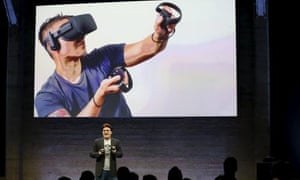 Seven-story monsters, chasms and 'jump-scares'
Oculus is creating a $10m (£6.4m) fund to invest in VR games made by independent developers. The company also showed off its Oculus Home software, which Rift owners will use to browse and buy new games and applications, as well as launch the ones they already own.
Developers who attended the event were enthusiastic about the potential for virtual reality games in general, and the Oculus Rift specifically.
"We want to really make the player feel like they're in the world. Sometimes it's the little touches like having ants crawling on the ground, or a bird calling over your shoulder that, when you turn around, flaps off," said David Adams of Gunfire Games.
"Or there's the big cyclops guy that you might have seen before in games like God of War, but now it actually looks like a seven-storey-tall creature. I played one demo where you look up, and a spider drops down. I don't think I've ever jumped so much in a game before!"
Besides scale and scares, developers see VR as a way to increase the emotional impact of their games.
"When you put on a headset, you do feel like you are there. To me, that makes the connection between you and the character even stronger," said Ted Price of Insomniac Games.
"What's happening to the character resonates more strongly with the player, and that's exciting, because that's what we've been going for for several decades: strengthening that player/character connection."
Price warned that developers would need to resist the temptation to make games with a barrage of scary moments. "If you create jump-scares every minute, they become less interesting," he said. "All great games, great movies and even great books require pacing to heighten the emotions that the authors, filmmakers or developers want you to feel."
Oculus will be prominent at the E3 games industry show in Los Angeles this coming week, with Sony expected to announce more news and games for its rival Morpheus headset, which is expected to go on sale this year.
Beyond gaming
Facebook has its sights set beyond gaming, however. "Imagine enjoying a courtside seat at a game, studying in a classroom of students and teachers all over the world or consulting with a doctor face-to-face – just by putting on goggles in your home," wrote the Facebook chief executive, Mark Zuckerberg, in March 2014, as he announced the acquisition of Oculus.
For now, it's games developers that are stretching VR technology with the help of companies such as Oculus. Despite past attempts at virtual reality having fallen flat, the developers present at the Oculus event were not afraid to trumpet their creative ambitions.
"This is just the beginning. Since we are all discovering more about what VR can bring, I think we're going to see a lot of unexpected surprises over the next several years," said Price.
"Our goal is really to transport the player into these fantasy worlds," said Adams. "I love Star Trek, so that whole idea of the holodeck? Man, this is basically the holodeck!"
Source:https://www.theguardian.com