Looking for an unusual place to stay? Here's a sneak preview of 2011's Good Hotel Guide, out this week
Hard times may be here but nothing suppresses the optimism of would-be hotel and restaurant owners. Every week a new hotel pops up or an existing place is taken over. The 2011 edition of the Good Hotel Guide, published this week, carries more than 50 "new" entries. Some may be places that are making a welcome return after temporarily losing their way. But there are plenty of discoveries of the kind that you want to share with friends (and readers).
The 10 chosen here show the quality of accommodation and food to be found in Britain. Only three could strictly be described as hotels. Some are pubs or restaurants with rooms. Others are B&Bs, popular for the personal touch and the value they offer. The geographical spread provides alternatives to the tourist honeypots of the West Country and the Lake District. There are two in North Yorkshire, a renovated inn near Flodden Field in Northumberland, and fine dining in a remote corner of the Highlands.
This year we have also uncovered modern B&Bs in areas not always noted for such quality: there are two good B&Bs in Stratford-upon-Avon (one is listed here) and a striking house with astonishing views on the Isle of Skye. While the choice could hardly be more diverse, they have a common bond: each one puts the guest first.
1. Austwick Hall, Austwick, North Yorkshire
On the edge of a pretty Dales village, this handsome old manor house has been lovingly brought back to life by its owners. They have cleverly combined antiques with modern touches. There are armchairs and sofas in the huge entrance hall and a lounge with magazines and books for guests. The bedrooms have old floorboards, marble fireplaces and large bathrooms. Michael Pearson cooks delicious five-course suppers using good local ingredients.
Price Doubles £145-£175, including breakfast; dinner £30
Book it 01524 251 794; austwickhall.co.uk
2. Trevalsa Court, Mevagissey, Cornwall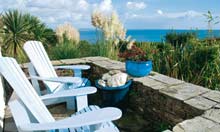 Built as an Arts and Crafts holiday home in 1937, this small hotel stands on a cliff on the edge of a Cornish village. It is run in relaxed style by John and Susan Gladwin with their engaging young staff. Everything is fresh and contemporary in the house, which has mullioned windows and a sweeping staircase. Colin Grigg's modern cooking is highly rated. Most of the bedrooms face the sea. A steep, winding path leads down to a small private beach.
Price Doubles £105-£225, including breakfast; dinner £22.50
Book it 0800 023 4540; trevalsa-hotel.co.uk
3. Collingwood Arms, Cornhill-on-Tweed, Northumberland
In a village close to the border, this Georgian posting inn was discovered by a hotelier looking for good accommodation en route to Edinburgh. Local historians and craftsmen worked together during extensive renovation. Log fires burn in the front hall and a library/sitting room. The bedrooms have antiques; there are many extras in the period bathrooms. Dinner can be taken in the bar/brasserie or the restaurant. Breakfast is exceptional, with superb kippers. There's a rod room for fisherfolk and kennels for dogs.
Price B&B £55-£77.50 per person; dinner £22.50
Book it 01890 882 424; collingwoodarms.com
4. The Vobster Inn, Lower Vobster, Somerset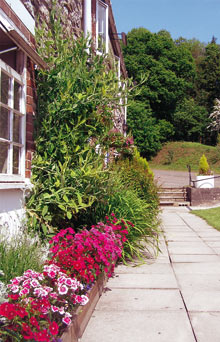 In a quiet village in the West Country, this 17th century inn has been reinvigorated by new owners, Rafael and Peta Davila. They have seamlessly merged the old and new in the rustic bar and dining room. The bedrooms, reached by a separate entrance, have a cool modern look. Rafael cooks delicious modern dishes: desserts are a speciality (try the pastry cup filled with chocolate ganache). Breakfast is simple but excellent with large mugs of good coffee. Families are welcomed.
Price £34.50-£48 per person; dinner £30
Book it 01373 812 920; vobsterinn.co.uk
5. Tigh an Dochais, Broadford, Isle of Skye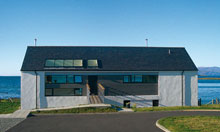 On an island that has some grim B&Bs, this striking contemporary house shines out. It is entered by a bridge to the upper floor, where the guest lounge and dining room have full-length picture windows with uninterrupted sea, island and mountain views. The well-furnished bedrooms are situated on the ground floor. Locally smoked haddock and kippers are served at breakfast. Guests can also use a decking area where they can sit outside.
Price B&B £40 per person; dinner £25
Book it 01471 820 022; skyebedbreakfast.co.uk
6. Old Whyly, East Hoathly, East Sussex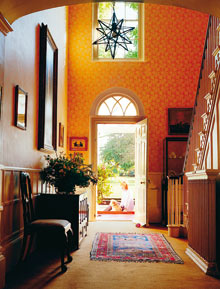 Sarah Burgoyne wants her guests to feel as though they are staying at a home, not a house. But what a house! Her listed Georgian manor stands in extensive grounds with a lake, topiary and statuary in Glyndebourne country. Visitors are greeted with home-made biscuits, cake and tea, served in exquisite china in an elegant drawing room. The bedrooms are decorated in country-house style. Breakfast, a communal affair, has eggs from the hens and ducks in the grounds, honey from bees in the orchard. A passionate cook, she serves dinner by arrangement.
Price £45-£85 per person; dinner £30
Book it 01825 840 216; oldwhyly.co.uk
7. Soulton Hall, Wem, Shropshire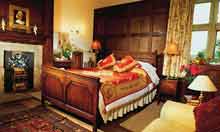 In the hands of the same family since 1556, this impressive Tudor manor house is very much the home of John and Ann Ashton. It stands on a 500-acre estate with a working farm. The hall has a collection of antiques from various periods, old family portraits, original fireplaces, and sofas and armchairs. Four of the bedrooms are in the main house; others are in buildings close by. Ann Ashton cooks traditional meals, served in a small candlelit room.
Price B&B £41.50-£67.50 per person; dinner £40
Book it 01939 232 786; soultonhall.co.uk
8. Broom House, Egton Bridge, North Yorkshire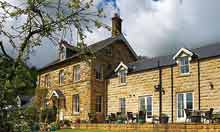 In gardens and woods outside a pretty village in the North York Moors national park, this Victorian farmhouse has been given a thorough makeover by owners David and Maria White. They have added bedrooms in an extension which also houses a bistro, Whites. She is the cook, sourcing local ingredients for her menus. The bread, marmalade, jams and muffins are all home-made. The well-equipped bedrooms are in modern style in grey, black and white.
Price B&B £43-£63 per person, or £61.75-£81.75 including dinner
Book it 01947 895 279; egton-bridge.co.uk
9. Cherry Trees, Stratford-upon-Avon, Warwickshire
A guide inspector who has been searching for a decent B&B in Stratford-upon-Avon for 25 years thought this modern house was a revelation. South of the Avon near a footbridge to the theatres, it has three ground-floor bedrooms, two of which have patio doors opening on to a suntrap garden with a swing seat. Breakfast has excellent bacon and scrambled eggs. Thoughtful touches include a notebook and pen for recording faulty items.
Price Doubles £95-£115 with breakfast
Book it 01789 292 989; cherrytrees-stratford.co.uk
10. Blar na Leisg at Drumbeg House, Drumbeg, Highland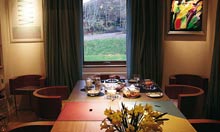 By a loch on the remote and very beautiful Assynt peninsula, this laird's house has been transformed into a small restaurant-with-rooms by Anne and Eddie Strachan. She is the gifted cook, discussing likes and dislikes before producing a delicious no-choice menu. They gutted and redesigned the interiors of the old stone house to give a light modern look (pale walls, oak floors, enlivened with vivid colours on the curtains and paintings). Two of the bedrooms (which are also decorated in restful modern tones) have views of the loch.
Price B&B £110-£130 per person
Book it 01571 833 325; blarnaleisg.com
Source: TheGuardian