Drawing lessons about the real world of business from The Apprentice would be a mistake. But last week's vintage episode, in which the wannabe entrepreneurs flogged flats in London, carried a clear message about the capital's property market: it is now so unhinged that literally anyone can make money out of it.
It's hardly news that homes in London are not cheap, but the parade of buy-to-let cash purchasers who trooped in and out of the half-finished high-rise show flats, nodded sagely at the drivel from Lord Sugar's victims and signed on the dotted line, were flesh-and-blood representatives of a market gone mad.
We shouldn't be surprised, then, that both the Treasury and the Bank of England are increasingly concerned about the burgeoning growth in buy to let. In the summer budget, the chancellor limited some of the tax deductions landlords can claim, with the aim of levelling the playing field with owner-occupiers; and in the autumn statement, he clobbered buy to letters – and second home owners – with a 3% stamp duty surcharge.
Meanwhile, the Bank's financial policy committee, which has the job of preventing a future crash, worries that buy-to-let landlords could bail out quickly in case of trouble, and are more at risk if interest rates rise. So the FPC announced last week that – assuming Osborne's measures haven't taken the steam out of buy to let already – it may turn its new "macroprudential" tools on the sector. Governor Mark Carney has made it clear that he sees these new powers, which are meant to allow it to rein in lending in specific pockets of the economy without clobbering growth, as the first line of defence against a housing bubble.
Macroprudential policy is poorly understood by sophisticated investors, let alone the general public, and could yet prove controversial. A nudge to banks and other lenders from the FPC could have as much impact on whether some borrowers can get a mortgage as an across-the-board rate rise.
But the FPC's aim is to prevent financial instability, not to tackle housing affordability. That's the job of politicians – and so far, they've failed lamentably. While Lord Sugar was unleashing his would-be business partners on London's high-rise rabbit hutches, some of his fellow peers were taking a more cerebral look at the housing market (though it didn't make quite such good telly).
The high-powered Lords economic affairs committee, which includes a former chancellor (Lord Lamont), an LSE professor (Lord Layard) and a former TUC general secretary (Lord Monks), took evidence from economist Kate Barker – herself a Dame – about the knotty, longstanding problem of why Britain has consistently failed to build enough houses, and prevent prices surging out of reach.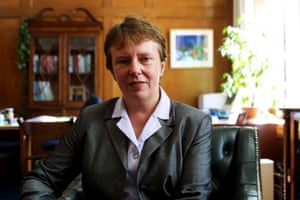 Kate Barker told the Lords help-to-buy mortgages will worsen, not help, the housing crisis.
She warned that 300,000 new homes a year would be needed to tackle the housing affordability crisis – and suggested that the construction industry would struggle to meet this target. But her harshest judgment was reserved for the housing measures outlined in the autumn statement, which she predicted would make things worse, not better.
After his stint at the dispatch box last month, George Osborne got himself photographed smearing mortar on to a wall with a trowel to underline his message that "we are the builders". But the package of policies is more likely to drive up prices than put more bricklayers to work.
As Barker put it, they are "designed to be supportive of people who are just on the cusp of being able to buy, and need nudging over the edge". The availability of cut-price, government-backed mortgages could, she said, reinvigorate the market and exacerbate the problem of homes costing too much.
Indeed, the Office for Budget Responsibility has predicted that average house prices will increase faster than average wages every year until 2020. So for every lucky buyer given a hand with taxpayers' cash, many more are likely to be priced out.
Meanwhile, tenants have little protection from rising rents and bad landlords. PricedOut, a pressure group that speaks for renters – and will give evidence to the Lords next week – wants a target of zero house price inflation to allow wages to catch up.
Doing so might force policymakers to consider a slate of radical options: boosting the benefits councils get when new homes are built; direct funding of housebuilding by Whitehall; or taxing property wealth more heavily. But it would also involve ditching the long-held belief that in "aspirational" Britain, rising house prices are, always and everywhere, a good thing.
Enter the Labour party. If Jeremy Corbyn and John McDonnell are genuinely keen to junk tired old orthodoxies, housing policy will be a key test. Last week's harmless brainwave from Labour's Treasury team, the "good business kitemark", is unlikely to set the world alight. But a genuinely radical housing policy would send a clear signal that Labour is determined to grapple with perhaps Britain's biggest economic challenge. McDonnell has a board of heavyweight economists on hand to advise him: he could show he means business.
Meanwhile, we await keenly whatever searing social insights arise from this week's outing by teams "Versatile" and "Connexus".