You may be too old for trick or treating, but that doesn't mean you have to miss out on celebrating Halloween at university.
Whether you've been counting down the days since the summer or you see it as a mere hurdle on the glittering road to Christmas, Halloween is an enjoyable way to break up a monotonous lectures-and-Netflix routine.
Even on a student budget, it's still possible to throw a great Halloween party. Here's how to do it if you've got just half an hour to spare and a bunch of eager friends.
Set the spooky scene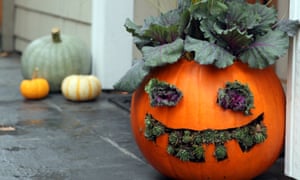 Before your mates arrive, deck your halls with pumpkin planters. They're not as difficult to make as they are impressive to look at. All you need is a large pumpkin, soil, a house plant, a marker, a knife and something to scoop out the inside. Find out how to make them on Garden Therapy.
For quick and easy spider webs, follow the Crafty Lumberjacks' instructions to make them out of black wool, scissors and strong sticky tape.
Creepy costumes
It's probably too late to pick up a Spud-nik outfit from the local fancy dress shop, so it's time to get creative with items you already own.
For a quick and dirt-cheap mummy costume, look no further than the nearest loo (or first aid kit for a more durable version), and kindly ask a friend to wrap you in loo roll or bandages. The finished costume should look like this.
Most likely, you're a themed club night veteran, so you should already own a set of face paints. These are non-negotiable for Halloween, and if your makeup is good enough, you don't even need to bother with an intricate outfit. Channel the pop art of Roy Lichtenstein by following this tutorial from Youtuber Emma Pickles, who uses items you may already have in your makeup bag.
If your mates scare easily, why not go as a fortune teller? You only need a head scarf, sparkly top, long skirt and a shawl. Plus lots of gold and costume jewellery – think brightly coloured crystals, evil eyes and crescent moons. With chaos magicreigning over the fashion world, you may already have these already. For the all-important crystal ball, cover a grapefruit or large orange in tin foil.
If all else fails, there's always the bed-sheet ghost option to fall back on. Anything's better – and more original – than a sexy devil, witch or cat.
Deathly drinks
For a blood-red alcoholic punch, you just need cranberry juice, lemonade, lime juice, your tipple of choice – vodka, gin and rum work well – and a large handful gummy worms.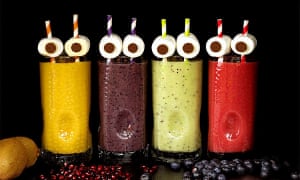 For a non-alcoholic option, make simple smoothies scary by adding marshmallow eyes on straws like the Bearfoot Baker, or fake blood around the rim of glasses likeMind Body Green.
Freaky food
Throw together a bowl of American-style trail mix to nibble on. There are countless recipes on Pinterest – just replace the American candy with gummy worms and any other cheap sweets on offer at the supermarket. Follow this guideand hopefully yours will turn out something like this.
No party is complete without dips. The quickest way to put a spooky stamp on your humous or guacamole is by serving them inside a loaf of bread – a round cauldron or a rectangular coffin.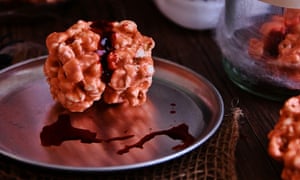 These delicious cheesy popcorn brains take less than 15 minutes to prepare, or if you'd prefer your brains sickly sweet, take a leaf out of Not Quite Nigella's book and fuse popcorn together with marshmallows, butter and white chocolate. Most fruit can also be turned into ghosts with melted white chocolate and milk chocolate chips – from strawberries to bananas and pears.
For something more substantial, give these five-ingredient mummy pizzas from The Joys of Boys a try. You just need a grill, baguettes, tomato sauce, mozzarella and your toppings of choice – black olives are crucial for eyes.
Gruesome games
If you haven't already downed too much punch, this is when the party will get messy. Apple bobbing may not be hygienic – especially in flu season – but it sure is cheap, and easy to set up. Add milk and food dye to colour the water.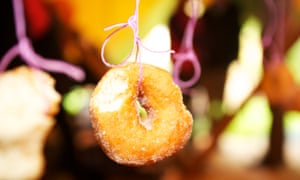 Follow this with the flour game and a race to see who can catch and eat a donut on a piece of string – no hands allowed – in the quickest time, and you should end up with a bloodcurdling white beard. Happy Halloween!
Source: https://www.theguardian.com