Stock markets in Europe and Asia have seen big falls after Greece closed its banks and imposed capital controls.
The moves by the Greek authorities came after the European Central Bank decided not to extend emergency funding.
London's FTSE 100 index fell 2% in early trade. Earlier in Asia, Japan's Nikkei index fell nearly 3%.
On the currency markets, the euro had fallen to $1.0953 at one point in Asian trading from $1.1165 on Friday, but it then recovered some ground.
Elsewhere in Europe, Germany's Dax share index and France's Cac 40 were both down more than 3%. The Athens Stock Exchange and Greek banks are closed all week.

Greek contagion
The euro has weakened against the British pound, as investors worry about the single currency's buying power in the wake of Greece's woes. One euro is now worth £0.705, while the pound buys €1.4168.
Oil prices are heading lower, as traders worry about how Greece's credit problems could affect demand for oil in the region. Brent crude oil futures are losing more than 1.5%, at $62.61 (£39.89) per barrel.
Bond yields in Spain and Portugal are rising, as prices fall, while German bond prices are rising, with their yields falling.

'Out of control'
Greece is due to make a €1.6bn payment to the IMF on Tuesday – the same day that its current bailout expires.
Last week, talks between Greece and the eurozone countries over bailout terms ended without an agreement, and Prime Minister Alexis Tsipras then called for a referendum on the issue to be held on 5 July.
At the weekend, the Greek government confirmed that banks would be closed all week, and imposed capital controls, limiting bank withdrawals to €60 euros (£42) per day.
"Greece's decision to shut banks over the weekend is just the most dramatic element of a crisis that has spiralled out of control," said Chris Beauchamp, senior market analyst at IG.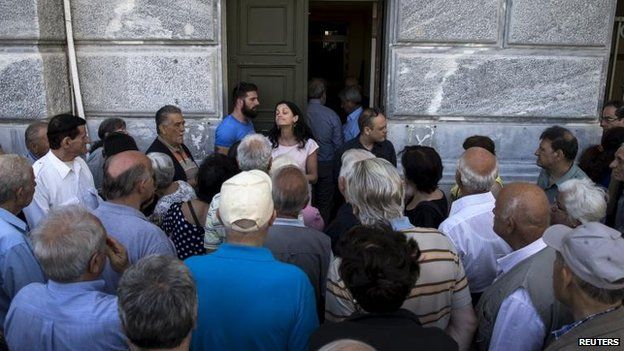 Greece's temporary bank closure is sending investors' money into other European markets, which experts say will continue in the short-term, as investors worry about a potential massive default in the country.
"We could very much see a flight to quality," Laura Lambie, senior investment director at Investec Wealth and Investment, told the BBC's Wake Up to Money programme.
"The big question is whether we're going to get contagion from Greece to Portugal to Italy, to some of the weaker economies around Europe."
Despite worries about the deepening crisis in Greece, market watchers say that European markets are equipped to handle the short-term volatility.
"To a certain extent, we do expect markets to react to this with peripheral bond yields probably higher, the euro a little bit lower throughout the week and some strength in the safe havens like the Swiss franc and the British pound," David Stubbs from JP Morgan Asset Management told the BBC's Today programme.
He added that because the economic situation in the eurozone had improved since 2011, the region's economy should be able to weather the storm.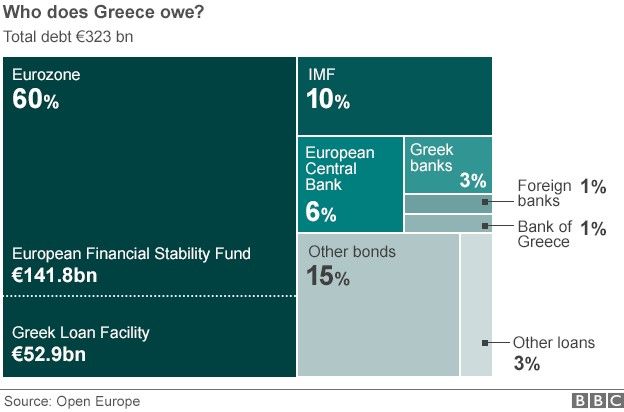 Source: https://www.bbc.com