Greek PM Alexis Tsipras has urged voters to reject creditors' demands in a snap referendum on Greece's debt crisis due on Sunday.
Mr Tsipras said a clear vote against austerity would help Greece negotiate a better settlement to the crisis.
Otherwise, he warned, he would not stay in office to oversee more cuts.
Greece's bailout expires on Tuesday, the same day it faces a deadline to repay a €1.6bn (£1.1bn) loan to the International Monetary Fund (IMF).
EU leaders have warned that a rejection of the creditors' proposals on Sunday would mean Greece leaving the eurozone – though Mr Tsipras says he does not want this to happen.
Talks between Greece and its creditors broke down last week, leading to Greek banks having to shut this week. The uncertainty also caused stock markets to fall sharply on Monday.
Tens of thousands of people gathered outside the Greek parliament in Athens on Monday evening in a show of support for the government's proposals. A rival protest organised by those calling for a yes vote is due later on Tuesday.
Resignation hint
Speaking live on state TV on Monday evening, Prime Minister Alexis Tsipras appealed to Greeks to reject the creditors' proposals, saying this would give Greece "more powerful weapons" to take to the negotiating table.
"We ask you to reject it with all the might of your soul, with the greatest margin possible," he said.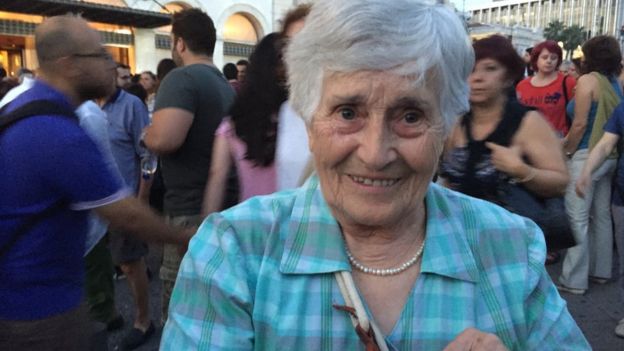 He told viewers he did not believe the creditors wanted Greece out of the eurozone "because the cost is immense".
Mr Tsipras also hinted strongly that he would resign if the result of the referendum was a "yes" vote.
"If the Greek people want to proceed with austerity plans in perpetuity, which will leave us unable to lift our head… we will respect it, but we will not be the ones to carry it out," he said.
But some eurozone leaders, including the Italian prime minister and French president, voiced their concern on Monday that Greek voters would effectively be deciding next Sunday whether or not they wanted to stay in the eurozone.
Meanwhile, European Commission President Jean-Claude Juncker said on Monday he felt betrayed by the Tsipras-led government and called on Greek voters to oppose him.
Mr Juncker said that he still believed a Greek exit from the euro was not an option and insisted that the creditors' latest proposals meant more social fairness.
Source: https://www.bbc.com