Ivan Glasenberg, the billionaire chief executive of Glencore, is to put up some $210m (£140m) of his own cash as part of a humiliating $10bn programme of fundraising and cuts designed to prepare the company for a "doomsday scenario".
The huge initiative – which will still leave the commodity trading and mining empire with a debt mountain of some $20bn – comes only weeks after the company's management insisted they were comfortable with the group's financial position..
Glencore, like many other commodities companies,has been hit by falling prices, as previously booming demand from China has slowed. Last month, it unveiled a 30% decline in profits and last week the company was warned it could lose its prized investment-grade rating if it did not slash its near-$30bn debt pile.
The stockmarket value of the firm – in which Glasenberg owns a stake of 8.4% – has more than halved this year, and its shares have slumped by a third in the past month. Glencore now plans to raise $2.5bn by selling new shares in the company – with Glasenberg and his senior management committed to buying 22% of them, worth $550m.
The group will also be selling some assets and has suspended production at copper mines in Zambia and the Democratic Republic of Congo. It has axed the full year dividend payout to shareholders, and next year's interim dividend. The series of measures will find the company an extra $10.2bn, which will be used to cut debts "to the low 20 billions of dollars by the end of 2016", it said.
A source close to the group said that following last month's results announcement, management had been told by shareholders to "get ready for the doomsday scenario". The source added: "We don't believe that will happen, it's a 'what if'."
Glasenberg and his four closest lieutenants, who all became paper billionaires in the group's 2011 floatation – Daniel Maté, Telis Mistakidis, Tor Peterson and Alex Beard – own around 20% of the company. To maintain that stake, the five men will now have to find half a billion dollars in cash. Glasenberg said that the senior partners did not want to see their stakes diluted.
The company declined to comment on the intentions of its largest shareholder, the sovereign wealth fund Qatar Holding, which overtook Glasenberg as the group's principal investor when Glencore acquired the Xstrata mining business in 2013. Qatar Holding also did not comment.
While Glasenberg must find $210m, he is at least scheduled to receive around $66m later this month, his share of Glencore's last interim dividend to shareholders. That payment will take the dividends he has received from Glencore since it floated to more than $780m. Sources close to the tycoon implied he has the ready finances to fund the purchase.
Glencore's 2011 float was among the largest – and most controversial – ever seen in London. At the time, the gargantuan listing valued the Switzerland-based company at about £37bn – despite its reputation for secrecy, and scepticism that it could maintain its huge trading profits. The float meant Glasenberg's stake was worth almost £6bn.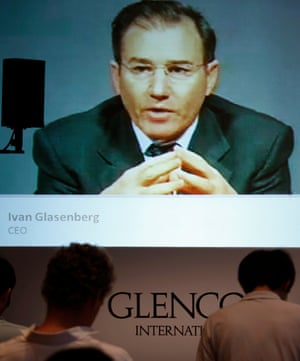 At the time, Glasenberg was positioned as a supreme reader of financial markets But since then, the shares have failed to live up to the pre-flotation hype. They were listed at 530p each but have not hit those levels since. On Monday they were up 9p at 132p on relief at the actions being taken, but Glasenberg's stake is now worth around £1.5bn.
Last year, as Glencore spent £1bn buying back its own shares – paying an average of 300p each – Glasenberg was bullish on the prospects for the commodity markets. "The supercycle ain't over, China is still buying, demand for commodities hasn't tapered off, it's even higher than it's ever been," he told Bloomberg. "The demand is pretty good. We'll grow. We may do acquisitions where you're not creating more supply in the market."
Glasenberg made so much money out of the initial share offering that his local authority – which collects income tax – had a SFr60m surplus. As a result, his 3,600 neighbours in the picturesque village of Rüschlikon, which overlooks Lake Zurich, were given a 7% tax break. A further reminder of the huge wealth generated for the top executives of the firm came in January, when it emerged that Glasenberg's colleague Mistakidis had paid more than £46m for a flat in London's Belgravia.
Aside from Glencore management, the remaining 78% of the proposed issue of shares is to be underwritten by Citi and Morgan Stanley, meaning those investment banks will acquire the new Glencore shares if they cannot find enough buyers.
Meanwhile, Glencore said around $2.4bn is to be saved by not paying dividends; $2.5bn generated from cost cuts within the business in working capital and capital expenditure; $2bn to be raised from the selling assets, including stakes in agricultural assets; and up to $800m saved reducing loans made by the company.
Source: https://www.theguardian.com