Edinburgh may be Scotland's natural home of performing arts, but Glasgow is the capital of visual art – and that's underlined by this year's Turner Prize coming to town. An exhibition featuring work by the four finalists – the Assemble collective, Bonnie Camplin, Janice Kerbel and Nicole Wermers – will be open from 1 October to 17 January at Tramway, a former tram maintenance depot on the South Side of the Clyde (tramway.org). And, on 7 December, the Turner award ceremony will be held at the same capacious venue.
But it's not just Tramway where art is ascendant in Glasgow. The Gallery of Modern Art (0141 287 3050; bit.ly/GalleryModArt) is currently getting a facelift to give it better and expanded galleries, but it remains open throughout the work with interesting paintings by David Hockney and collages by Ciara Phillips, who lives in Glasgow and was nominated for last year's Turner.
A serene train journey from Queen Street out to Cardross on the banks of the Clyde (plus a pleasant half hour walk along public footpaths) brings you to one of the most heart-stopping sights in Scotland: St Peter's Seminary. This gargantuan, abandoned relic was once a functioning priest school. In its modern incarnation, it opened in 1966 as a wildly optimistic concrete campus by local architects Gillespie, Kidd & Coia but has lain empty and forgotten since the 1980s. But no longer. Artist Angus Farquhar and public art collective NVA (nva.org.uk) started renovating the wreck this summer. At the moment you can only walk down the surrounding spooky sunken lanes and peer over the fences at the stirring ruins peeping above the tentacles of trees, but by 2017 St Peter's will be reborn as Glasgow's newest, and biggest, arts venue.
A recently opened cultural venue is the Riverside Museum (0141 287 2720; bit.ly/RiversideMus), designed by Zaha Hadid. Tramway was once the city's transport museum, but now the collection (including fashion, posters and cars belonging to local celebrities) is housed in this wavy-roofed shed down by the Clyde, in Partick.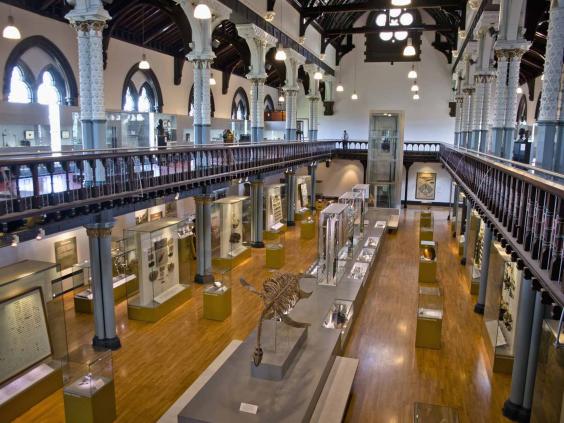 UNPACK
Glasgow's handsome Hotel Indigo (0141 226 7700;hotelindigoglasgow.com) has an intriguing history: it was first an "electric light station", designed by W M Foulis for the city, and generated electricity to light homes when it first opened in 1892. Latterly, it became office space and a showroom for the electricity board before it was converted into a hotel in 2011. Today, it has spacious rooms and stirring views of this "gridded" part of Glasgow which feels like San Francisco with fin de siècle architecture, precipitous drops, and American-style cross streets all producing a feeling of frenetic urban drama. Double rooms from £89.
THINK LOCAL
Charles Rennie Mackintosh's artistic ghost looms large over Glasgow. At the turn of the 20th century, the architect and designer transformed the way buildings looked, both outside and in. A pilgrimage to his most famous locations in the city could easily include the lovely Willow Tea Rooms (0141 332 0521;willowtearooms.co.uk) on Sauchiehall Street (there's a Mack gift shop on the ground floor). Also note the fire-damaged Glasgow School of Art (gsa.ac.uk), which is inching towards a full restoration. And, in the West End, there's The Hunterian Museum and Art Gallery (0141 330 4221; gla.ac.uk/hunterian) with a recreation of Mack's previously bulldozed house and an exhibition of his sketches.
EAT
You've only got to look from the windows of your train or bus as you approach Glasgow to see why beef is so big here: the fields are full of gentle, stately, lowing cattle. Whether this makes you more or less keen to order a steak is a moo-t point. If it's the former, you could do worse than Alston Bar and Beef on Gordon Street (0141 221 7627; alstonglasgow.co.uk). The dining room resides in vaults under the city's Central Station and a screen showing departures makes this the perfect place for a last supper in the city. I had a fillet steak with peppercorn sauce (£29) and a side of buttered greens (£3). The steak fell apart under my knife like the Scottish national football team on a World Cup qualifying run.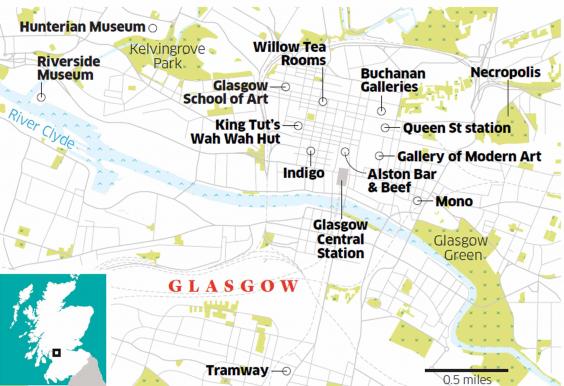 DRINK
Glasgow has systematically churned out breathtaking bands: from Teenage Fanclub to Orange Juice, Belle & Sebastian, Deacon Blue and latterly Chvrches. Mono (0141 553 2400; monocafebar.com) in the East End is the indie hang-out of choice these days, with craft ales, vegan food, art on the walls and live acts, too. King Tut's (0141 221 5279; kingtuts.co.uk) on St Vincent Street is one of Scotland's coolest small venues, the renowned spot where, in 1993, Alan McGee signed Oasis to Creation Records. Night owls should head to Glasgow's most legendary clubnight, Optimo at The Sub Club (0141 248 4600; subclub.co.uk) on the first Friday of the month, which has hosted everyone from Hot Chip to Health since 2001.
SPEND
One of the ways Glasgow tried to rebrand itself to tourists in the 2000s was as a shopping city, and it's fair to say that there is a slew of stores within a tight wedge of city centre encompassing Argyle and Buchanan Streets and shading down into the Merchant City, often dubbed "Style Mile". The latter offers one-off boutiques and high-end fashion. There's also the massive Buchanan Galleries mall (buchanangalleries.co.uk), perched above the tracks running into Queen Street Station, which proffers everything for mainstream tastes, from John Lewis to Warehouse. Buchanan Galleries is currently mulling an extension.
The Victorians were obsessed by death, and you can witness that macabre truism at Glasgow's brooding Necropolis (glasgownecropolis.org), a huge cemetery topped with overblown tombs where the great and good of the city's industrial elite ended up at the end of their endeavours. The Necropolis is on a hill next to the city's Cathedral.
GETTING THERE
Christopher Beanland travelled to Glasgow from London Euston with Virgin Trains (0800 015 8123; virgintrains.co.uk).
STAYING THERE
Citizen M Hotel (020 3519 1111; citizenm.com) offers double rooms from £69.
MORE INFORMATION
Source: https://www.independent.co.uk