George Floyd died from a lack of oxygen during his arrest, a doctor at the trial of ex-police officer Derek Chauvin in Minneapolis has said.
Contradicting the defence, Dr Martin Tobin said fentanyl did not cause Mr Floyd's death. He said even a "healthy person…would have died".
Mr Chauvin, 45, was filmed kneeling on Mr Floyd's neck for more than nine minutes during his arrest last May.
The ex-officer is on trial for murder and has denied the charges against him.
The trial is in its second week and is expected to last for at least one month. The defence is due to begin arguing its case in court next week.
What did the experts say about fentanyl?
A toxicology report released last June said that Mr Floyd had the painkiller fentanyl and the drug methamphetamine in his system.
Since then, the defence has argued that the fentanyl caused Mr Floyd's loss of oxygen.
However Dr Tobin, an intensive care doctor, said that Mr Floyd's breathing did not slow down enough for the painkiller to have been a factor in his total loss of oxygen.
Later in the hearing, the defence questioned Kentucky police surgeon Dr Bill Smock, who works for the Louisville police and is an expert in forensic emergency medicine.
Dr Smock said Mr Floyd displayed "air hunger", a term for when the body becomes desperate for oxygen. While a fentanyl overdose can slow down breathing, he said people who are overdosing are not aware that they are lacking oxygen and often appear sleepy. In contrast, he said Mr Floyd appeared to be alert.
On cross-examination, he concurred with the defence that there was "no safe" amount of methamphetamine to be in someone's system, and that an overdose of methamphetamine and fentanyl combined may look different from fentanyl alone.
Dr Smock also told the court that while viewing the footage, he heard Mr Floyd complain about being unable to breathe before he was restrained on the ground.
What else was the court told?
Asked about the positioning of the handcuffs behind Mr Floyd's back, coupled with the downward pressure of Mr Chauvin's weight against him, Dr Tobin – an expert in pulmonary medicine – said that Mr Floyd's ability to expand his chest was severely impaired.
He said it was his medical opinion that Mr Floyd died after a low level of oxygen stopped his heart.
"[George Floyd] is jammed down against the street, so the street is playing a major role in preventing him from expanding his chest.
"He's against a hard asphalt street, so the way they're pushing down on his handcuffs combined with the street… it's like the left side is in a vice."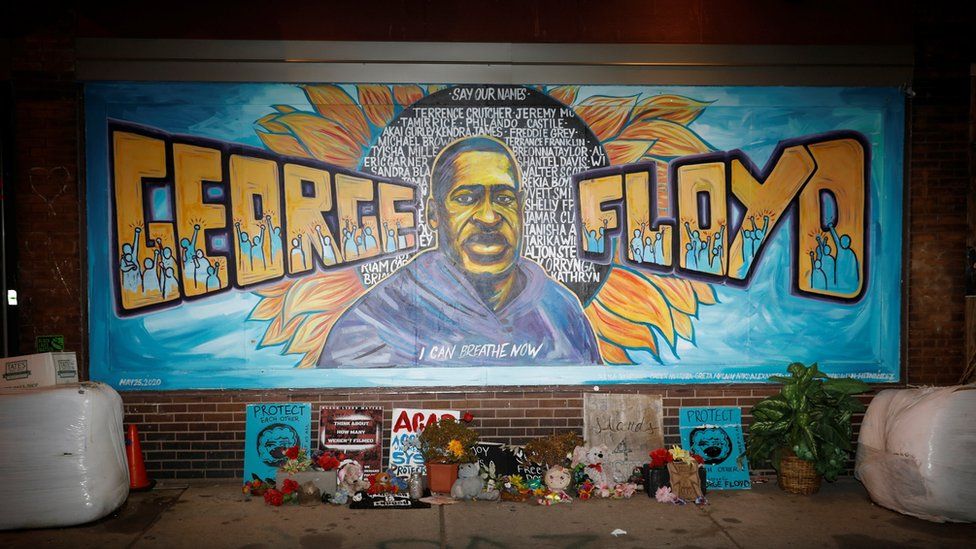 Dr Tobin said the positioning of the handcuffs was also significant.
"It's how they're being pushed, where they are being pushed, that totally interfere with central features of how we breathe."
Dr Tobin said that the position of Mr Chauvin's knee, pushing down against the left side of Mr Floyd's chest, meant that it was "almost… as if a surgeon had gone in and removed the [left] lung".
"Not quite, but along those lines.
"He has used up his resources and is literally trying to breathe with his fingers and knuckles against the street to try to crank up his chest, to try to get air into his right lung," he added.
"You can see he's conscious, you can see slight flickering and then it disappears. One second he's alive, one second he's no longer", he told the court.
'Healthy person would have died too'
Dr Tobin said that Mr Floyd had already shown signs of brain injury about four minutes before Mr Chauvin took his knee off his neck, and that a healthy person who was put through this "would have died" too.
About three minutes before Mr Chauvin removed his knee, Dr Tobin said, there was "not an ounce of oxygen left in his body".
"The knee remains on the neck for another three minutes and 27 seconds after he takes his last breath," Dr Tobin said. "After the officers have found themselves that there's no pulse, the knee remains on the neck for another two minutes and 44 seconds."
Dr Tobin used footage captured during Mr Floyd's arrest to provide his medical opinion on the ninth day of Mr Chauvin's trial.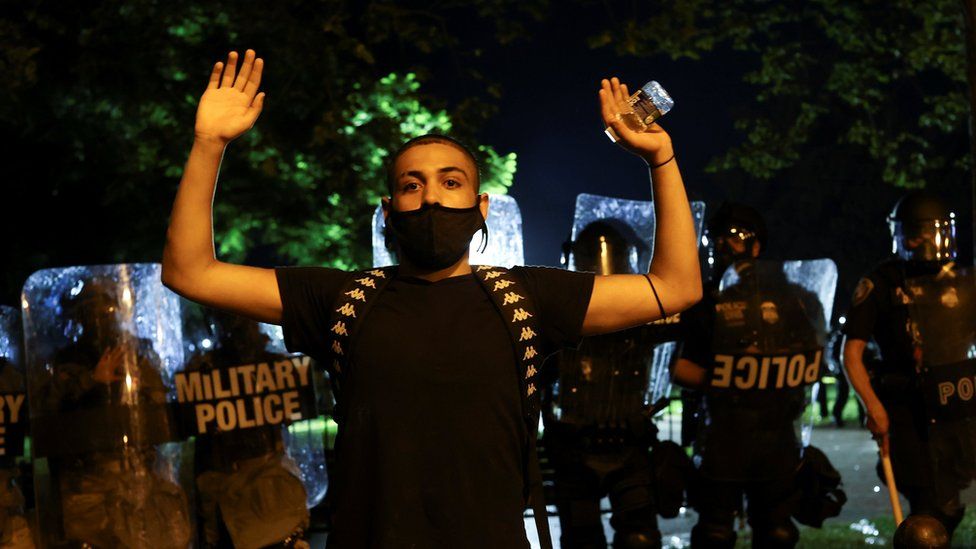 During his cross-examination, defence attorney Eric Nelson suggested that Dr Tobin's assessment was "conditioned upon [Mr Floyd] being a healthy individual".
"We understand that Mr Floyd had some heart disease," Mr Nelson said. "That's going to affect blood flow in a person?"
Dr Tobin said that if Mr Floyd had been suffering from a coronary condition at the time he would have been "complaining of chest pain and demonstrating a very rapid respiratory rate," adding: "We don't see either."
Mr Nelson also suggested that some of Dr Tobin's calculations were theoretical – that he was assuming Mr Chauvin's weight, and the weight of his equipment.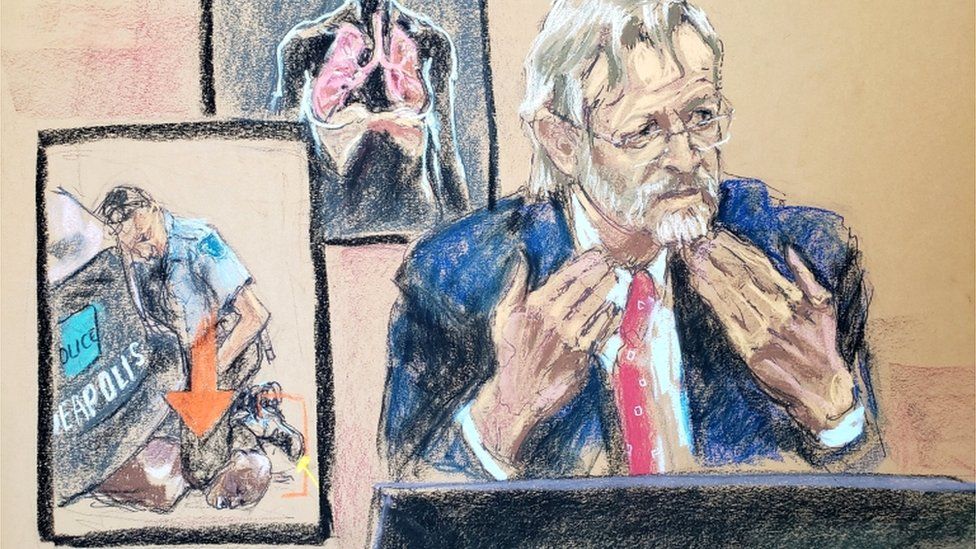 Mr Nelson said that Dr Tobin had spent far more time assessing the footage of the incident than the duration of the incident itself.
He also said: "It's fair to say that the training that is provided by the Minneapolis police department in terms of medical care comes nowhere close to your level of expertise."
Later, forensic toxicologist Daniel Isenschmid, whose laboratory tested Mr Floyd's blood and urine samples following his death, was questioned about the fentanyl detected in Mr Floyd's system.
Dr Isenschmid said there was evidence that some of the fentanyl had metabolised, meaning that an overdose was less likely. With an overdose, Dr Isenschmid said, the body would generally not have time to break down the fentanyl and therefore he would expect the metabolic level to be lower.
On Wednesday, the police chief of Minneapolis testified that Mr Chauvin had violated the agency's policy on force during Mr Floyd's arrest.
Medaria Arradondo said the way Mr Chauvin had restrained Mr Floyd was not in line with training and "certainly not part of our ethics and our values".
Mr Nelson said that an officer's actions must be seen from the point of view of an officer at the scene, not in hindsight.
The defence has argued that Mr Floyd's efforts to resist arrest necessitated the restraint.
The main medical examiner, who conducted the county-commissioned autopsy, is expected to give evidence at the trial on Friday.