The recent bout of hot weather following an icy spring has led to a glut of strawberries in the UK that are much sweeter and juicier than usual. They are also being sold off cheaply by the country's biggest retailers – Aldi is flogging 400g punnets for £1.39, while Tesco is selling two for £3. Stocking up on bargains is tempting, but knowing what to do with all that surplus fruit when you've had enough strawberries and cream can be tricky. Here are four ways to make this year's crop of strawberries go further:
Strawberry butter
One way to preserve berries is to turn them into a delicious spread for croissants, muffins and fresh bread. Chop 100g of strawberries into small pieces and mash. In a separate bowl, blend 110g of soft butter and 4tbs sugar. Mix together and store in the fridge in a sealed jar or container.
Tooth whitener
Using a food which is rich in both sugar and acid as alternative dental care may sound counterintuitive, but when used sporadically, strawberries can work as a natural tooth whitener. The malic acid in the fruit can apparently both soften and dissolve stains. Mush up a strawberry and mix it with a spoonful of bicarbonate of soda in a small bowl – then brush on to teeth. Just remember that you will need to brush with regular toothpaste afterwards.
Strawberry salsa
It may sound like an odd combination, but strawberries have been used to switch up savoury dishes by cooks for years, from Yotam Ottolenghi's strawberry ketchup to Jamie Oliver's strawberry balsamic risotto. A great barbecue sauce is a sweet strawberry salsa dip. Hull and dice a punnet of strawberries and finely chop a jalapeño with the stem and seeds removed. Mix in with half a diced red onion, a handful of coriander, two tablespoons of lime juice and a pinch of salt and black pepper.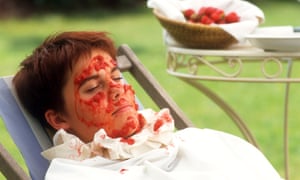 Strawberry face mask
The vitamin C in strawberries is said to revitalise and fight oily skin, plus the acidity targets excess sebum (it has even been suggested that it can lighten acne scars). Make a simple, natural face mask by smashing ⅔ of a punnet of strawberries into a pulp, then mix with two spoons of honey and three dollops of natural yoghurt until it forms a smooth paste. Massage into your face (avoiding the eyes and mouth) and leave for five minutes before washing off.
Source: www.theguardian.com