Fresh signs the UK economy is losing steam amid a global slowdown will force theBank of England to keep interest rates at their record low this week. Policymakers, however, will likely warn households to prepare for higher borrowing costs next year.
Only one of the nine members of the Bank's monetary policy committee (MPC), Ian McCafferty, is expected to vote for rates to be increase from 0.5%, where they have been since the depths of the financial crisis more than six years ago.
Investors and mortgage holders will be hoping the Bank uses its latest economic forecasts, which is published alongside the rates decision, to give clearer clues on the outlook for borrowing costs. Financial markets are pricing in a rate rise in late 2016 but some economists see the Bank moving much sooner, possibly in February.
There will be plenty to chew over as the Bank simultaneously releases its inflation report, interest rate decision and the minutes of that policy meeting followed by a press conference with its governor, Mark Carney. It is only the second such deluge from the Bank, dubbed "Super Thursday" in the City and marks a move away from the previous trickle of information favoured by Threadneedle Street.
But with the committee of rate-setters seemingly divided over when is the right time to finally start raising interest rates, economists warn not to expect a clear steer this week.
"5 November is highly unlikely to see any fireworks from the Bank of England," said Howard Archer, economist at the consultancy IHS Global Insight. "The current wide range of differing views within the MPC highlights just how uncertain the outlook for UK interest rates is – although it still seems to be a question of when will the Bank of England start to raise interest rates rather than will they?"
The backdrop to the latest report is one of waning global growth and turmoil in emerging markets such as China that have rattled business and consumer confidence in the UK. Official figures last week showed Britain's economic growthdipped in the third quarter.
"A slowdown in growth offers even more cause for the UK's monetary policymakers to sit on their hands," said Martin Beck at the consultancy OxfordEconomics. "The latest developments in the economy offer more support for the view that borrowing costs will see no rise until well into 2016."
The majority of economists in a Reuters poll forecast only McCafferty will vote for a rise this month, having done so for the previous three months.
But some experts see one or two other MPC members joining him soon, perhaps even this week. Kristin Forbes recently said a rate rise will come "sooner rather than later" and pessimism about the state of the global economy was overdone.
Martin Weale, who voted for increases last year, might also resume that stance soon, said Simon Wells chief UK economist at HSBC.
But Andy Haldane and newcomer Jan Vlieghe "appear to be firmly in the 'dovish' camp", Wells said, adding: "The inflation report is therefore very likely to keep all options open and make no commitments on policy,."
A clutch of reports on Monday highlight an uncertain outlook for UK businesses. Among them, a poll of small- and medium-sized (SME) manufacturers shows their output fell in the three months to October, as both domestic and export orders dropped.
It was the sharpest decline in output for more than two years, according to the survey of 434 smaller firms by business group CBI. There was also a drop in business optimism and in confidence over export prospects.
Drop in confidence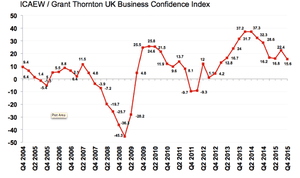 A separate report puts UK business confidence at a two-year low amid flagging economic growth. The gloomier mood has knocked companies' capital investment and is likely to continue to weigh on spending over the coming year, according to a survey of 1,000 chartered accountants by their professional body, the ICAEW.
"After a post-election bounce, confidence has fallen further. The political honeymoon is over and George Osborne will need to remember this when delivering his autumn statement later this month," said Stephen Ibbotson, ICAEW director of business.
"Although business confidence remains in positive territory, a number of factors cannot be ignored. Business investment is muted, skills shortages are becoming more of a challenge and staff and salary increases for 2016 are lower than for the last 12 months and the outlook for exports remains poor."
Such concerns about skills shortages are echoed in a separate report on Monday that suggests competition for jobs has dropped to a post-recession low of 0.58 jobseekers per advertised vacancy. There were more vacancies advertised than jobseekers in 41 out of 56 cities in the UK, according to jobs search engine Adzuna.
There were 1,178,129 positions available in September, up 2.4% from August and 30.0% year-on-year – but many vacancies were left unfulfilled due to lack of skilled labour, Adzuna added.
Source: https://www.theguardian.com