Poor visibility caused by thick fog is disrupting flights across the UK for a second day.
Heathrow airport said around 45 flights had been cancelled, while London City has closed to all in and outbound flights until at least 11:00 GMT.
Others affected airports include Manchester, Leeds Bradford, Glasgow, Belfast and Cardiff.
The Met Office has issued a yellow weather warning for England and Wales with tricky driving conditions likely.
On Sunday, a five-year-old girl was found injured in a crashed car alongside the dead driver in Crakemarsh near Uttoxeter, Staffordshire.
A spokesman for West Midlands Ambulance Service said the car appeared to have hit a tree in very foggy conditions.
'Not getting out'
At 07:00 GMT, official Met Office figures put visibility at just 100m at Leeds Bradford, Manchester and Luton airports, and only 150m at Stansted, Heathrow, Gatwick and Doncaster Sheffield.
Easyjet said it was suffering "major network disruption today due to poor weather conditions throughout Europe causing low visibility".
"This has resulted in a large number of aircraft and crew out of place for flights today," the airline continued.
"In addition we are seeing a lot of Air Traffic Control restrictions which has resulted in some delays, diversions and cancellations."
Passengers are advised to check their flight status with the airline, while British Airways is encouraging those whose departures are cancelled not to go the airport on Monday.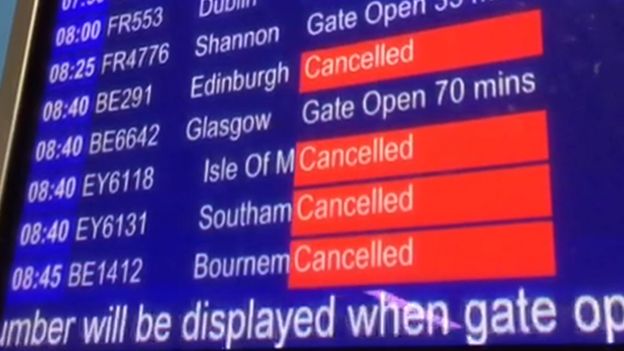 Among the reported problems:
Heathrow is expecting to cancel about 10% of flights on Monday – a spokeswoman said there would be extra passenger ambassadors in the terminals to help travellers.
Manchester has cancelled more than 20 flights and Southampton more than 20, while problems are also expected at Gatwick.
Stansted is so far unaffected and is receiving diverted flights from other airports.
Three departures and three arrivals have been cancelled at George Best Belfast City airport
Two flights from Cardiff have been cancelled.
Fog in parts of Europe is also having a knock-on effect on UK flights, with Brussels, Frankfurt, Hamburg, Amsterdam and Paris Charles De Gaulle are among the airports affected.
Monday's problems follow disruption on Sunday at some airports, including Heathrow, where about 50 flights were cancelled.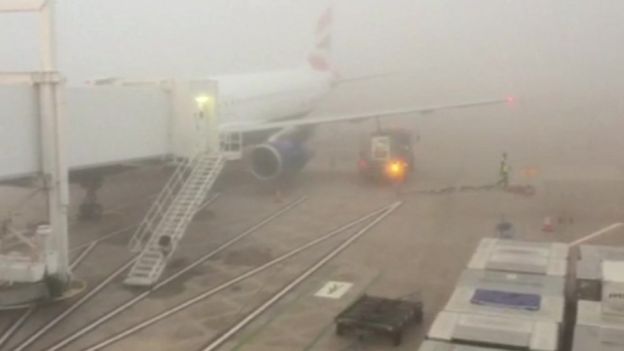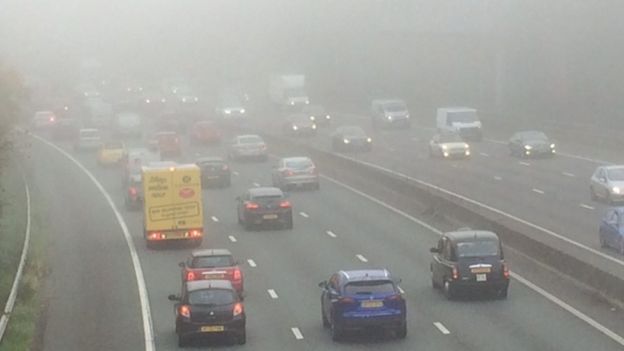 Sky News presenter Eamonn Holmes was one of those stranded by the fog, and was unable to make it London in time for his breakfast show.
He tweeted on Sunday: "Cancelled on @British_Airways then @flybe Everything else full. Not getting out of Belfast."
The Met office said: "Visibility will be poor, below 100m at times and the fog will last through the morning rush causing hazardous conditions and further potential disruption."
Drivers are advised to slow down, keep their distance from the vehicle in front and use the correct lights.
Highways England said on its website: "Road users will need plenty of extra time to do their usual commute, especially as the fog is expected to lift very slowly during the morning."
Ferries across the Mersey are also suspended due to the adverse weather.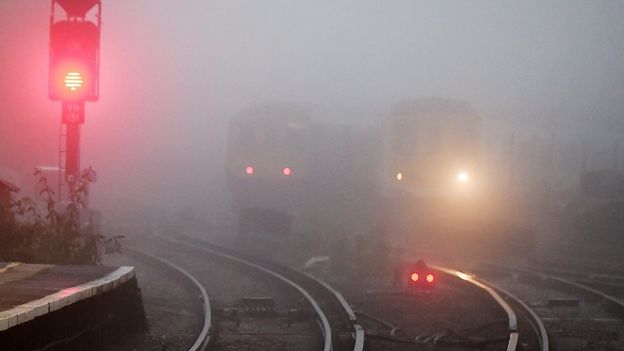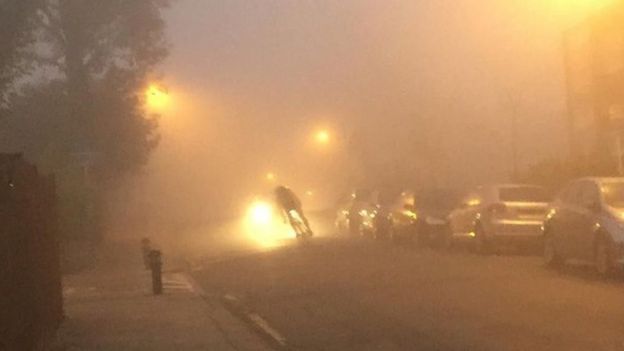 ---
Driving in fog
Motoring organisation the AA advises:
According to the Highway Code, you must use headlights when visibility is seriously reduced – generally when you cannot see for more than 100m (328ft), or the length of a football pitch
There's no obligation to use fog lights but if your car is involved in an accident and they weren't on, then your insurer may ask questions
Generally it's better to be safe than sorry, so use fog lights when appropriate, but don't keep switching them on and off – this can be a distraction to other drivers so wait for a consistent improvement in visibility before turning them off
Be able to stop within the distance you can see clearly
Forecasters said the fog may linger into the afternoon for some eastern parts of England and southern Scotland.
The fog descended as the UK recorded its hottest November day with a temperature of 22.4C (72.3F) being reached in mid Wales.
---
Why is it so foggy?
By Steve Cleaton, forecaster BBC Weather
Fog is, of course, a common occurrence during the autumn, but there's no doubting that in recent days it has been particularly widespread and relatively thick in places.
The sort we have been experiencing is known as radiation fog.
It tends to form most readily on clear nights with light winds – conditions that are usually associated with high pressure systems, or anticyclones.
Anticyclones initially tend to bring a good deal of settled and dry weather by day, but as the sun goes down in the evening, the air temperature steadily drops and eventually cools to a point where any moisture condenses out into fog – hence why the foggiest conditions are often found towards dawn.
There has also been very little wind to help clear it and as we're into November the sun is lower in the sky, so it's weaker as a heat source, meaning the fog has persisted all day in some areas.
Source: https://www.bbc.com